Bad Santa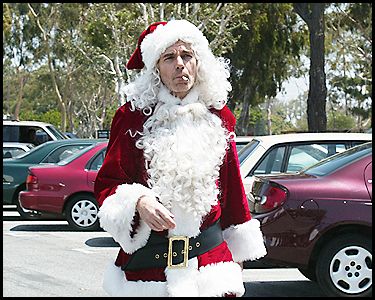 I don't know how many takes director Terry Zwigoff had to shoot before he got the salad leaf to land exactly where it does on Billy Bob Thornton's bottom lip, as he's playing a sour, crude, mean-spirited, alcoholic department store Santa, spit-screams at a mother and her young child, "I'm on my fucking lunch break!" However the scene was filmed, it was blessed with the same magical comic serendipity that shone upon nearly every other moment in the deliciously warped
Bad Santa
.
Virtually a wall-to-wall parade of bile-spewing monologues and freakish outbursts of anger, Zwigoff's grinchy black comedy is the perfect anti-Christmas film. Sure to offend a multitude of viewers (one Campus Christian in my row was so disgusted that she stormed out of the theater 40 minutes into the film), it skewers the warm and gooey Christmas family genre by inserting into the surrogate father formula this self-loathing, volatile character named Willie, played to jaw-dropping perfection by Thornton. Tony Cox (
Me, Myself, & Irene
) is great as Santa's little helper, and John Ritter proves he was still the master of the reaction shot at the time of his abrupt death. But best of all is the uproarious script by John Requa & Glenn Ficarra, rewritten by Joel & Ethan Coen. Possibly setting a record for the use of the word "fuck," its profane indulgence would make Mamet blush. Clever insults and hilarious tirades are vomited from Thornton's mouth every scene, but instead of just being a show-off piece for bitter nihilism, the script serves to consistently and deeply reveal Willie as a redeemable bastard; a rich character as despicable and cruel as he is charming in his anti-heroism.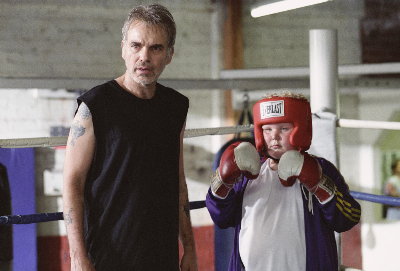 Zwigoff lends his piece a crude visual style, cutting out of rhythm and rarely moving the camera (a similar inertia befell his slightly superior
Ghost World
), but one gets the feeling that it wouldn't be so funny if it were smoother with its editing and mise-en-scene. He knows right when to bolt out to a wide shot or frame a certain body part out of the picture, and the results are constantly gut-busting. While it may turn you off to hear that the plot revolves around Willie's growth and ultimate redemption by looking after a curious, tubby 8 year-old, rest assured that the sap has been drained out and replaced by a rainbow geyser of obscenities so outlandish that the only risk you run seeing
Bad Santa
is the pain in your stomach and empty lungs from laughing so hard at what has to be the most hilariously twisted dark comedy in ages.