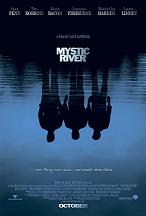 With sweeping bird's eye shots of the Mystic River colliding and splitting the city of Boston, and cast of characters cut simple and clean but containing a history of immense sorrow, Clint Eastwood's
Mystic River
feels like the embodiment of new kind of American epic myth humbled by suburban roots. It centers itself around a trio of men, Jimmy, Dave, and Sean, once tight boyhood friends, now mere acquaintances who still drawn to the old neighborhood. Jimmy (Sean Penn) is an ex-con who seems to have a local control on the neighborhood -perhaps legitimate, perhaps not- and when his nineteen-year-old daughter is found murdered detective Sean (Kevin Bacon) is sent to investigate, while Jimmy instructs hoodlum friends to solve the mystery their way. Caught between them is Dave (Tim Robbins), who returned home the night of the murder with blood on his hands and a flimsy story for his wife.
While the murder investigation is the centerpiece of
Mystic River
's surface mystery the film's real focus lays in the oblique personal history of pain and tragedy that inextricably determines the behavior of these characters. This theme is represented in the movie's opening scene, taking place during the men's childhood, where child molesters posing as cops abduct Dave. Though Dave's imprisonment and subsequent sexual abuse is only vaguely shown and does not directly affect the other two boys, the event is a watershed moment in explaining
Mystic River
's characters. Along with Laura Linney as Jimmy's ultra-supportive wife, Marcia Gay Harden as Dave's withering spouse , and Tom Guiry as the dead girl's boyfriend, the cast is given terse characterizations, which both simplifies the narrative and allows it to deliver powerfully straightforward emotions. Each is given crystal clear motivations that define their characters in the most basic terms. Dave is the only one with a visible past, something we can actually see that legitimates his meek, apathetic behavior; yet each character displays a similarly deep internal affectation based on a past that is only alluded to. Jimmy's for example is told blandly-two years in the slammer for a robbery rap-and Sean is separated from his pregnant wife, but details are spare. All that can be seen is the here and the now, but it is clear that the drama of
Mystic River
is something built upon from long ago and is now coming to the surface through the pain of loss. The interrelationships between the characters of the film go far beyond what is merely shown in the exposition of the murder mystery. Sean for example is quick to refute any suggestion that Dave or Jimmy are still his friends; Jimmy, while denouncing his criminal past, is still painfully quick to use underhand methods to find his daughter's killer, and Dave's wife is similarly quick in fearing her husband instead of supporting him.
Eastwood's film is incredibly literary in its presentation, and he effortlessly crafts it around letting his actors visualize the film through their performances. Details of the Boston suburb are atmospheric but general and abstract; it is the characters that have lived there and who have a living past that makes the place what it is, not the other way around.
Mystic River
is an actor's showcase and the variance in performance types in amazing, speaking for the multitude of ways one can be haunted by tragedy. While Laurence Fishbourne, who plays Bacon's partner, remains aloof from the personal ordeal of the locals, the girl's death and the mystery surrounding it produce a truly eerie range of reactions in the neighborhood. Marcia Gay Harden leaps from worried mother to hysterical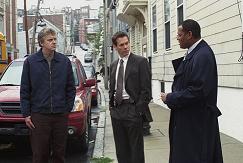 in a horrifically short period of time; Laura Linney, after her initial cry, retains the same odd remoteness as Bacon, who seems unwilling to restart his old friendships through the tragedy. Robbin's fleshy, crooked eyebrows have usually been used to comic effect, but here they contain a craziness and a supreme weakness that speaks better than Dave's few half-swallowed lines of dialog. The standout of the group is Sean Penn, who seems to bleed an affecting, sincere inner pain from his small eyes and tight facial features, always ready to break in an unexpected way, and the line between sorrow and retributive violence for him is all too brittle.
At one xpoint in the film Jimmy utters to his dead daughter "I know I am responsible for your death, but I don't know how," which precisely sums up the colossal but also indistinct importance of past actions on present events. The tragedy of
Mystic River
is its innately cyclic nature; just as the men are still haunted by their pasts, the brutal murder of Jimmy's daughter will only perpetuate the cycle and setup a whole new history of sorrow for the neighborhood. Eastwood has delivered a powerhouse of American suburban grief, the rare film that suggests far more than it shows, and
Mystic River
's suggestion is a heartbreaking picture of suburban life.