The School of Rock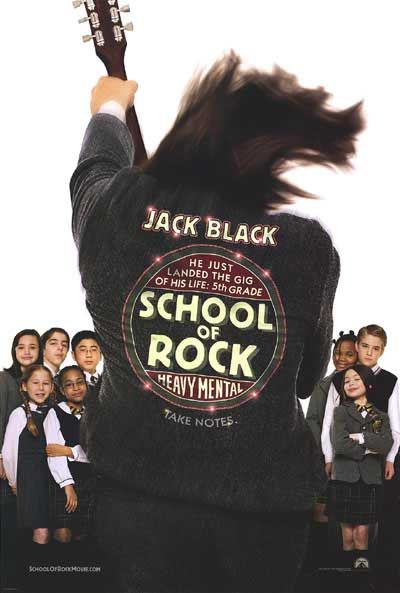 The School of Rock
is many things. It's an unapologetic crowd pleaser. It's probably the vehicle that will cement Jack Black's comic stardom. It's the newest Richard Linklater film (and don't be put off by the film's commercial context, the film is solidly a Linklater film, announcing itself as such from the opening shot: a long, roving take with the camera snaking along the back corridors of a rundown nightclub, swaying back and forth, capturing the film's opening credits, which take the form of various rock club paraphernalia, i.e. the back of a leather jacket, posters, graffiti, and a red neon sign emblazoned with the film's title). It's an example of the teaching sub-genre, where a non-comformist teacher shakes up the establishment, though, any comparisons to dreck like
Dead Poets Society
are certainly misplaced. It's another example of the resurgence of the musical (it's another variation on the "let's put on a show" sub-genre of the musical; in many ways the film reminded me of another musical favorite from this year,
Camp
, where kids who are decidedly "different" or "uncool" find themselves by embracing a somewhat out of vogue musical genre). But more importantly,
The School of Rock
rocks!
Jack Black stars in the comedy (written by Mike White, who also co-stars in the film as Black's roommate and best friend) as Dewey Finn, a slacker with dreams of becoming a guitar-rock god (though he's at the age where most people would give up such dreams, like his roommate, Ned, a former cross-dressing, Satanic rocker, who's become a substitute teacher with an emasculating harpy of a girlfriend). Dewey may be a somewhat mediocre rocker but he possesses a few traits that could pave the way to his success: a shrewd sense of talent, a manic intensity, an unabashed confidence in himself, and an encyclopedic knowledge of Rock N' Roll. Oh yeah, he's also a consummate bullshit artist (in short, he's the perfect teacher). After being fired from his rockband because of his on-stage antics (20 minute guitar solos, diving into the nearly empty, apathetic crowd), a despairing Dewey, in desperate need of rent money, impersonates his roommate and gets a job substitute teaching at a prestigious private school.
Dressed as a parody of a prep school teacher (complete with tweed jacket, bow tie, and scarf), his plans are to coast through the job for the $650 dollars a week, allowing the kids to have "recess," but all that changes once Dewey learns that his class contains a whole bunch of musical prodigies (it's actually my understanding, that many of the child actors who appear in the film are actual musical prodigies, who play and sing all their own parts). With a devilish grin, Dewey races to his rusting, smoke belching touring van to retrieve a Flying-V guitar and an electric bass. When the kids return to the class, Dewey tells them about "a secret class project," to form a rock band to compete against other schools. The real plan is for Dewey to achieve rock stardom on the back of the kids, and to avenge the slight of being fired by his previous band, by winning the WROK Battle of the Bands.
Before you know it, Dewey, in the guise of Mr. S, has won the kids (the rapport between Black and the young actors is one of the film's best traits) over with infectious enthusiasm and anarchic spirit of sticking it to The Man, opening up their buttoned down existence to new possibilities. The former geeky Asian kid afraid of being uncool becomes a whiz at the keyboards; an overweight young girl with an amazing singing voice gains self-confidence when Dewey talks about how Aretha Franklin blows everyone away when she performs; a young boy, formerly a blank slate, becomes the bands drummer and embraces the punk ethos; while the quiet, gawky geeky kid with an overbearing dad learns to loosen up and become the guitar god that Dewey always wanted to be. All the kids get in on the act, as Dewey parcels out jobs and responsibilities to the rest of the class: some of the bigger kids becomes the band security (actually tasked with making sure that the Principal, who I will say more about, doesn't find out what is going on), while others become roadies. The class computer whiz is placed in charge of the lights and stage show, while the swishy, catty kid is put in charge of the band style (his first attempt at a band costume, is decidedly glam influenced); some of the girls become back-up singers, while others, with no discernible musical talent becomes "groupies" (or as Dewey describes the term, they are like "cheerleaders" for the band, their job being to think of the band's name, as well as make tshirts and stuff). Even the teacher's pet, the prim and proper class kissass, Summer, gets a job as the Band Manager, a job to which she takes to immediately.
Dewey's presence in the school is a blast of fresh air, and even the rest of the faculty takes to him, including the initially suspicious principal, played by Joan Cusack
. Cusack, as usual, almost steals the movie out from under Black, doing what she does best, making a
huge
impression in a well-written supporting role. In this case she just takes off with it. Initially, Cusack's Principal Ros comes off like an stern, button-downed matron, dressing in restrictive gray suits, and unable to connect with her students (in one early scene, she's disciplining and then comforting a young student, but you can not really tell the difference), but as the movie progresses, we learn of her secret passion for Stevie Nicks, and that she hates what she has become due to the pressure of her job. Cusack is simply amazing, just to point out a few sequences: how her love of music slips out at the bar she visits with Dewey, as she mouths the words to the Nicks song; then afterwards, a bit tipsy, confides to Dewey how she really feels, confessing that she is not happy with her life, and that Dewey is the first teacher to ask her to do something outside of school in six years. Eventually, when Dewey is found out, there's a quiet scene that would be cut out of most movies; after momentarily slipping out of her office filled with angry parents, looking like she's about to have a panic attack, Cusack walks down a flight of stairs, and then simply turns around and slumps forward into the corner, completely deflated. It's a testament to Mike White, who wrote the scene, Linklater, who allows the camera some distance to observe the moment, and Cusack who plays her character (one that could easily have transformed into a caricature in lesser hands) just right. I liked Cusack's character so much, that I was glad that her character was rewarded when a young, guitar playing stud took an interest in her backstage, much to her flustered amazement (also her palpable sense of pride, when she walks back stage to confront Dewey, and tells the stage manager that she is "the band's principal.")
The ending is somewhat predictable but very enjoyable, just like the entire movie itself (and it should be noted that it's hard to make a real crowd-pleaser that doesn't leave you feeling "dirty" afterwards; hey, and this film even had a musical montage which was more than palatable, showing the class learning and practicing). Dewey is turned in by his roommate's bitchy girlfriend, who is busted in front of his students angry parents (who were already mad at him for the changes in their kids responsibility, and his assignments to listen to rock music CDs). Forced the flee the scene after inadvertedly making the situation worse by telling the assembled parents that "I've been touched by your kids, and I'm pretty sure I've touched them," (yes, this is a movie where an irresponsible adult learns, well responsibility, but I didn't mind), Dewey pretty much gives up hope.
That is, until his former students take it upon themselves to sneak out of school, fetch Dewey at his apartment, and compete in the Battle of the Bands, as their band, The School of Rock. White's character, Ned (who the night before, told Dewey he still misses the music), looking out the window, sees the excitement of the students as Dewey runs up to the "highjacked" school bus, and develops a backbone, dumping his girlfriend, and going to the concert himself to enjoy the music. On the other hand, the parents and Principal Roz, now completely freaked out that some sort of lunatic has kidnapped their kids, are in hot pursuit, and manage to get to the auditorium with minutes to spare, pushing their way to the front of the theater, just in time for their kids' set to begin.
Backstage, Dewey calls for the band to play the song written by the gawky guitar player Zach (Dewey has an epiphany, and tells the students that the band is "ours"), who, as Dewey points out, when Zach begins to protest, is already a better player at 10 then Dewey will ever be, and that it is only appropriate for the band to play his song. The band then proceeds to blow the roof off the joint, to the amazement of the assembled parents, whose anger fades away, replaced with pride and amazement. Echoing the film's first performance, where Dewey launched himself into the crowd, only to fall onto his face, he again throws himself into the crowd for some triumphant body surfing. In a nice twist, The School of Rock loses the Battle of the Bands to Dewey's old band mates, which causes Dewey to collapse on a couch dejected; his students remind him "it's not about winning, it's about rocking!" and "it's about putting on an amazing show." Reanimated by his students absorption of his primary lesson, Dewey hears the protesting audience chant "School of Rock" and thinks that the audience is demanding an encore. The entire class, led by Dewey, rushes onto the stage, to the raucous applause of the audience, and begins to rock the house.
In the film's coda, played under the film's credits, we learn that Summer is managing the band, barking into a cellphone about the band being "lowballed" by promoters (it's a nice, comic incongruity, so see this slight little girl get out of her mother's station wagon, and tell someone off; it's funny, how earlier, Summer's mother complains that her daughter has become obsessed with David Geffen), and that Dewey and Ned have started their own "School of Rock." As Dewey said before, those who can not do, teach. We see the two of them teach their respective classes, in another nice musical moment.
The School of Rock
and
Camp
are, in my mind, the one-two punch that has blown
Chicago
and
Moulin Rouge!
out of the water; principally, because their is a certain passion missing from the later films. I guess when it comes to musicals, I prefer real, rough around the edges enthusiasm to slick middlebrow fodder.