Question of the Week
Well, it's time to take a break from the polling, and turn to a question that is more of a lark. Did you ever think that you could do better than the suits in Hollywood? Well, here's your chance, hypothetically of course:
You are a producer at Milk Plus studios, and it's time to get your baby out of development hell.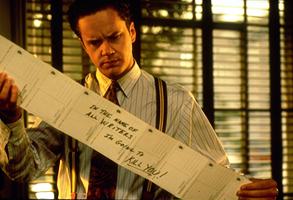 Pick a story for development; because we want people to comment on your choices, we unfortunately can not use original stories, but books, plays, comic books, TV shows, remakes, etc. are all up for grabs. After you have picked your property, assemble the talent (make sure they are living talent) that you would want in your movie, and assign them specific roles, giving justification for each choice. You have to pick a director and the main cast, but if you want, you can also select a writer, DP, composer, etc., but for each additional choice, you have to provide justification. Since Milk Plus Studios is not in the business of throwing money down a hole, also tell us why you think your project will make money (or at least, why it won't lose much money).
Again, the question of the week is open to any blog member or reader, but you are allowed to only answer the question once. Since we're all taking the roles of back-stabbing, bottom-feeding Hollywood producers, feel free to discuss each others selections.