Notes on Owning Mahowny
Just some quick comments on
Owning Mahowny
, which I saw earlier today. Going back through the archives, I found
Joker's review from April
; I was not a huge fan of Kwietniowski's earlier film,
Love and Death on Long Island
, so it was principally his review which drew me to the theater, and I have to say, after reading it again, I almost completely agree with what he wrote. Phillip Seymour Hoffman is amazing, as usual; Hoffman is a chameleon; even though he has the same body type in each film, it used differently in each instance ( I also read all of the various comments, which mainly concerned Hoffman's physicality). Here he is a schlepp, a pale, pasty man, who walks around with downcast eyes and an expressionless face, breathing continuously threw his nose (Mahowny's most indelible physical trait); Mahowny is that nice, anonymous guy who gathers a modicum of trust because nobody gives much thought to him. But at the blackjack or craps table, there's a focus, a scary intensity (which garners him the nickname "Iceman" from the Atlantic City casino employees), he's like the shark that has to keep moving to stay alive, just betting for the sake of betting.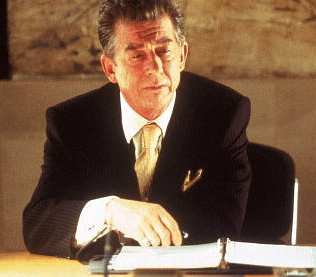 However, I have to admit that I was more taken with John Hurt's flashier Mephistophelean turn as the casino boss, Foss. Hurt has just the right combination of flamboyance and malevolence necessary for the role. Hurt all but cackles evilly as he watches the casino's surveillance footage, amazed that Mahowyn is a "purist" interested only in gambling. It's an interesting performance, which I think gains depth as the film compares the blood-sucking impulses of Foss to the bank managers that Mahowny works for; in particular the scene, where they conspire to have a customer's wealthy father guarantee a line of credit so that they can bleed them dry.
It's one of many parallels that film draws between the banking world and the gambling world (if anyone misses the parallels in the narrative, there is a tag at the end of the film of a vault wheel spinning around to the sound of a roulette wheel spinning), where it seems nobody questions the source as long as it appears the money will keep flowing (it's interesting to note that Mahowny gets away with his embezzlement for so long out of dumb luck; he's in effect gambling when he steals, and is very good at it, only to lose it at the casino table, even at games which relatively favor the player). But more importantly, Kwietniowski captures both the visceral thrill and dull, reckless compulsion of gambling. Gambling is such a part of Mahowny's existence, that his willingness to live a life of experiences that only rate "20" (a therapist asks him what kind of thrill gambling gave him, on a scale of 1 to 100, and he replies "100," when asked what the best experience of his life rated, he replies "20") seems like Hell.