More Short, Short Takes
Well, I saw a couple of other movies recently. So here are some short reviews of each of those films:
The Rundown
(d. Peter Berg)
Because of the trailer, I was pretty jazzed about this movie. I find Seann William Scott to be hilarious, and hey, Christopher Walken himself graced the movie with his presence. Add to that Rosario Dawson, and let's not forget, The Rock, who I have nothing against. Not only do I find him to be a credible action star, but I feel he also has an easy going charisma, which translates into an "everyday kind of guy" vibe, despite his hulking physique; plus, from what I've seen, he's got something of a knack for comedy. Unfortunately, the end results of
The Rundown
really only adds up to a DVD rental or a ticket at the budget theater; it's amusing and diverting, but nothing more. Dawson is pretty much wasted in her role as the noble guerilla leader, but more disappointing is Walken, who's performance I found less than inspiring. Basically, no matter how amusing, I think he coasted through the role, trading in on his stock mannerisms, and doing nothing more. However, Seann William Scott and The Rock develop an quick rapport, forming a credible buddy team for this action-comedy. The Rock is more adept at presenting himself as a reluctant tough-guy, more interested in cooking and being a restauranteur, than Scott is as a Stanford dropout (smart ass rogue, yes), but you get a clear sense of character in each case. The story is pretty fairly generic (it seems to rip off the
Indiana Jones
movies as much as possible), but the action scenes vary in quality, some were crisp and exiting, others were muddled, digitally-enhanced blurs. I wouldn't exactly queue up to see the next Peter Berg action opus, but The Rock has the potential to go places. Next time I want to see him work with a more talented director.
The 36th Chamber of Shaolin
and
Return to the 36th Chamber of Shaolin
(d. Lau Kar-leung)
Neither film is up to the dizzying heights of
The Intimate Confession of a Chinese Courtesan
, but both of these films were very satisfying, though for quite different reasons.
The 26th Chamber of the Shaolin
is a fairly simple story, Gordon Liu (soon to be seen in Quentin Tarantino's
Kill Bill
) plays a Han college student, whose nationalism leads him to join the resistance against the Manchus of the Ching dynasty. After the rebels are found out, and his family killed, Liu travels to the fabled Shaolin monastery, in an effort to learn kung fu and avenge his family, friends, and country. Folllowing seven years of study in the monastery's 35 training chambers, Liu, rechristened San Te, is one of Shaolin's most powerful kung fu warriors. Despite the Buddhist teachings I'd assume that San Te would have also received in the monastery, he is still driven by revenge, and wishes to institute a 36th chamber, to train Han laymen in kung fu so that they may protect themselves and fight off the Manchurian menace. When the abbot says no, he does it any ways, and wreaks bloody vengeance on the Manchu general who killed his friends and family, after which the Abbot grants San Te's wish to establish the 36th Chamber.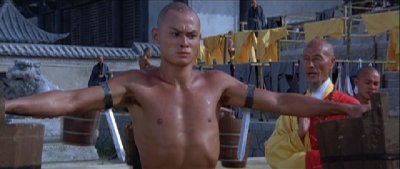 Return to the 36th Chamber of Shaolin
also stars Liu, this time as an actor, er con man, dressed up like a Shaolin monk. When the local Han silk workers are bullied and threatened by a bunch of imported Manchu workers, the workers conspire to trick the Manchus into thinking that Liu is actually Shaolin kung fu master San Te. The elaborate ruse works for a while, but after Liu is found out, and soundly thrashed, he goes to Shaolin to try to get into San Te's 36th Chamber. He manages to con his way in, but is quickly found out. A bemused San Te (played this time by another actor), takes the bumbling Liu in as an apprentice, but that plan quickly falters, and Liu spends three years putting up bamboo scaffolding, where in the great tradition of kung fu training films, learns martial arts from seemingly menial labor ("Wax On, Wax Off!"). When San Te throws Liu out of the monastery, Liu returns to his village dejected, thinking he has learned nothing. After unknowingly displaying his kung fu mastery, Liu proceeds to beat the Machurian kung fu masters, restoring the dignity of the Han Chinese workers, as well as their rightful wages.
Both films are quite different, but enjoyable in their own ways.
The 36th Chamber of the Shaolin
is more notable for it's training sequences. While we do not see all of the 35 Chambers, the structure of the screenplay (Liu visits a Chamber, initially fails or experiences difficulties, and then masters the chamber's lesson) allows Lau Kar-leung to craft amazing vignettes showing displays of almost super human speed, agility, strength, skill, and endurance. The training sequences are so, well cool, that the final kung fu duels between the Han and the Manchurians seems kind of letdown in comparison.
Return to the 36th Chamber of Shaolin
is much a more of a broad comedy, sometimes too broad, to the point of grating (check out the guy with the huge buck teeth), and the training sequences pale in comparison to the first film (loved the scene with the rock and the well). However, when Liu returns to his village and displays his new found mastery of "scaffolding kung fu," well the film launches into a transcendent display of inventive acrobatics and balletic kung fu. The finale of
Return to the 36th Chamber of Shaolin
is 20 minutes of sustained combat, some of the most exciting I've seen since I watched
Swordsman II
. When Liu begins lashing people to bamboo poles, and the bad guys attack him with folding chair, you can see where Jackie Chan got a lot of his ideas (the mixture of kung fu and comedy, the usage of everyday objects, and elaborate set pieces).
The Cinematheque's wuxia pan series is now over, and I will forever regret missing the first two weeks of the series. It's right up there when I skipped Fuller's
The Steel Helmet
for a girl. What was I thinking?
The Eye
(The Pang Brothers)
I absolutely hated the first Pang Brothers film I saw,
Bangkok Dangerous
, an unholy mixture of John Woo and Wong Kar-wai's worst qualities. That cinematic abortion was at the back of my mind when I saw the Pang Brothers newest film,
The Eye
. I must say that I was pleasantly surprised; for one thing, the Pang brothers were relatively restrained, with none of the seizure inducing excess of their earlier film. Despite some moments where the film skirted into mawkish
Sixth Sense
ish territory,
The Eye
was a fairly effective supernatural thriller about a young blind woman in Hong Kong who begins to see ghosts after her cornea transplant. Most of the plot was fairly predictable (would the newly psychic heroine see the ghost of the young cancer stricken girl who she befriended, but of course; though I have to say, I didn't see one plot twist coming), but there were some effective jolts, and the film created palpable tension, using basic, but oh so effective formal elements, especially the framing (activating off screen space, always a good thing), precise editing (the sequence in the elevator), sound design, and changes in camera focus (fitting in a film about a blind woman slowly regaining her sight). Often times, we see, from the POV of the heroine, blurry, vaguely threatening shadows.
The Eye
reinforces a lesson I've learned many times by watching the movies: If I go blind, I never want to get my sight back. I mean, does anything good every happen after you miraculously regain your sight?
Something else added to my experience of going to
The Eye
; I saw the film in an old, 1927 picture palace, which was almost completely deserted (I saw it on a Monday night). Man, afterwards, when I had to go to the basement to use the restroom, well I felt a little uneasy.