Kill Bill, Vol I
...at its best it's a bit like a mix-tape you recorded for your friend...
- Yun-fat.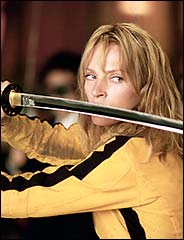 Now that I have seen Tarantino's latest opus, I have to say that this is probably the most apt description of
Kill Bill, Vol I
. A mix-tape is something you create in order to share a musical experience with others, a sense of discovery, of exuberance, of love, and of wonderment. The various songs which comprise mix-tapes might seem disparate to the uninitiated, but to those who are knowledgeable, there is a larger thematic and formal strand running throughout the tape, no matter how divergent the various genres may outwardly appear to be (btw, thanks for the metaphor, Yun-fat).
Kill Bill, Vol 1
is a cinematic mix-tape, an homage to just about every frame of film that went through the gate of a grindhouse movie projector in the last 40 years (in many ways, though the films are completely different, Tarantino's film reminded me John Waters's last, great film,
Cecil B. Demented
). Blaxploitation, Spaghetti Westerns, Kung Fu movies, Yakuza and Samurai picks, even art films (I swear that the final showdown between Uma Thurman's The Bride and Lucy Liu's O-Ren Ishii is evocative of the final scenes of Oshima's
Gohatto
), are pureed into the blender of Tarantino's mind, and spat back out into the form, to use lingo Tarantino himself might be comfortable using to describe his film, "a kick ass action film, starring cool, kick ass chicks." Can one really, honestly fault him for that?
Kill Bill
is not the cinematic equivalent of the cure for cancer, but it was never meant to be so, and to hold his film to a level that it was not meant to reach seems kind of misplaced.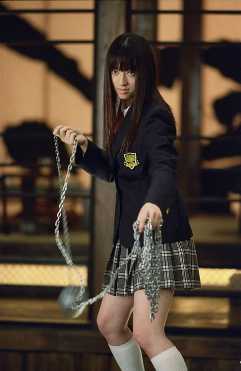 That said, is
Kill Bill, Vol I
a perfect film? No, far from it. The film's main problem is not that it is derivative, but that it seemed to me to be oddly paced. The more I think about it, the more I believe that the pacing problems seemed to be caused by the decision to cut a three hour film into half. The cutting itself works. Tarantino's decision to tell the story in episodic chapters, which are not told in chronological order, made it quite easy. Though the film nicely builds up to it's climatic action sequences, followed by a denouement which points in the direction of the to the supposedly more "complex" sequel,
Kill Bill Vol I
is hampered by a lot of exposition scenes and set-up. Now, in a three hour film, a lot of exposition and set-up in the first half would be more acceptable, as we would expect a more immediate pay-off in the second half, but in two separate films, well the pacing seemed to drag. Also, for future consideration, when we watch
Kill Bill, Vol II
, we have to remember all the salient parts from the first volume, even though there is a five month gap between the two releases. Even though the revenge narrative that drives the film is quite simple, Tarantino's real choice of communication, his dense pattern of allusions, would seem to suffer in this case. Personally, I would have released the film in it's three hour entirety (then again, I can sit through a three or four hour movie with no problems);
Kill Bill, Vol I
surely takes the cake as the strangest "mainstream" movie to be released this year with it's scrambled chronology, abrupt changes in style (I liked the anime sequence telling O-Ren Ishii's backstory, particularly the way the animators chose to use a style which emphasized the pencil strokes composing each drawing), ultra-violence (there is no way this movie would have been released with an R-Rating if Tarantino had not switched to B&W and silhouetted combat in the House of Blue Leaves sequence), and announcement that this is a cult movie plain and simple (the opening Shaw Brothers logo, the appearance of Sonny Chiba, Chiaka Kuriyama's giggling schoolgirl assassin, the brightly colored Pussy Wagon, which seems to announce it is from some bad 70s movie; the prominence given to the 5, 6, 7, 8s [I would like to give a shout out to all the kitschy Japanese bands I listened to in the 90s, Shonen Knife, Supersnazz, and Pizzicato 5]), so I'm not exactly sure how the marketing geniuses at Miramax came to this decision.
That being said, I would like to riff on some of the things I noticed in the film:
*I loved the fact that we never actually see David Carradine's face in the film; you only see his arm and hear his voice. He's got a calm, smooth menacing voice which I'm just not accustomed to; I'm more used to his soft-spoken, halting English that he used in the 70s TV show
Kung Fu
. Even though he spoke gentle words to Sophie, I was so sure that he was going to snap her neck in close-up, since he was so gentle, yet so brutal in the opening scene, as he swabbed blood of The Bride's face before putting a bullet in her head. It's nice that Carradine is getting some exposure among genre nuts. JJ Abrams cast him as a Himalayan Monk in a S2 episode of
Alias
, where he imparts key information about Milo Rambaldi to Arvin Sloane [/end of digression].
*The opening scene, the fight between Vivica A. Fox's ex-assassin, suburban homemaker, and Uma Thurman's was the most brutal, and realistic of the film. It seemed that every shard of glass broke their skin, and it's fairly unusual to see so much sweat dripping from a character after an action sequence. The scene's realism is a nice counterpoint to the more cartoonish, stylized violence of the finale. It also displays Tarantino's knack for black humor hasn't been lost, with the return of Fox's young daughter, and the character's abrupt changes of demeanor (my other favorite moment of black humor, is the long shot from the balcony of the House of Blue Leaves, as Thurman looks out over her post-swordfight carnage, there's that one guy that clearly was blinded by the slash of a sword, who keeps walking around in circles, bumping into things). Then the surprise gunshot (well it surprised me at least) and knife into the chest. Man, did the sound of gurgling and spraying blood get a workout in this film. Thurman's final speech to the daughter, who witnessed her mother's murder, makes me wonder if she will not factor somehow into the ending of the film.
*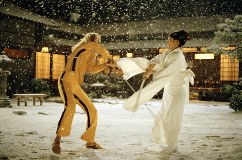 For some reason, the sequence of shots showing Lucy Liu and her yakuza minions striding down a hallway is one of the coolest shots I've seen. It's a great series of shots, composition, actor demeanor, slo-mo, rhythm, and music that I've seen in a while. It's bravura technical filmmaking, just like the long, steadicam shot, which snakes through the hallways of the House of Blue Leaves. I guess Tarantino wants to join the party with Scorsese, De Palma, and PT Anderson. Contrast this flamboyant camera movement with the stillness of the subsequent fight in the snow-covered garden, where it seems the snow is falling in perfect aesthetic harmony, silhouetted against the inky blue-black sky.
*I loved the usage of models for the jetliner and skyline of Tokyo. It's just so old-school and fits perfectly.
*Gordon Liu was kind of wasted in his role of Johnny Mo, the leader of the Crazy 88s, though he does get a few nice close-ups. I hope that he makes a reappearance in the second volume.