Intolerable Cruelty
If it had just been the funniest movie of the year (and it is), I wouldn't like it this much. And if it had just been an expertly crafted statement on romance, equality, battle, cynicism, and institution, I wouldn't like it this much. But it happens to be both of these things as well as containing the added intangible element that makes most Coen brothers films so remarkable: a grace and musicality that's immediately recognizable and distinctly unique.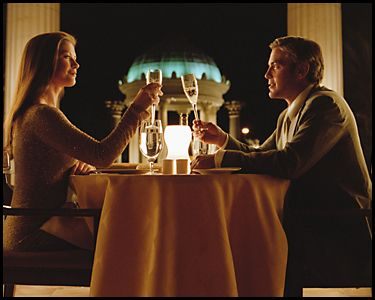 While their best films remain their heaviest – in my opinion,
Miller's Crossing, Fargo
, and
The Man Who Wasn't There
– the Coens' lightweight comedies show off a certain dexterity of dialogue that literally no one else in the industry can match. Their banter goes beyond the mimicry of classic Hollywood rom-coms of the '40s and elevates into a type of dance; the motif of repeated refrains and increasingly complicated one-line choruses, introduced in
The Hudsucker Proxy
and honed to near-perfection here, has an effect not unlike lyrics in a musical. And what better tone to set for such a wicked, sprightly comedy?
Another aspect present in all Coen films, dramatic and comic (and the ones in between), is their precise attention to miniscule visual details, an almost Kubrickian devotion to every spot in the frame. It takes a DP as strict as Roger Deakins to light and color the frame with such acuity, but it takes a creative mind as innovative as Joel Coen's to add flourishes like the one in the greasy-spoon diner: Cedric the Entertainer (the first time this guy has made me laugh, his Spike Lee concert film notwithstanding) says firmly to his employers, "I see an ass, and I nail it!" while right behind him, the most perfectly sweet ass of a hot black chick walks right behind him, and he misses it. Coen even directs the extra to scratch one of her butt cheeks to draw our attention to the lovely derriere, but the absolute ignorance of the characters on screen is a great example of the visual ironies present in the best Coen gags.
Equally impressive is the performance given by George Clooney in the lead role, expertly tailored to his marquee hunk persona. He goes the extra mile, ridding himself of the quirks and forced wackiness of his
O Brother, Where Art Thou?
turn and bringing a confidence that melds spectacular physical comic timing (his race to the elevator in Vegas, his walk through the ballroom during the satirical "slow clap" at Caesar's) with smooth, subtle facial suggestion (an imperceptible left-eye wink in the courtroom, a sly double take at a dinner date). Between this and
Solaris
, Clooney is finally proving himself worthy of the A-list accolades he unjustly received from such mediocrities as
Ocean's 11
and
The Perfect Storm.
Yet what remains in the afterglow of this delightful flick is how bold its voice is, and how sharp its artistic focus is in light of the producer credit of one Brian Grazer (
A Beautiful Mind, Apollo 13
). Where lesser artists might have sold out to Grazer's mainstream demands, the Coens have brought Grazer to them – presenting the audience with the sheen of a mainstream romantic comedy starring two gorgeous Hollywood icons (Zeta-Jones deserves some praise for her low-key work as the feminine calm amidst massive male chaos) along with the underlying brutality of their most aggressively independent work and its refusal to succumb to the softening edges of its peers. That they were able to throw on top of all this a genuinely effective love story that complicates the film's own cynicism is icing on a multi-layered cake and proof that it will take more than a big budget, a plot hole or two, and a greedy, artless producer to tame two of the finest filmmakers of the past 15 years.