In the Cut
Jane Campion's
In the Cut
is a bleak and sorrowful film disguised as an erotic thriller that's really about an attractive young woman getting older and lonelier. Fanny (Meg Ryan) becomes a primary witness for the police when a woman she voyeuristically spies performing a sexual act in a bar bathroom ends up the victim of a serial murder. Fanny is a solitary New York English teacher, keeping a sole friendship with her half-sister Pauline (Jennifer Jason Leigh), while somewhat dreamily pursuing a personal passion for poetry and linguistics. Tellingly, the kind of linguistics Fanny is interested in is street slang, which she asserts is entirely derived from either sexually roots or violent ones ("Or both," comments Pauline). Fanny seems boy shy or at least relationship-phobic (apparently she is divorced in Susanna Moore's novel, which she adapts with Campion) and her pseudo-incestuous closeness with her half-sister (a common Campion trope) is later replaced by a trio of men who surround her and the murder investigation that drives
In the Cut
's story. The principal male is Detective Malloy (Mark Ruffalo), the investigating officer on the case, who Fanny alarming recognizes as the man she saw with the victim in the bar the night of the murder. Nevertheless Fanny allows Mallow's handsome, charming, coarse, and manipulative cop to seduce her, bringing out fits of sexual passion that makes the rest of her sad, minimal life pale in comparison. Question marks also surround Fanny's neurotic, obsessed ex-boyfriend (Kevin Bacon) and a black student from her class that she is consulting (courting?) about her interest in slang (Sharrieff Pugh).
Though most of the dialog gives the impression the film is interested in who the real killer is the murder plot line is really an excuse to throw attractive and dangerous men into Fanny's depressed life. If mournfully trekking into Manhattan to teach her class to bored kids only to return to the Burroughs to see her one and only friend who lives above a strip club seems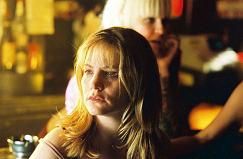 pathetic, Campion portrays it as particularly tragic by exploring the unusual intimacy between Fanny and Pauline, who discuss the idyllic romantic courtship of Fanny's mother by the women's father, and the sad state of both their romantic lives. Pauline laments her relationship with a married doctor who is putting a restraining order on her and she gives Fanny a birthday present of a charm bracelet promising marriage and children. Despite their best efforts to hide it-Fanny with childlike, dreamily long bangs, Pauline who barely tries to take care of her looks and obviously makes horrendous life decisions-both women are obviously bright and attractive. In their depressing lives they are justly shown as constantly seeming on the brink of distressing, sorrowful tears, and Campion shoots much of the movie in a blur of soft-focus, as if the screen itself was constantly being clouded by a choked-back cry. Ryan especially evokes a confused and resigned sadness that underlines one of her best performances (though her nudity in the film is getting most of the attention), and the film feels even less about her opaque, twisted relationships with the film's men then being a momentary slice of sadness in one woman's life. Campion's photography takes a lot of pleasure in the film's gritty New York settings (filmed "100% In New York City" the credits exuberantly declare), and the many pillow shots of American flags and other locals hint at
In the Cut
being as much a post-9/11 statement on the character of the city's female inhabitants as Spike Lee's
25th Hour
did for its male equivalents. Extending the film's theme of relationship frailty too far, where elements of the killer give devious implications to long term commitment (he leaves a wedding ring on his victims) and the confusing dichotomy between Fanny's passion and her non-sexual characteristics, occasionally pushes
In the Cut
far over its head. But taking its simplest, most emotional and most effective elements together-that is, away from the thriller plot line-the film can be a very rewarding and occasionally moving experience.