Elephant
[Consider this a companion review to Phoxy's printed below; it's slightly more critical (but not by much -- I still liked it) and analayzes a different aspect of Van Sant's achievement]
SPOILERS AHEAD, PROCEED WITH CAUTION
Gus Van Sant burst through the forefront of American independent cinema with
Gerry
, a bold film with such undeniable power that its fans were wondering how he could possibly follow it up. Then came this year's Cannes Film Festival, where Van Sant premiered the film he breezed through production last winter and quickly prepared for its world premiere in May.
Elephant
won a rare double prize for Best Picture (Palm d'Or) and Best Director, cementing Van Sant's comeback as a bona-fide movement towards a vanguard other independent directors are cowardly avoiding.
Unfortunately,
Elephant
isn't nearly the pure masterpiece
Gerry
is, nor does it come equipped with on-screen talent as assured as Matt Damon and Casey Affleck. But after a couple viewings, it's clear that whatever its flaws, the film is too unique to dismiss, too perplexing to simplify, and too thoughtful to despise. A meditation on high school violence in general and shooting incidents like Columbine in particular,
Elephant
is stylistically similar to
Gerry
in that its camera is observational rather than in-your-face, and the focus is on tone and atmosphere rather than narrative and character development. Initially, this seems like a problem because while
Gerry's
content was its form, here the material is far more immediate and "message-y," apparently demanding answers rather than vacant observations.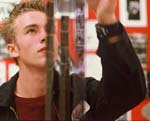 And indeed this problem does create a dissonance between the relaxed cinematic approach and the bloody carnage depicted within the frame. But if one is willing to concede that Van Sant's goal, however irresponsible and negative, is to pose every question and answer none of them, then in fact the style becomes a vital way to process the disturbing imagery. Van Sant is no action director, and the massacre that dominates the film's final 15 minutes is handled with an almost clumsy confusion and lack of connection. Although we've spent over an hour inside this school, we often can't tell where we are, who is located where, and what the fates of some victims will be. But this isn't a concern to Van Sant. Since his film doesn't profess to provide an exhilarating release, glorify any of its actions, or convey a conventional narrative, his directorial eye is free to zero in on the details that give the film its ultimate cumulative power.
Elephant
steadfastly refuses to give us background on characters or explain their actions. It observes a handful of high school students over the course of the day, and uses his now-standard long-take master-shot motif to show how different people respond uniquely to the same stimuli. Nowhere is this more important than in the characterization of the two killers. What might go unnoticed by many viewers is how different Eric and Alex are. Alex is polite to his family, he's a skilled piano player, and he quotes Shakespeare. Eric is rude, profane, stupid, and spends his time playing video games (the
Gerry
in-joke involving the video game is so hilarious that it detracts from the film significantly) and asking moronic questions about videos ("Is that Hitler?"). By showing that two radically different personalities can befriend each other and commit such heinous murders, Van Sant is asking how anyone can generalize the profile of a high school shootist.
Furthermore, we have a character named John (played by John Robinson -- all of the students are amateur actors playing characters with their own names except, inexplicably, the nerd girl Michelle) who has a drunk father and gets unfairly punished by school administrators. Conventional stereotype would have the misunderstood son of an alcoholic father turn into the killer, but we see John doing one responsible thing after another, turning protective, and greeting each familiar face at school with an optimistic, friendly exchange.
Also note the characters of Michelle and Alex. Both are outcasts, both bullied by their peers (Michelle is teased in the locker room for her granny panties and Alex is sprayed with spitballs during chemistry class), but one turns killer and one turns victim. Again Van Sant poses the question -- how can you generalize that bullies or victims are killers or not? For yet another duality, note Alex and Eli. Both are creative -- Alex with his piano and detailed sketches, and Eli with his photography (and Van Sant spends a good amount of time showing both boys at work) -- yet once again, Alex is the bad seed and Eli isn't. Van Sant's implication is that there's no easily identifiable source or characteristic that allows us to predict which kids will bring a gun to school and go to town. (Eli is so likable in fact, and his interaction with John (shown three times thanks to Van Sant's clever chronology) is so realistic and endearing, that we'd actually rather see a film about these two kids than suffer through the tragic third act.) For a final example, look at Benny and Acadia, who meet in a classroom over the dead body of one teen. Acadia leaps out the window to safety, while Benny is overtaken with an irresistible curiosity to search the school, seek out the gunmen, and look them in the eye even if it means his death.
Aside from the merits of these profound actions, Van Sant's film also benefits once again from gorgeous visuals thanks to ace DP Harris Savides. Savides uses Portland, Oregon's lush greenery and open skies to create a dichotomy between the joy teenagers have when they're out in nature and the portentous doom of the interiors. Watch the shot where the jock leaves a pleasant football field and crosses through delighted, active students everywhere for the controlling, imposing institution of the school, a gray, monolithic monster interrupting the frame with ominous weight. Then there's the shot where Michelle enters the empty gymnasium and Savides's low-angled camera lets her march through the dark wooden floors and echoing silence. Characters often look skywards (Michelle in appreciation of fresh air, Alex in appreciation of his own insidious plans of massacre) as do Van Sant's visuals, almost declaring the director's fundamental atheism -- the sky offers no judgement, no answers, no guidance. Only passing clouds and fading light.
A few things do stand out as problematic. Aside from the aforementioned shaky handling of the massacre and woeful lack of screen time granted to John and Eli, there's the amateur actor problem of kids occasionally looking into the camera or moving stiffly through the frame. Scenes like the three snotty girls who vomit up their salad lunches feel contrived, and the shot of the killers watching a Hitler video tips the scales too much with a cheap cliche. But
Elephant
is a film that sticks with you, and even if it's a disappointment after the frighteningly brilliant
Gerry
, Van Sant has proven that he is now a director of considerable artistic vitality and intelligent discourse, and an American voice to be reckoned with.