Casa de Los Babys
John Sayles is back with another socially conscious drama, this time about the adoption of Latin American babies by wealthy American women (like his earlier film,
Men With Guns
,
Casa de Los Babys
is one of those films set in an unnamed Latin American country, and a considerable amount of the dialogue is in Spanish). It's not a bad film per se, but it definitely is not among Sayles's best efforts, it's another example of one of his sprawling, multi-character dramas that seeks to earnestly dramatize just about every possible viewpoint regarding the issues at hand. The set-up is conducive to his goal, as the film centers on six American women, all of whom are staying at a relatively upscale hotel and are in the process of wading through the red tape necessary to adopt a local child. The women include a thirtyish, New York cynic and prospective single mother (Lili Taylor); a recovering alcoholic who is the most accommodating of the bunch (Mary Steenburgen); a gauche young woman from Virginia who is struggling to keep her marriage together (Maggie Gyllenhaal); an Irishwoman from Boston, whose husband has recently lost his job (Susan Lynch); a New Agey fitness buff who has suffered through three miscarriages (Darryl Hannah; btw, what happened, did Hannah recently get herself a new agent?); and an abrasive, casually racist, possibly crazy, Midwesterner (Marcia Gay Harden).
Swirling around these women are other characters whose stories intersect with there own, even if only tangentally. There is the hotel owner, Senora Munoz, who conspires with her brother, a local lawyer, to bilk the women out of as much money as possible (and she's bitter towards her exiled, ex-radical husband); Senora Munoz's son, who works as a handy man at the hotel, but who is a firebrand radical who decries the adoption of the Latino children as another form of "cultural imperialism" (he has been deemed an "enemy of the state" and must keep his job to avoid jail, though he does little but get high and drunk, while articulating some rather banal political sentiments). Then there is Asuncion, a young maid at the hotel from the poor, hillside shanty towns that ring the more prosperous central city; we later learn that she gave up her own child for adoption in the US. From there on out, the ensemble's relationship to the central storyline is more and more tenuous, there is Celia, a pregnant 15-year old girl, whose rich family is forcing her to give the baby up for adoption (so we have two examples, from two very different socio-economic classes of women forced to give up their children); an out of work construction worker who wants to escape his impoverished country and go to the US, to work in Philadelphia (we meet him several times, at first he attempts to apply at the hotel; then he ends up acting as a tourguide for Gyllenhaal and Hannah; and lastly, we see him desperately try to round up some money for a fake passport by playing the national lottery, and come tantalizingly close to winning, and in case it is not obvious enough, it's clear that there is a metaphorical link between playing the lottery and getting a baby); and a trio of gas-huffing street kids, who beg in the markets near the hotel.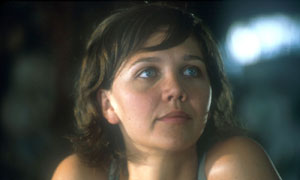 Say what you will about Sayles, but he's one of the few high profile writer-directors who can actually write good roles for women and minority characters, and just about every character in the large ensemble is given a moment to shine (there's also several other minor characters that pop in and out of the story, like Reynaldo, the young student who got Celia pregnant, Celia's overbearing mother, and a nun and nurse who work at the orphanage), with a monologue or two about this or that subject (or preachy speech in many instances). Oh, and do these women talk. Forced to sit around for days on end, the women have formed a loose coalition (I would hesitate to call it a friendship in many of the instances) where they bitch about each other, about the long wait, about motherhood (and how this or that woman would not make a good mother), while casually displaying a certain level of arrogance that often shades into outright ignorance, condescension, and racism. Harden's character is the most obvious "ugly American," but judging by the actions of many of the other characters, you wonder if they notice what is going on around them. For example, Lynch's character gives a book to one of the illiterate street kids, as if he would have much use for it (he does tote is around for a while, but eventually tries to desperately sell it to any passerby).
The reaction of the Latin characters is mixed, some like Senora Munoz's son, are very, very angry (his uncle is angry to, but he exploits the Americans for as much money as possible), while Senora Munoz herself sees the Americans as a mealticket. The young construction worker makes an offhanded remark about babies being his countries #1 export, while Asuncion is too busy working to pay much thought to the subject, though at one point she tearfully expresses some mixed emotions to Lynch's character (though they can not understand each other) when she talks about her own daughter. Celia and her mother inhabit much of the same world as the American women, so they are not shown to give any thought to the subject; in their own instance, the adoption is a necessary thing to maintain propriety. Though some of the characters are obviously mouthpieces, really there only to give voice to some political sentiment (i.e. Munoz's son), it's hard to gauge what Sayles really thinks about the situation, since he weaves the homeless street kids in and out of the narrative, as some sort of counterpoint, an example of what happens to the children once they are too old for the orphanage. I mean, it's nice that Sayles has not made either side of the adoption divide just saints or sinners, but it would be nice if he would offer some kind of solid viewpoint on the subject.
No matter what, however, I can always count on Sayles when it comes to narrative experimentation, especially when it comes down to his endings. Since the film begins with the characters in a state of flux, it pretty much ends in a state of flux, with two of the American women being abruptly called to the orphanage to pick up their babies (Marcia Gay Harden's character has proved to be such a pain, that her lawyer just wants to get rid of her, so he expedites her process, while it appears it was just Lynch's turn, though Harden's character in a particular loathsome turn, takes credit for the success of her application, telling her she "put a good word in for her), while the other characters are presumably waiting in limbo. The film actually reminded me of
Limbo
, since the film even ends before the two of them receive their children, ending on a freeze frame of the babies being carried out of the nursery by some attendants.