Once Upon a Time in Mexico
Once Upon a Time In Mexico
ruins a terrific title, a movie name that's part of a legacy, one that suggests the iconic majesty of the grand epics of Sergio Leone, later reinvented by Tsui Hark. In the opening credits Robert Rodriguez is given the knighting of Hyper-Auteur,
having "shot, cropped, scored," produced, written, and directed the film-a new part of the constantly evolving story of the mariachi, the guitar carrying gunslayer from Rodriguez's debut l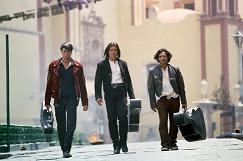 ow-budget action film
El Mariachi
and his later, bigger budget sequel
Desperado
. Antonio Banderas once again picks up the guitar and the gun to reprise his stoic Mexican hero, and along with him is Rodriguez's usual cast-Selma Hayek, Cheech Marin, Danny Trejo, some of which are resurrected, literally, from
Desperado
-and they are joined by an offhand, sardonic Johnny Depp, a sexy Eva Mendes, a Mexican Willem Dafoe, a typically slimy Mickey Rourke, and too-good-to-be-in-this-movie Ruben Blades as a demented ex-FBI agent. Around them all is a thread of coherent plot as thin as a spaghetti strand; but one thing is clear, everyone is out for vengeance. There is about to be a coupe on the Mexican presidency by a rouge general funded by Dafoe's drug czar, and everyone wants a piece of the action. Hayek, Banderas' girl from
Desperado
, is gunned down in flashback by the general and Banderas vows revenge. The FBI agent wants to avenge a dead comrade killed by Dafoe, and Depp, a CIA agent, is doing the American thing of trying to orchestrate the killing of everyone by everyone else.
Not that any of it comes together; despite the film's $30 million budget and economic use of DV cameras (not to mention its almost one man crew)
Once Upon a Time In Mexico
screams low-budget almost as loudly as it hollers "troubled shoot." Each character seems separated from the other not through actual space but by an off-and-on shooting schedule. That Hayek, a major character of the previous film, is quickly killed off in flashback and Depp's interaction with the rest of the cast consists of cellphone calls begins to nip at the idea that all of these actors were doing this movie as a favor and could not all show up on the same day. The prototypical sleazy Mexican action film that
Once Upon a Time in Mexico
is trying to emulate never comes off sleazy enough, both due to the digital gloss that fails to convey the moral grime of everyone involved, but also because the film's remarkable cast is each going off in their own direction. Ruben Blades pulls a Giancarlo Giannini from
Hannibal
, playing a deep and interesting roll so well as to momentarily jump out of the bewildered source material, and Depp, who in 2003 seems to be adamant about hijacking every movie he is in by subverting his roles with the most sardonic, clever, funny, and damn-cool performances ever seen, upstages everyone as usual.
Impressive stuntwork is marred by Rodriguez' inept ability to deliver action punch-lines, and
Once Upon a Time in Mexico
only really ignites when it delves into the grotesque: Dafoe's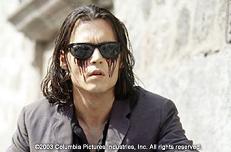 brief role as a Mexican (amusing subverted later by an underused plastic surgery plotline); Depp waltzing around Mexico with a false left arm and a shirt that declares C.I.A. is big, bright letters; and finally the coup-de-grace of Depp's knockout year in the movies: the agency puppetmaster is turned into an awesome cross between the blind swordfighter Zatoichi and the father and son samurai pair Lone Wolf and Cub. Whether the film is the result of studio tampering or simply problems resulting from Rodriguez trying to recreate the independent energy of his first film,
Mexico
's ridiculously hackneyed editing structure bares a creeping similarity to Leone's initial theatrical release of
Once Upon a Time In America
. But unlike that now-restored classic, little of the material in Rodriguez's film has the ability to overshadow the film's many, many technical flaws. Depp's performance is not large enough to do for
Mexico
what it did for
Pirates
, and if Desperado did not prove to everyone that Rodriguez really is not the next John Woo,
Mexico
is the nail in the coffin both for the mainstream auteur's action career, but also his attempts at a return to his roots.