My Thoughts on Lost in Translation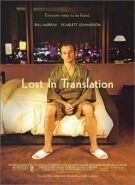 On Sunday, I finally got a chance to see Sofia Coppola's newest film, the much talked about
Lost in Translation
, so I'm a little late for the party. I'm finally sidling up to the bar, with a glass of Suntory whiskey in my hand, to discuss some of my thoughts regarding the film with all my compatriots in New York and Los Angeles, who saw it a good two weeks before me. I don't want to rehash phyrephox's earlier review, and I certainly agree with many of the his points, as well as those of the others who posted in his review below. So I think I'm just going to kind of free associate about some ideas that have been kicking around in my head since I've seen the film.
First of all, I valued the film as a warm observational portrait of a brief, yet fruitful, encounter between two lonely and isolated persons, who are both kind of adrift in their respective lives. I loved how Coppola created a textured mood and environment (the greatest strengths of her earlier film,
The Virgin Suicides
, probably immeasurably aided by her work as a professional photographer), and then created a narrative that simply allowed the characters to be together and hang out. The narrative is playful and joyous, we the audience take pleasure in the characters proximity to each other, as their chemistry is palpable (I think the saddest moments are when the two characters are apart, Johannson sitting alone in the window gazing at the Tokyo skyline, visiting Kyoto alone, he riding in forlornly in a taxi, or playing golf in the shadows of Mt. Fuji). For me, my favorite sequence of the film was Bob and Charlotte's first night out in the neon-drenched environments of Tokyo; it's comfortable and intoxicating, like sharing a good night out on the town with friends. You almost want to get up and join the party, singing karaoke with Murray and Johannson (it's humorously painful to watch the drunken Bob try to communicate these feelings to his wife).
Lost in Translation
is probably the second best examination of developing love in the cinema this year, the first being David Gordon Green's
All the Real Girls
; and I don't mean romantic or sexual love (though I think that Bob is definitely interested in such a relationship with Charlotte, to the effect that he disastrously picks up the jazz chanteuse, much to his, and Charlotte's regret), which is refreshing. It's so rare that you see actual friendship blossom between movie characters, much less between a man and a woman, and much, much less between an older man and a much younger girl. But it's love none the less, from the time that Charlotte first flashes her thousand watt smile at Bob (I never thought much of Johannson in either
Ghost World
or
The Man Who Wasn't There
, but here her ingenue is sexy and intelligent, and her smile out shows anything Julia Roberts has to offer), to their final, secretly whispered words and tender kiss on the crowded streets of Tokyo.
I said it before in the comments under phyre's post, but the usage of Tokyo is not incidental. It's one of the ultimate late capitalist cities, where everything seems new (hey, the city's been destroyed and rebuilt, what 50-60 times, by Godzilla and friends), and where everything seems to be a brightly colored billboard, it's Times Square on acid, neon disorientation and computerized hallucinations. Coppola captures it all very well with her camera, but I think she picked it for more reasons than simple beauty. I think she picked Tokyo because their is more dislocation and confusion in something that seems superficially similar, than in something completely alien. When faced with something completely alien, people have a tendency to try to find and or create connections and similarities, but when something is similar but not, people tend to become confused, because the differences become magnified when you have something to compare it to. Just think of the scene where Bob watches one of his old movies dubbed into Japanese, it's the ultimate in strange seeing something so familiar, yet so foreign. Sure, there are other locales that Coppola could have used, like Hong Kong, that would have offered her roughly the same ambiance and that would have afforded her the opportunity for her height jokes, or accent jokes, or her playful sendup of Japanese pop culture, but not many. In any case, the disorientation of the city, of their jet lag, and of their flagging marriages, just serves to drive the two closer together, and it's here they do make a private space for each other (at one point, Bob says he doesn't want to go home anymore). It's Tokyo as Oz, except who wants to return to the drab realities of home. I'd rather sit up all night and watch
La Dolce Vita
on TV with my friend, or party all night. (And while I'm at it, I've read some commentary, comparing the film to the works of Antonioni, principally because of Coppola's judicious usage of silences, as well as the two alienated characters. That's just wrong.
For one, Antonioni's characters are all completely alienated from each other. If you want to compare Coppola's film to that of a contemporary director, I would go more in the direction of Wong Kar-wai).
And while I'm at it, let me just pencil in Bill Murray for the Oscar. Not that I think the Academy will give him much consideration (and the new MPAA guidelines should hurt this relatively small film), despite the buzz. It's still a comedy, and Murray is still seen by many as, well, a comedian, not an
Actor
(though I still can't figure out why I still pay lip service to the idea that the Oscars are a barometer of quality). But for my money, Murray is one of the finest American actors working in film today, from his memorable early roles on SNL,
Stripes
,
Tootsie
, and
Ghostbusters
to his newer work in art films like
Rushmore
,
Hamlet
, and now
Lost in Translation
, to which he brings not only his wry sense of humor, but his sad eyes and lumpen features. Murray's usage of body language is instructive, especially for a film which relies so much on the unspoken. The one shot that is emblematic of their relationship, is when Bob and Charlotte sit on the bench, in the extremely narrow hallway; he sits silently, legs crossed, hands resting on his knee, she, wearing the bright pink wig, rests her head on his shoulder.