Lost in Translation
In a movie where the grotesquely tall Bill Murray goes to Japan one would expect endless jokes re: his height compared to the notoriously shorter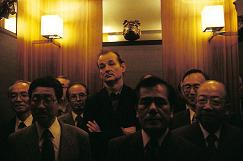 inhabitants of the country. Thankfully
Lost in Translation
, writer/director Sofia Coppola's second film, abstains from the obvious and keeps the visual gags down to just one brief elevator shot and the fact that Murray walks around Japan in shoes so large and colorful they could easily been for a clown. Coppola keeps much the humor the same throughout the film; she effortlessly keeps a delicate, softly humorous tone throughout. Murray play Bob Harris, a middle-aged actor going through a decline both in his career and his life, having just traveled to Japan to shoot a whiskey commercial for $2 million, and perhaps to escape his family. Away from his wife and kids, jet-lagged and without sleep in Tokyo, no one seems to speak real English, nor understand how to communicate to him-the commercial director instructs Bob to be more intense, more intense, and the photographer directs him to imitate the Rat Pack and Roger Moore). Invariably, Bob ends up drifting to the hotel bar night after night. There he spies Charlotte (Scarlett Johannson), another lost soul, albeit much younger, alienated from her husband of two years and finding little inspiration from within-where she tries to connect to her soul via music and self-help intructions-or from Japan, where she visits the gamut of tourism, from ancient shrines to digital arcades.
Coppola's film is very unassuming, and she scripts a story that plays out just as one expects it; with Murray and Johannson both tied down by marriages that are only hinted at as being troublesome, their past lives obviously
tie them down too much to become physically romantically involved, and of course there is always the matter of their ages (Charlotte guesses that Bob is going through a midlife crisis). So instead of playing the situation off to an unlikely direction, Coppola sticks to keeping her film as tonally perfect as possible. Mixing her ethereal soundscape of
Virgin Suicides
with good-rock filtered through bad-karaoke and achieving a surprisingly warm visual look out of cool colors by cinematographer Lance Acord, Coppola places her two wayward souls in the most foreign of environments but keeps them nestled snuggly in a unique world of low-key humor, laconic romance and beautiful environments. Murray milks all he can from his naturally tired and droopy look, and like much of the film itself, he underplays his comedy to the point of minimalist gesture, which keeps the laughs from being too loud, and the jabs at the Japanese from being unreasonable. Scarlett Johannson is loved, with every due cause, by Coppola's camera, which seems to give her a soft-focus flourish every time Johannson takes a step or looks out a window. Neither Zwigoff nor the Coens do for Johannson's young beauty what
Lost in Translation
does (even the film's opening shot is a loving tribute to the girl), and she rightly has shared billing with Murray. There is no mistaking why her maturity and talent as an actress has attracted the top independent talent, and no mistaking why her warm, delicate longing in Lost in Translation attracts Murray in the most natural of ways. She simply is too good to resist.
If
the film abstains from achieving the kind of humble transcendence it goes for, it is probably due to Tokyo. No fault of the city itself, for it does an appropriate job of isolating the duo in a lonely purgatory away from normal human contact, as well as loved ones. The film obviously loves the city, if not the country, a great deal, but Coppola's enjoyment feels only superficial. Japan could be a stand-in for any foreign country, and what it really needs is a personality that changes with the characters; what starts out as alien and untranslatable eventually becomes a special place where Murray and Johnnson's friendship uniquely exists. A deeper understanding, appreciation, or study of the environment is needed to truly push
Lost in Translation
into a deeper place, though as is the film is a soft-spoken joy. If Japan and Tokyo do not stand out enough to place intelligent thought on the relationship between Bob and Charlotte, it is only in keeping with the film's minimalism in its every movement. Sometimes, though, strict adherence stops one from achieving possible greatness.