Dust
Macadonian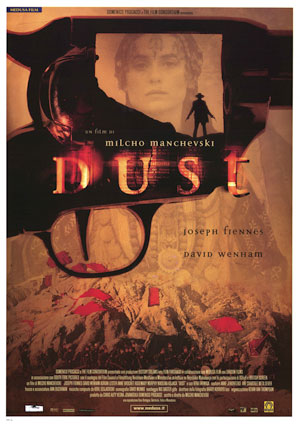 writer/director Milcho Machevski's
Dust
opens with a crawling tracking shot that starts on the streets of New York and slowly ascends up through an apartment building; floor after grimy floor passes by before finding the camera finds its subject, Edge (Adrian Lester), a poor thief robbing an old woman's apartment. An urban crime tale, yes? No, instead the old woman discovers edge, pulls a gun on him and forces him and the audience to listen to a rambling story about her past and the fate of a bundle of gold. Cue black and white flashback to the Old West. Brothers Luke (David Wenham), the religious one, and Elijah (Joseph Fiennes), the lone gunman, are quarrelling over a prostitute; Luke wins and marries her, Elijah stalks off, holding a grudge. What's this have to do with anything, and more importantly, what's it have to do with the gold?, Edge asks. Leaving the audience miffed for an easy narrative, Machevski has Edge leave the old woman in frustration, only to come back to here more. Back to Once Upon a Time; Elijah leaves for Macedonia to bounty hunt for the Turks, and Luke follows to extract a brotherly vengeance, for he has somehow been wronged. As violence in the near East ensues, Edge gets caught up and he spurs the old woman on-get to the gold, where's the gold?-but the old woman extends her tale with glee, enjoying the company and enjoying the affect the story is having on her hoodlum friend. Edge not only gets caught up in the epic Macedonian western, but its story begins to intertwine with his own, as he desperately needs money to pay off a pair of corrupt cops, and if the woman ever gets to the part of the story about the gold, all Edge's problems with disappear.
Dust
is an odd little picture, a small, personal movie meditation on myth-making and oral history; both the joy of creating a story and the pleasure in hearing it, and finally the privilege of passing it on. With a sly eye at convention, Machevski sets up two scenarios that tip more towards the generic than the archetypal, but the ideas are clear. Armed with his two setups (young black man, dying white woman bond over tragedy and storytelling; dueling brothers try to reach understanding in the midst of a violent frontier), Machevski pumps them full of everything he can. The Macedonian western leans more towards the epic, filled with visceral gunfights, and hyper-concise themes of love, loyalty, and family. The New York episodes are more verbally dynamic, but also constricted by the urban claustrophobia of hospitals, cramped apartments and street violence. As Edge and the old woman come closer together through her story, the story evolves and changes with them, often cheating death (both in the story and in real life) or dramatically shifting the narrative in unexpected ways.
Luckily Machevski leashes in his ambition on the project-for its themes are constantly in danger of exploding out from the seams-and invests in Dust a slyly sardonic sense of humor, one which is usually peculiar enough to negate the clunky English dialog. The film's investigation into storytelling is pretty cursorily, and combined with its incredible flair for bloody and exciting gunfights it seems clear that Machevski is trying as hard as he can to straddle the line between art cinema and conventional entertainment. (One of the best ways of doing this of course, is to do a self-conscious genre picture, which
Dust
certainly is). With the exception of Rosemary Murphy, who fills the old woman with enough spunk and bitter humor to easily take her young assaulter down a notch,
Dust
has little use for its script and its actors in the traditional sense. If Machevski is dealing with themes about the way people verbally tell stories, than he adds an interesting counterpoint, or supplement, by making his film a primarily visual experience. The Macedonian landscape-lush with dry foliage, ancient villages and forlorn farms, all with a distinctly Mediterranean flair-is a great relief from the empty plains and Monument Valleys of American westerns, and Machevski seems to have a lot of fun watching his American cowboys mow down dozens of Turkish army men for the sake of visual aesthetics (or perhaps nationalistic cinematic revenge). While the ambition inherent in such a large scale project combined with Machevski's not-so-stellar grasp of the English language make
Dust
just a bit more loose and incoherent than necessary-a problem which unfortunately does not make either of the two stories in the film particularly dynamic, only subtly so-Machevski tries with much success to make his story feel small and personal, which lends it a unique tone considering
Dust
's rather grand scale. It may never make complete sense, nor do many of the key emotional moments ring true due to the use of convention, but at the end of the day a Macedonian western is a unique thing to see, and all the more unique when the director goes into detail on how such this kind of story is brought to life.