demonlover
What if there was no Philip Marlowe? What if you found yourself adrift in a dangerous, corrupt cityscape with no wry private eye to guide you? Olivier Assayas's
demonlover
purports just that, thrusting the viewer in the midst of a complicated and half-explained corporate bidding war that is as much about abstract contract negotiations as it is about the sex and violence that intertwines

within the business. The first true contemporary neo-noir,
demonlover
finally updates the ancient genre with all the modern progress since its inception, restaging the chiaroscuro gritty underbelly of city life in the frigid, soulless bourgeois world of the multinational multimedia industry. The film principally follows Diane (Connie Nielson), a cold executive who ascends to the top of her company through corporate treachery, which may sound like sly deal-signing, but in this business world it equates to drugging her superior Karen (Dominique Reymond) into delirium so she can be robbed of contract documents. To get an idea of how the film layers its bland depiction of the contemporary business world with the up-clos-and-personal brutality of noir, Karen bitterly equates her experience to rape, and it is ambiguous if she is referring to her own personal injury, or that of losing her firm's documents. Around Diane is her firm's male counterpart Hervé (Charles Berling) who is more interested in the sexual politics of his position than business practices, and Elise (Chloe Sevigny), Karen's assistant who holds a dangerous grudge against Diane usurping Elise's boss. Hervé and Diane are working on securing the distribution rights for a Japanese adult anime and manga company that needs financing to push their outdated, unpopular 2-D adult animation to more realistic and costly 3-D computer productions. While they nail down the terms for the contract with the Japanese, Diane and Hervé are also negotiating with the American company Demonlover.com that owns a majority of the market share for animation and comic books, as well as an extensive catalog of pornographic websites. Demonlover.com's competitor is paying Diane to spy and sabotage the deal so they can secure the rights to the adult animation, and not be gobbled up by Demonlover.com. Diane's hands-off espionage turns messy when she is caught breaking into the American's hotel room and is forced to kill to cover her tracks. Meanwhile, Karen discovers Diane's role and pursues to ensnare her deeper into the complicated system of corporate backstabbing.
Using complicated but oblique contract discussions as its backdrop, Assayas frames his characters in a world just as sinister, anonymously violent, alienated, and perverse as anything in Chandler, the only difference is that
demonlover
takes place on the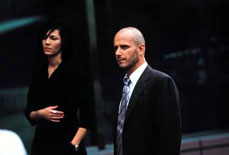 top floors of sleek corporate office buildings, chic Japanese restaurants, the frontseats of Mercedes SL500s, and most importantly, in front of video cameras, televisions and computer screens. The film is a rich texture of mixed languages and mixed media, and there is a circular line drawn that connects the extortion, sexual games, and backstabbing of Diane's corporate world with the brutal visual exploitation of hentai, action movies, and finally what
demonlover
sees as the integration of real life with those mediums-interactive media experiences. One of the contractual issues of the negotiations is the mysterious ownership of a website called Hell Fire Club, where subscribers can send in requests for sadistic torture fantasies and have them enacted, filmed, and posted on the webpage. Assaysas's commentary is working on a number of levels, the most obvious being the criticism of these businesses that are too self-involved in leveling up in the management or making a quick buck than really paying attention to the kind of material your company actually is exploiting. More interesting is the connectivity between the graphic violence and sexuality of media experiences intertwining with the lives of these business people, and then presenting that layered picture as the film itself, turning a business drama into a sex and violence filled thriller. As with most film's that strive to say something about the diegesis as well as the medium it is delivered in,
demonlover
is far too detailed and complex to dissect in one viewing alone.
Connie Neilson, tall, beautiful, athletic, and with her hair cropped short, looks surprisingly stylized like a female anime heroine, and Assayas has fun filling his out his cast with hunks and babes rather than businessmen (Gina Gershon plays a prominent executive of the American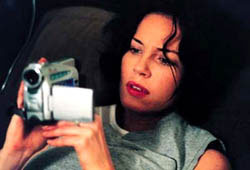 company, and Diane's boss, played by Jean-Baptiste Malartre looks more like a sadistic Mafioso). As usual Assayas shoots nearly the whole picture handheld, here in an appropriate visual scheme that eschews classic noir expressionism for what feels like a thriller extension of Antonioni's urban alienation. Combined with a harsh, atmospheric ambient score by Sonic Youth
demonlover
perfectly achieves a portrait of a inhumane, passionless modern world where sex and money and power end up bringing about more trouble than they're worth, yet everyone strives as hard as they can to attain them. If
demonlover
's central ideas are not particularly coherent, it is only because of the supreme difficulty in completely updating an old genre. This is certainly not a corporate thriller; this is corporate noir and people ruthlessly do all they can to gain power and remain on top, but their lives are heartless and empty and there is no warm-blooded hero to hold your hand through this world. Without Marlowe to make sense of it all, dismiss petty disputes, ignore the loose ends, gather the clues, and set the dame's head right, we are lost. Diane is a femme fatale without her counterpart, and this world seems too brutal to include someone as helpful and wry as Marlowe, someone who makes sense of what he can, and tries to pull the girl out of her downward spiral into manipulative oblivion. It is a sad statement to say that there is no realistic place in contemporary noir (or this awful world) for the archetypal hero, but then again demonlover presents a self-consuming urban world, one which may be terrible, but there is no need for a detective to clean up the bad element; here the element is so bad it destroys itself.