Camp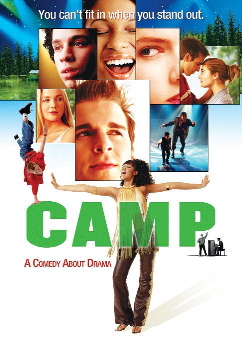 What can I say? I flat out enjoyed this movie.
Camp
is another chapter in the recent renaissance of the movie (and television) musical; created by hack screenwriter Todd Graff, it is an affectionate ode to the drama-geek and the showtunes of the 60s through the early 80s, and it is an infectious bit of fun. Sure, sure, it's all cliché:
Camp
is basically a "let's put on a show" musical, which was already quite old when Mickey Rooney and Judy Garland were putting on shows in a barn (actually a group sing-a-long in a barn leads directly to an epiphany, as well as the rejuvenation, of an embittered, alcoholic ex-Broadway composer/genius who happens to overhear the kids singing his unpublished songs and simply enjoying themselves [actually a Victoria Williams song; this character is played by REM co-producer Don Dixon]; I mean, who hasn't seen that before?). Yep, this movie is chock full of clichés, but there are reasons why these types of movies (as well as those in other genres) are constantly being recycled. It's because there entertaining...if you do them right. The secret, in my opinion, is that
Camp
(despite the obvious double-meaning of the title) is played "straight" with complete and utter conviction, and that conviction (plus the fact that many of these teenagers are quite talented singers and dancers) carries the film a long way. Though many may disagree, I think it's quite a victory when you're more inclined to applaud then snigger at the sight of an overweight young woman belting out a song ("Here's Where I Stand," an R&B/gospel song which was specifically written for the movie) that just happens to double as a statement of self-worth and self-affirmation. See, her father thinks she needs to lose weight, to the point of having her jaw wired shut, and then perversely allows her to attend the drama camp; when the camp counselors need her to perform the final song in their benefit revue (you betcha, she has to go on because the "stars" hurt themselves and their is no other last minute replacement), they clip the wires, allowing her to sing, her message coming across loud and clear to her father, who sits tearfully, ashamed of his conduct, in the audience, who all sit, happily blown away. So, what it really comes down to, is that you are either going to love or hate this movie. Me? Well I loved it.
Welcome to Camp Ovation, where Stephen Sondheim (who makes a cameo at the film's conclusion) is the patron saint (one character has a framed picture of Sondheim on his night stand; when Sondheim makes his initial appearance, the kids mob him like a rock star). Based upon a real drama camp in the Catskill Mountains (called Stage Door Manor; all the press I've read about the film has mentioned that the camp helped train Robert Downey Jr. and Natalie Portman, as well as writer-director Graff), Camp Ovation is a place where a generally much maligned group of people (even the sympathetic and semi-sympathetic realize that a bunch of kids interested in showtunes of the late 20th century are not exactly "normal") have created a community where they can feel comfortable being who they really are (very important, since many of the male characters in the film are gay).
Many commentators have noted that the film resembles
Fame
in plot; however, I do not remember having ever seen
Fame
, so I'm not sure how accurate this statement really is. Basically,
Camp
is 80-90 minutes of story, and another 40 minutes of musical interludes (the film begins and ends with a lengthy musical number). The main plot strand of the film is the love triangle of sorts (since the film only flirts with the idea of a bisexual love triangle). Involved in the triangle is Ellen, a pretty young woman (despite a father who's words never helped: "When I was eight years old I told my dad that I wanted to take an acting class. He said, "There are fifty billion people in this world, if one-tenth of 1% of them wanted to be actors, that would still be five million people. Do you really think you're prettier than five million people?") and talented singer (one character describes her as a "fag hag"), and her best friend at the camp, a gay Latino kid, named Michael. The obscure (and I mean literally) object of their desire is Vlad, a blandly handsome, ostensibly straight teenager (in his first camp audition, Vlad sings a cover of "Wild Horses," much to the enjoyment of the clearly bored camp staff and band, causing one woman to exclaim "An honest to God Straight Boy'), who is the kind of person who goes out of his way to please the people around him (i.e. flirting, ass kissing, etc.), so that he is the center of their attention. Though well-meaning, Vlad is a narcissist who uses his good looks and charming attitude to his advantage, even if that means not thinking about the consequences of his actions, adding to the sexual confusion of both Ellen and Michael (at one point, Vlad sings a song called "I Sing for You," and the story as well as the film's composition makes it unclear who he is singing to, his girlfriend Ellen or his best friend Michael). Though described by many as "perfect," Vlad is as hurt and wounded as the other teens at the camp; a neglected middle child and a case of OCD have driven Vlad to acting, because, as he describes it, when he becomes a different person, his problems go away.
We're actually introduced to each of these characters on their prom night: first we meet Vlad, bedecked in a tuxedo, practicing Mark Wahlberg/Dirk Diggler's acceptance speech from
Boogie Nights
(the one about his "gift") in front of a mirror, complete with the kung fu flourish. Next we meet Ellen, who's in the shower, begging her older brother to take her to the prom, only to be met with merciless teasing. Finally we meet, Michael, dressed in drag, only to be rejected by his teachers (because his hemline was too high, yeah right), and eventually beaten by his class-mates in a darkened hallway (in the film's final musical number, Michael makes a triumphant return in drag). These opening scenes reflect the major issues facing these characters: Vlad's self-absorption and need attention; Ellen issues with her self-image and the lack of any relationship with a boy who is not gay; and Michael's sexuality (not to mention his parents shame).
I've mentioned several of the other plot strands already; the rejuvenation of the has been ex-Broadway composer, whose cynicism is broken down by the enthusiasm of the kids (Vlad discovers his unpublished works, and its a performance that he organizes that heralds Bert Hanley's rejuvenation); Jenna's struggles with her father; and finally the other major plot strand is a comic rivalry takes is clearly a take-off on
All About Eve
, involving the camp diva Jill and her mousy assistant, Fritzi. After Jill tires of the obsessive Fritzi, she "fires" her, which leads Fritzi to poison Jill and usurp her role in a brassy performance of Sondheim's "The Ladies Who Lunch." (it's funny that this song is about a self-loathing alcoholic; and that Fritzi ends up in a production of
Who's Afraid of Virginia Woolf
) There's plenty of other stuff at the margins: the camp's athletic director whose doomed to shoot hoops alone on the dilapidated basketball court, the crazy Cuban director who berates Vlad, Ellen, and Jenna when they don't understand his directions during the rehearsals of a performance of a Beckett play; the black kids frustrations at having to play in "Fiddler on the Roof," because there are not enough African-Americans at the camp to stage an all-black show like "Porgy and Bess." Plus, there are the sympathetic portrayals of the gay teenagers, even if most of them, are, um, how shall I put it, "theatrical," (giving arise to many catty, and quite funny remarks).
But mostly there is the music (you can check out some of the soundtrack
here
), and I'm not even a big fan of showtunes. Many of the musical interludes are framed by a graphic title, which also gives the year the musical was first produced, thus providing a mini-primer on late 20th Century American musical-theater; examples include the before mentioned works of Sondheim, as well as Henry Krieger and Hal David-Burt Bacharach (the first big musical number after the gospel-influenced opening number is a raucous "Turkey Lurkey"). For Bert Hanley's musical revue, Oscar-winner Michael Gore and Tony-winner Lynn Ahrens worked together to write two songs for the film, and other songwriters contributed to reflect Hanley's work in various genres. I'm no expert, but I can say that I had a lot of fun while watching these musical numbers, unlike, say in the higher profile musicals such as
Moulin Rouge
and
Chicago
. As I said before, their talent and conviction won me over. Yep, give me
Camp
over some bloated Oscar-winner.