Short Takes
Well, I'm doing my laundry tonight, got to fit that in sometime. Since I've spent the last few days obsessively watching my new
Once and Again
Season 1 DVDs (more on that later), I've decided to write a couple of short reviews for some recent films that I've seen:
Spy Kids 3-D
(d. Robert Rodriguez)
I've been a fan of this franchise since it's inception, but even I have to admit that these films are no great shakes (especially in the rather threadbare narrative department), but they are fairly entertaining, and you just got to root for the one-man, moviemaking machine that is Robert Rodriguez (writer, director, producer, cinematographer, editor, production designer, composer, visual effects supervisor, and hey, isn't that him back there working the craft services table?).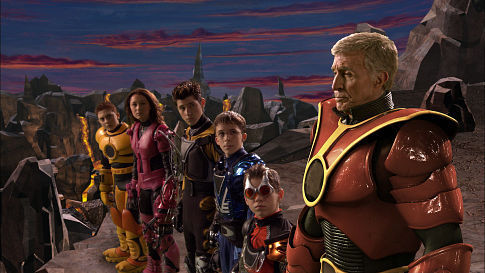 When it comes to children's movies, I find that there are two basic strategies when it comes to entertaining adults: the most common is to pepper the film with enough adult humor to entertainment the parents, while the other is to create something so wondrously loopy, that it almost begs for you to hit a bong as you watch. Uh, the
Spy Kids
movies are an example of the later. Each film of the series has had all kinds of inspired moments (all done with retro looking digital effects), the wacky surrealism of Floop's TV show in the first film (the crazy colors, the weird songs, the dreamlike monsters and Thumb-Thumb robots, and of course, the fey, childlike Alan Cummings as Floop), the Ray Harryhausen inspired genetic mutants of
Spy Kids 2: Island of Lost Dreams
, and finally the 3-D video game world of the third film, complete with those awful cardboard glasses with the red and green lenses.
This is classic, headache inducing 3-D, with tons of stuff thrown liberally at the audience. Sure, sure, the story is mostly a rip-off of
Tron
(the second film this year to do so), Daryl Sabara has very little screen presence, and Sylvester Stallone stills sounds exactly the same no matter the personality or emotion his character displays, but it's got a 3-D Ricardo Montalban in a giant, kickass robot suit! Come one, Ricardo Montalban! Rodriguez takes a childlike glee with his 3-D creations: giant, invisible mechanical monkeys crawling over the Texas State House in Austin to a 3-D Pod Race that kicks
The Phantom Menace
's ass. I guess you could say that the enthusiasm of making the film translated on to the screen, with the exhortations to family (this time expanded beyond the Cortez family itself) reflected upon the cast and crew. Basically, everyone who has ever worked with Rodriguez in Hollywood makes a cameo in the film. Hell, it's such an in-house job, that the requisite tweener pop song is sung by Alexa Vega (the older sister Spy Kid) herself.
American Wedding
(d. Jesse Dylan)
Since Joker has so far refused to repost his
excellent review of American Wedding
, it has fallen to me to mention the film. I've always liked the
American Pie
films. With the increase in the usage of gross-out, scatological humor in Hollywood comedies, you'd think that more filmmakers would have hit upon the formula that has made the
American Pie
and Farrelly Brothers films such a hit; an underlying sense of sweetness and empathy for their characters. It also helps that the
American Pie
films also includes themes that I can easily relate to, which is one of the reasons why I really liked the second installment of the franchise, even with it's lackadaisical direction and plotting.
Though I'm not quite sold on Jesse Dylan's direction,
American Wedding
is probably as good, and maybe better than the first film of the series; they've certainly upgraded in some capacities, with better cinematography (IMO, the best of the series), a better score (care of the other
Buffy the Vampire Slayer
alumni, Christophe Beck), and a better usage of pop music. I mean, the usage of James "Laid" as the film's centerpiece song blows anything by Blink 182, Sum 41, or Who the Fuck Cares 101 out of the water.
American Wedding
basically has two veins of humor, one centered on the humiliations of the good-natured Jim, the other on the shenanigans of the pure id Stifler (Seann William Scott, whose over the top antics are deserving of some sort of award, just like his work, in the second film).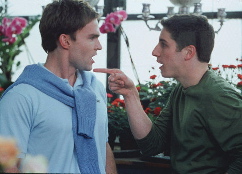 Stifler, simply put is hilarious, especially the dance-off in the gay bar (actually, this is probably one of my favorite scenes in the whole series), and his attempts at emulating some sort of nice, reserved yuppie suitor. To top of his antics, the film actually provides Stifler with an arc, where he matures, kinda, sorta. Combine that with some great supporting work by Eugene Levy (much better here, than in
A Mighty Wind
), who really is the perfect dad, as Jim comes to understand (the scene where Jim's dad admits that he would sleep with Nadia is great), and Fred Willard. The filmmakers made a good decision to cut loose most of the other characters from the first two films, though it was kind of odd that they didn't mention Oz; as it stands, Alysson Hannigan, the only remaining female character, is given little to do other than look adorable, and the former "lead" character Kevin (Thomas Ian Nichols) is reduced to looking on with amusement (though both Jim and Finch mock his penchant for toasts). Yeah, Finch does have some good moments, too, and of course, there is the requisite cameo by Jennifer Coolidge as Stifler's Mom. MILF! Good stuff, very entertaining.
Capturing the Friedmans
(d. Andrew Jarecki)
Probably the most acclaimed documentary of the year, I thought it was more of a documentation of a family's harrowing, internal disintegration than it was an investigation into whether the Arnold and Jesse Friedman actually molested children (just to get it out of the way, I'm convinced that Arnold was a pedophile and child pornographer, that much is indisputable, but I do think that Great Neck was held in thrall by mass hysteria, and I very much doubt the official story of what happened in the Friedman's basement office), unlike say
Paradise Lost: The Child Murders at Robin Hood Hills
, a film that
Capturing the Friedmans
has been compared to (though,
Paradise Lost
probably focuses more on the community of West Memphis than it does on the actual case itself). I think that the film works best as a portrait of a familial disintegration, with ex post facto commentary, than it does as some sort of
Rashomon
like examination from multiple perspectives. Jarecki has structured the film in such a way that it left little doubt in my mind what conclusion I supposed to draw, especially since it seems relatively easy for Jarecki to blow holes in the prosecution case, and little weight it given to the opposing views (which are repeatedly undercut). As a portrait of a family falling apart, it's always, always compelling to watch, it's like the proverbial car crash that you can't take your eyes off.
Once and Again
S1 DVDs
Once and Again
was one of my favorite shows; it aired for three seasons on ABC (1999-2002), were it received shabby treatment, despite critical plaudits, Emmy awards, and decent ratings (it's not like ABC had anything better to air). I was so sad to see it go when it was canceled in March of last year. But now there are DVDs, and I can watch my favorite shows as often as I want, without the interference of networks who see fit to change a show's time slot on a whim.
Once and Again
was created by Marshall Herskovitz and Edward Zwick, who also created the seminal 80s show
thirtysomething
(the newer show even borrows a character, Miles Drentrell). The show is basically a melodrama about a divorced father and a recently separated mother who date and fall in love in the northern suburbs of Chicago.
What made the show so successful in my opinion, is it's ensemble. In the pilot episode (or is it the second episode, I temporarily forget), Lily (Sela Ward) describes how the couple's decisions ripple out and affect others. We see this ripple effect, as the series expands its focus from the central couple, to their children, their ex's (who are not monsters, as some shows would settle to be, but flawed people you came to care about as much as the other characters), the extended family, friends, partners, etc. Everyone was given their fair chance (even strangers, I remember one episode when day players were allowed to deliver the show's trademark B&W monologues). The whole show is filled with realistic characters with real flaws, who are allowed to fuck up and flounder (and the film doesn't exactly pull punches when it comes to the psychic/emotional costs of divorce, especially on the children), but also to pick themselves back up and support each other. Combine that with long-running, complex stories, and you got all the elements of a series that I love. I'm so excited I can revisit this show. Hmmm, my DVDs are calling to me.