Roman Holiday
Roman Holiday
, 1953. Directed by William Wyler, starring Gregory Peck, Audrey Hepburn and Eddie Albert.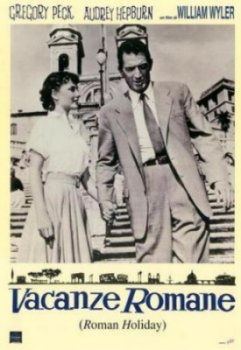 Allyn posted a
mini-rave
about this film in mid-July, shortly after the passing of Gregory Peck. I've got nothing to challenge or disagree with Allyn about here –
Roman Holiday
is a movie I find to have few, if any, flaws, and one of the greatest three romance pictures ever captured on film. I've revisited it twice recently: once on the night of Peck's death, and again last night on the big screen at the Beverly Cinema in Hollywood.
Audrey Hepburn plays Princess Ann, direct heir to the throne of an unnamed country, on grueling European tour to improve trade relations. Cracking under the strain, she has a mild case of hysterics, and the doctor is called for to give her a sedative to make her sleep, and the following advice: "I think the best thing is to do just as you like for a little while."
It's advice she takes to heart. As the rest of the royal entourage goes off to sleep, she sneaks out of the palatial estate (hitching a ride on a laundry truck) and finds herself in the middle of Rome just as her sedative starts to kick in. Joe Bradley (Gregory Peck), an American newspaper man, happens upon her snoozing on a public bench, and does the chivalrous thing by taking her back to his place (strictly above board, of course – this is the fifties) and depositing her on his couch.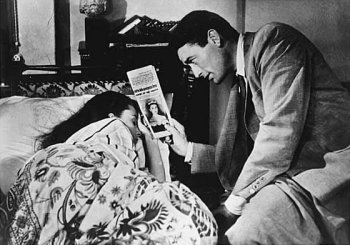 The next morning, the intrepid reporter figures out that he's got the biggest story in Rome sleeping on his couch, and enlists the aid of his photographer buddy Irving (Eddie Albert) to help him break the story. Together, the three embark on a holiday tour around Rome, doing just what "Anya" likes: getting her hair cut, her first cigarette, a wild romp on a Vespa, a tour of the Coliseum, the Wall of Wishes, the infamous Mouth of Truth, and a dance on a barge that ends in a free-for-all with some secret police from an undisclosed country.
There's one little catch, though – during their Roman holiday together, the newsman finds himself falling in love with his exclusive story, and the Princess with her duties to the throne finds herself feeling the exact same way. Both of them have been dishonest. Both of them are hiding something. And they both know it's hopeless. But they fall in love anyway. Now what?
I've seen a number of movies that play the 24-hour-romance angle, but
Roman Holiday
is the only one that I believe. It probably helps that Audrey Hepburn is absolutely captivating and Gregory Peck is at his most handsome and charming in this role – who wouldn't fall in love with either one of them?
The story was written by Dalton Trumbo, a member of the Hollywood Ten, when he was serving his prison sentence for contempt of Congress, and fronted by Ian McLellan Hunter (later blacklisted himself), who also got a screenwriting credit with John Dighton. It's probably the strongest story of Trumbo's career. For all his talents as a novelist (Johnny Got His Gun) and for all of his tireless efforts to break the blacklist (which he successfully did in 1960 when he gained his first screen credits in over ten years with Spartacus and Exodus), he wasn't all that good of a screenwriter, and he knew it. He was well-paid and well-known because he was fast (often cranking out a story a week), but his movies tend to be clichéd and clunky. The only other exception I can think of is
Thirty Seconds Over Tokyo
, one of the smartest, best-scripted war films to come out of the World War II era.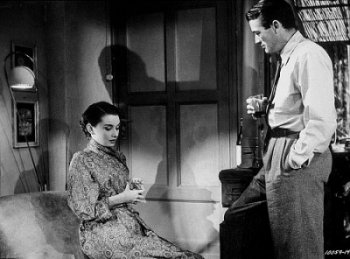 In Allyn's review, he wrote: "I'm a fan of Audrey Hepburn, but I don't think she ever topped this performance -- she goes from weary princess, to drunk, to wide-eyed ingenue, to woman in love, to mature stateswoman in 24 hours." That sums it up pretty well. I was struck, in this most recent viewing, by how very young the Princess looks in her earlier scenes. She looks like she's about nineteen when the movie starts. By the end, she's matured immeasurably, and I don't think it's just the new hairstyle.
Peck has a tough role. Joe Bradley is really kind of a bastard through much of the film – he's using this woman to get a good story, and his ticket back to the states. But Peck makes him so likeable – and funny. Every time I see this movie I marvel at his flair for humor and wonder why he didn't make more comedies. At the same time, watch him at the moment that their romance begins to bloom, even as they both realize it will never be played out. You can practically hear his heart break.
If you take two beautiful people and costume them in Edith Head designs, put them in Rome and turn a camera on them, you've got a pretty decent movie right there. For some movies, that's even enough to coast on.
To Catch a Thief
is a good example -- looks great, but not a whole lot going on under the surface.
Roman Holiday
goes more than the extra mile, though. Beautifully restored and available on DVD. I'm hoping a 50th Anniversary print makes the rounds this year in theatres -- well worth seeing on the big screen.