Open Range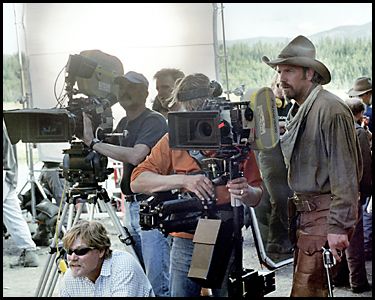 Open Range
is a hokey, cliche-ridden Western throwback that sustains Kevin Costner's assertion that he is a true American icon no matter what the box office figures. He has been in good films before, especially during a stretch from '87 to '90 (
No Way Out, Bull Durham, Revenge
) and he's been in too many stinkers to name, but he's always carefully crafted his self-image. Anointing himself a John Wayne-style hero for the 21st century -- unshaven, dirty, soft-spoken, into horses and shotguns and whiskey -- Costner the director has, with
Open Range
, given Costner the actor a role made for worship and plaques. Too bad it's no good.
Costner has definitely studied his Westerns, and he knows how John Ford liked his master shots. Not only do we get gigantic skies and never-ending plains, but former steadicam operator (
Titanic, Any Given Sunday
)-turned-cinematographer James Muro has lensed many a back-lit golden-baked exterior shot. If you like horses running in slow motion and raindrops dripping off of worn cowboy hats, pull up a seat for
Open Range
.
But if you like subtle storytelling, gripping drama, and progressive, complex psychological themes -- then look elsewhere. Look to Anthony Mann or even Clint Eastwood. Screenwriter Craig Storper has created a world with easy answers, corny aphorisms, and simplistic values, and he's proud as shit of them. The skimpy plot is basically "You bad guys killed my friends, so I kill you. The end." In the meantime, we're assured that heroes like Costner and his mentor Robert Duvall will extol the virtues of justice, killing, property, and loyalty. It's a film filled with bloodlust, baiting the audience with the promise of vengeance to come -- and it takes 2 hours to come, but then we finally get a rather well-done OK Corral-ish shoot-em-up sequence that works thanks to ear-splitting sound effects and realistic violence.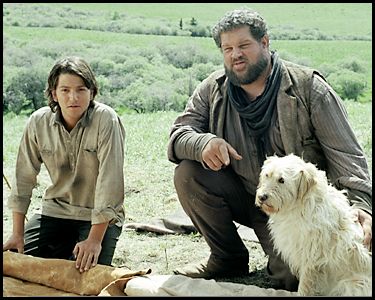 Unfortunately, the audience cheered each bad guy's unsightly demise, for the film is justifying eye-for-an-eye retribution (surefire Hollywood way to get your audience riled up: kill the dog). It has no problem tossing in an overly happy ending, and bits of comic relief that involve clumsy, unfunny attempts at... what's the opposite of dry humor? Wet humor? Even Annette Bening's character, potentially the most interesting element of the story, is left on the side beaming and mothering and nurturing and kissing. Bening's performance is characteristically impressive, and her minutes on screen are the picture's finest. But
Open Range
still comes down to the glorification of old-fashioned American conservativism, the Texas rough-shod school of justice where it's my way or the highway, take 'em dead or alive, and every day's a good day for a killin'. Man, Dubya's gonna love this movie.