Having lived in the North Bay of California for years I embarrassingly just stumbled upon the Pacific Film Archive in Berkeley two weeks ago and discovered they so-far-so-great programming. I had just missed a King Hu retrospective, and in the coming weeks they are showing a series of Fassbinder films and a handful of W.C. Fields best stuff, but currently they are showing something that sparked my interest since it sounded semi-obscure: a Czech Horror and Fantasy series. Some of it is goofy, some straight horror, I've only been to the first night but from the level of films I saw there it should be great fun.
The Pied Piper
(Jiri Barta, 1986)
Even though this film was preceded by a humorous semi-silent short by Barta, I had never heard of the guy nor his work, and I no idea I was in for such an animated delight with this picture. It is entirely stop motion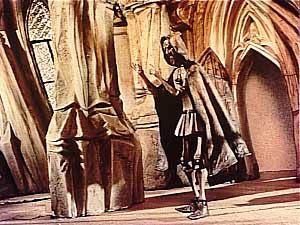 and entirely language free; its characters speak in some kind of hilarious garbled gibberish and the music consists of wicked electric guitars, surprisingly not at all at odds with the
Piper
's medieval roots. Unlike recent celebrated stop-motion works like
Wallace & Gromit
and
Chicken Run
, Barta's works primarily with wood, painstakingly creating dozens of stiff characters. Seeing as wood is impossibly less malleable than clay, Barta and his crew are handicapped in their ability to create simple designs that express character through a wide range of smooth, clay-friendly movement. Rather, Barta is forced to intricately carve each character and set to such a degree than he need little motion to get across to the audience what kind of world is on-screen, and what kind of personality it has.
The film is a marvel of sculpting, and not just in the characters. As classic as the Pied Piper story is, its simple allegory about gratitude and arrogance has little content to sustain a film's running time. (I am very, very murky about the details of the original story's narrative, but I'm pretty sure Barta altered it to give his film an anti-materialist, anti-capitalist slant. Or at least on the surface; there are many hints of political criticism, but my knowledge of the Piper and of Czechoslovakia goes well beyond ignorance.) Barta makes up for his film's narrative slimness with creativity that bursts from every frame. The entire film is shot like a wooden-and thus oddly stiff-interpretation of a silent Expressionist film, featuring a town so warped by its misplaced livelihood (peasants slave away to increase the wealth of a select few) that the entire town itself is distorted and twisted like a surreal dream of a medieval town. In one spectacular shot-of literally hundreds, Barta sculpts each frame as if each were to individually speak for the film's brilliance-is a bird's eye view of the town square, where the town appears so distorted by the people's misguidedness that all the buildings are bent unnaturally outwards, away from the square-like the courtyard bomb of
The Devil's Backbone
, this time exploded and warping every building in sight.
As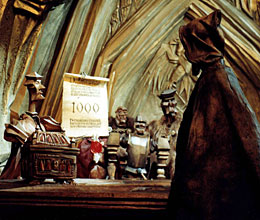 I've said, the story itself is a little weak, but the way Barta characterizes each individual in the town, from the lowliest peasant (who all barter in the cleverest way, spitting phantom coins out of their mouths to represent their offer for the good; Barta comes up with several humorous ways of depicting language in the film), to the highest noble that each is infused with its own uniqueness and strange quality. The film brims with humor, and when the rats of the story invade the town-played both by stop-animating stuffed rat corpses and cutting to footage of live rats-Barta capitalizes on the inherent humor of a proud and wooden noble admiring himself in his mirror, only to have a giant rat leap out from behind it and claw his face. The film is never scary, nor particularly heavy-handed; seeing as it's a fable the simplicity of the narrative and characters come more as a relief, allowing the viewer to bask in pure cinematic creativity. One of the most enjoyable thing's about Barta's style is he almost never uses the camera in obvious ways; instead of using a canted angel to make his wooden hell ominous, the director and his crew spend days carving a background that looks as if its distorted at such an angle that shooting it square-on produces the surreal effect of seeing an object loom over you, yet it is clear that what we are looking at is plainly a detailed wooden plank sculpted to warp perception. I have never, and probably will never, see a film so magically ingenuous and pleasurable to the eye.
Who Killed Jessie?
(V?clav Vorlicek 1966)
A nice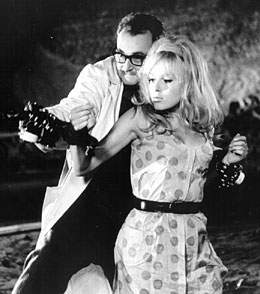 chaser to
The Pied Piper
,
Who Killed Jessie?
is a 60s trashy slapstick comedy that typically pokes fun at the ridiculousness of genre films, but also amusingly provides political criticism so obvious it could only be parody. A hen-pecked professor dreams of a comic-book blonde bombshell who has in her possession anti-gravity gloves-if only he could find the recipe for those gloves to help mankind! His domineering scientist-wife has just invented a drug that gets rid of bad dreams, and when she catches her husband dreaming of another woman-never mind the context-she forces him to get an injection. The only problem is, in getting rid of the dreams from his mind, they are in turn materialized into the real world. Next thing they know the husband and wife are in the midst of a dream gone awry: the blond falls in love with the professor, who wants her to help him find the gloves; they are both pursued by the blonde's comic-book arch enemies, an aging cowboy and a superman; and the wife is pursuing them all, trying to lock up the husband and eliminate the dreams before they cause wanton destruction. Yeah, yeah, the government trying to kill the people's dreams is kind of lame, but then again
Who Killed Jessie?
bursts with fun lame-ness. The comic-characters can't speak vocally, only through speech-bubbles that have to be read, and quickly the scientist-wife falls for the superman just like the professor falls for the typical 60s blond bombshell. A short running time of 70-some minutes is still a little long to maintain the goofy premise, but each of the cast is perfection, from the square prof, and the hair-bunned repressive wife, to the surreal Czech cowboy who wants to slaughter everyone. Gotta love the compressed genre effect, I'd deem this a sci-fi/slapstick/madscienteist/comicbook/romanticcomedy/relationshipdrame/satire; sound good?