Freaky Friday
Watch out for those mystical "Asian" people. They have magical "voodoo" powers that can turn the lives of middle class white women all upside down! Things get really kooky when Dr. Tess Coleman (Jamie Lee Curtis,
House Arrest, Virus
) and her daughter Anna (Lindsay Lohan,
Disney's The Parent Trap
) open supernatural fortune cookies that place them in each other's bodies for a day. Just when you thought Judge Reinhold and Kirk Cameron cornered the market on body-switching comedies, along comes a remake of a Disney "classic" to siphon more dollars out of the pockets of unsuspecting parents.
Meet Tess: we know she's a busy mom with no time to "communicate" with her daughter because she has two cell phones! And a pager! And a palm pilot! Oh, the troubles of being a single mom engaged to a man (Mark Harmon,
Fear and Loathing In Las Vegas
) her daughter thinks is a pale replacement of her dead father. You know a woman has a hectic life when things in her purse keep beeping and ringing. If only more films characterized neglectful parents in this fashion. But wait: she has a rebellious daughter who fights with her brother and expresses her individuality by getting her navel pierced. Stop! What's next, a tattoo?! Dear God.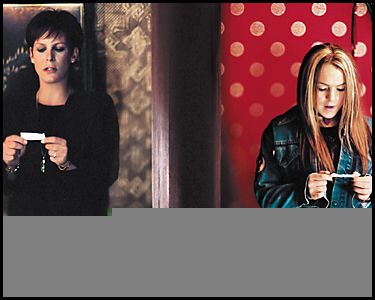 After a painful and laborious 20 minutes of developing one-dimensional characters (aided by a loud and obnoxious wall-to-wall score), the inevitable body switch comes, courtesy of the offensive racist stereotypes (hasn't anyone in Hollywood been to a Chinese restaurant where the employees don't have accents?). Then there's about 10 minutes of watchable footage. Curtis is very game, having been offered her most high-profile role since
True Lies
, and she manages to run the gamut of emotions a teenager would feel discovering herself trapped in mom's old bones. But after that, the skimpy one-joke premise wears thin fast, and the rest of the film is a torturous wade through the swamp of clichés, contrived scenarios, and manipulative tear-jerking hugging-and-learning scenes we have come to expect from the Mouse House of Family Values.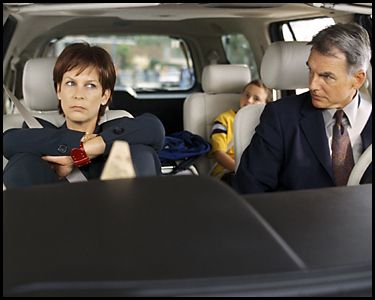 Here's a film that condescends to its family-film audience by coming up with the most obvious jokes possible for its premise and failing to provide one realistic frame of film regarding real teenage life or parenting. Comparing the Hollywood-ized fantasy world of
Freaky Friday
to Catherine Hardwicke's intelligent, textured, and pulsating
Thirteen
, it's an abomination that director Mark Waters (
Head Over Heels
) and screenwriters Heather Hach and Leslie Dixon (
Pay It Forward, Look Who's Talking Now
) would reduce the complexities of parenting a teenage girl to rocking out and kissing a boy. In the process, the film smugly trivializes psychiatric patients and high school authorities, then introduces a teenage love interest character (Chad Murray,
Dawson's Creek
) who develops a crush on Curtis so creepy that no parent would ever want this boy near their daughter. And for that matter, no man as laughably perfect as Harmon would be interested in marrying into a family as shrill, superficial, and irritating as the one manifested by Curtis and Lohan.
Purporting to take place in Los Angeles, the film has its characters traveling from Santa Monica to downtown just for dinner, and then places a rock band whose influences are The Vines and The Yeah Yeah Yeahs in a competition for KIIS FM, a top 40 station that plays Beyonce and Kelly Clarkson. Speaking of Lohan's "rock" band Pink Slip, who plays songs so watered-down forgettable that they couldn't even tune
Josie and the Pussycats'
guitar strings, it's a symbol of their – and the movie's – pathetic lack of talent that the day after their big House Of Blues audition, their career is in such trouble that they're already playing weddings.