Dirty Pretty Things
Screenwriter Steve Knight tugs mightily at the heartstrings in
Dirty Pretty Things
, Stephen Frear's new movie about the dark side of the lives of London immigrants, but both Knight and Frear stack the deck so strongly to the advantage of the poor immigrants that sympathetic emotion is nearly negated. A strong, multi-ethnic ensemble cast helps give the London dregs some character, but with the benefit of a strong cast comes the unfortunate side effect of a group of down-and-outs who seem like they should be living it up.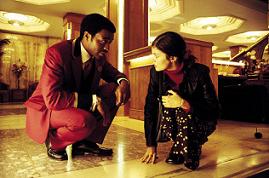 Chiwetel Ejiofor plays an illegal immigrant who fled Nigeria to work a day shift as a cab driver and the night shift at the shady Baltic Hotel, where he meets a maid (Audrey Tautou) who is working there illegally while trying to attain citizenship. With these two in tow, together with a kind and beautiful whore (Sophie Okonedo), a generous, pessimistic mortician (Benedict Wong) and an amusingly cynical Russian doorman (Zlatko Buric),
Dirty Pretty Things
has an ensemble cast full of resolute, intelligent, warm-hearted, interesting, note-worthy immigrants who have no problem forging bonds of, at the very least, shared comradery, but usually rich friendships and mutual love interests as well. Set against these attractive, individual faces are the bland and ruthless individuals trying to keep such immigrants in their place: Sergei Lopez, channeling a sinister, one note Anthony LaPaglia, plays the manager of the Baltic who arranges blackmarket surgeries in his hotel (among other things), the Gestapo-esque immigrant police, and a sweatshop owner who trades silence for sexual favors.
Much to the film's tonal detriment, master cinematographer Chris Menges and hit-and-miss veteran English director Stephen Frears do little to make the London of
Dirty Pretty Things
seem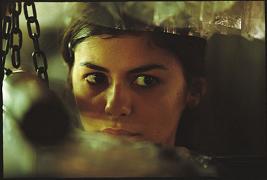 unusually dangerous, seedy, or containing for its character who should have to constantly look over their shoulders to make sure they aren't going to be sent back from whilst they came. In fact, if one took away the seedy aspects of the plot, Menges' expert lighting and Frear's interesting backstreet locals could almost be deemed overly attractive. With little in the way of atmospheric barriers to stop the immigrants from their dreams, and only a couple over-confident managerial exploiters and stupid cops on their tales, Tautou, with her endless beauty and resolute character, and Ejiofor with his lethargic handsomeness and self-containment, have a comfortable space in which to fall in love and find a way out of their cycle of oppression. Aided by their fellow immigrant friends (all immigrants are friends in this movie), Ejiofor and Tautou enact revenge on their exploiters and then escape to freedom with remarkable ease. If every illegal immigrant in every city were as charismatic, cunning, and bright as
Dirty Pretty Things
suggests (and every jerk looking for a blackmarket kidney or quick blowjob were as easy to rebuke), there would be a lot fewer problems in the world. More tension and less genre is needed in this stylized, well acted, but misguided little picture.