American Wedding
Whoa. Wow. Who knew? When the first entry in the
American Pie
trilogy was released in 1999, a genre was re-born. It didn't matter that much that the film wasn't perfect -- it had a lame directorial eye (luckily the Weitz brothers greatly improved with their follow-up,
About a Boy
) and many of the jokes were obvious and mis-timed -- because it had an earnest love not only for the teen sex comedies of the '80s to which it was paying homage, but also for its characters: both the protagonist foursome and the antagonists like Stifler. Its sequel was even shakier -- still funny, but more of a loosely connected series of skits than a complete movie.
But now, instead of the cast and crew letting the series continue to peter out to a dull and shameful crawl to the finish line, they've somehow mustered the strength to make both the funniest film of the series and the most emotionally engaging. The father-son bond between Eugene Levy and Jason Biggs that was developed further in
American Pie 2
is made truly precious in this final episode, culminating in a reaction shot by Levy that tells all: Alyson Hannigan informs him that Biggs told her "my dad has always been there for me," and the pride on Levy's face, subtly emerging from his nebbish-Jew-dad expression, is nearly heart-breaking.
Similarly, by progressing Biggs' and Hannigan's relationship from sex to love to marriage, the series has shown a sort of maturity of immaturity: its thesis is that perversity, nymphomania, and crude humor is natural, normal, and even agreeable. And instead of using these comedy tools at the expense of the characters, it uses them in order to develop the characters, deepen them, and make us care far more deeply for them than we ever would in most of the films this trilogy (and
American Wedding
in particular) shares DNA with -- namely,
Porky's, Police Academy
, and
Bachelor Party
.
It helps a lot that this is the third time we've been through the ringer, because -- like serialized television -- giving us more time with the characters makes them deeper by default. But writer Adam Herz is craftier than that; sure, this is one of the funniest examples of purely character-driven comedy since
Meet the Parents
, but moreover he is aging and maturing each of his leads to the point where we adore their shortcomings instead of wanting to poke fun at them.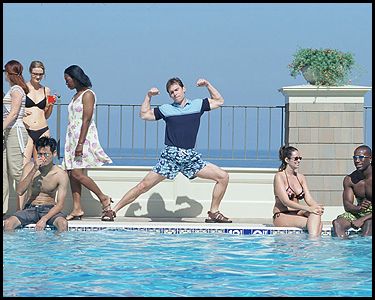 Case in point: the bravura sequence of the film -- and the series -- is the scene in Wedding when Stifler goes into a gay bar. It starts off as the Anatomy Of a Homophobe, hilariously pointing out the underlying truths of homophobes like Stifler -- that they hold stereotypes in thinking that all gay men want to fuck them, and that if they were gay, they'd be a hot ticket. Then, in a shocking turnaround, Stifler wins over the respect of his gay brethren by performing in a riotous dance-off. This accomplishes several things for the Stifler character: first of all, it underscores the confidence that makes him as charming as he is, it leads to a gradual acceptance of homosexuality that may or may not suggest something deeper, and it introduces the movie's major arc which is how Stifler finally takes responsibility by fixing his own fuck-ups. (Sadly, you can count on Seann William Scott getting overlooked by year-end critics groups and award lists because they shamefully ignore this type of quality comic acting time after time).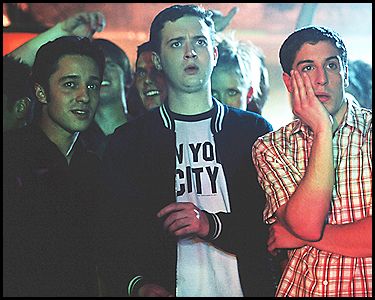 There are other brilliantly modulated comic bits (credit is due to newbie director Jesse Dylan, whose only other credit is
How High
), including the opening scene marriage proposal, the extended sitcom-inspired bachelor party nightmare, and the painfully gruesome dogshit scenario. Most of these involve the standard low-brow humor we're used to from the series, but because the film generally avoids the idiot plot and stays true to its characters, the vulgarity is acceptable and quite funny. The movie does have a few flaws – one or two of the gags stray from the believability of the rest (I could have done without grandma in the closet), and previously strong characters like Hannigan and Thomas Ian Nicholas are given precious little to do – and in a bizarre show of disrespect, not only is Chris Klein's Oz (the fourth member of the original lost-virginity clan from the original film) missing completely from the movie, but no one even brings up his name in conversation when discussing long-lasting friendships. Couldn't they have at least acknowledged or explained his absence? Nevertheless,
American Wedding
comes out of left field with big laughs and an utterly sweet disposition making it that rare trilogy-ender that towers over its predecessors.