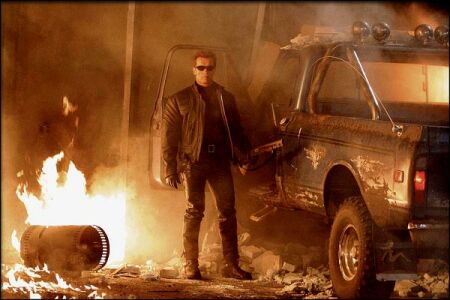 Terminator 3: Rise of the Machines
T3 has some decent action sequences and is generally well conceived but not terribly well executed. Having watched T2 just before, director Mostow captures none of the gallows humor of the original two films and hasn't the sense of space and timing for action sequences that the masterful Cameron has. What we end up with is a few moments here and there that are satisfying, and a plot that seems to conclude the story appropriately, but really disappointment that the film doesn't hold up to the first two artistically.
My big gripe with T3 was how the action was shot. The car chase showpiece certainly is a spectacle, but often it is shot so close up that there is a crowded sense to the whole sequence. Proper action needs space to show you how it is playing out. What takes place on the screen, the way the two terminators try to do each other in, is fun and creative, but often the way it is photographed just feels like a straightjacket.
Mostow lacks a lot of the "art" of the first films as well, having little sense of the humorous compositions available to him. None of the cleverness of the script is properly exploited. Cameron would have had a field day with the images of the Terminator hauling around a coffin trying to protect his charge, while Mostow seems to blow the opportunity. Think of how Cameron created the image of a terminator approaching, pulling a shotgun out of a box of roses, crushing the flowers under his feet as we'd seen the machines earlier crush human skulls. Cameron had a sense of the poetic, capturing just the right hints between dark seriousness and humor. Mostow frequently misses this nuance badly.
As for the villain, Loken's beauty is too distracting to make her properly menacing, the comparison to the brilliantly cast Robert Patrick is hopelessly one-sided. Patrick's policeman, with his cold stare and steel blade weapons like some whirling dervish, was truly inspired. Loken meanwhile seems like a gag, flamethrowers and bazookas coming out of her size 0 frame just come off as silly. She only really works one time, in a wild bathroom brawl, twisting her body around Arnold like some evil contortionist.
I liked the ending, reminiscent of "Planet of the Apes" to me, with the 70's cold war era furnishings, but ultimately the climax is muted emotionally because we really don't care about Stahl or Danes. One having to deliver clunky dialogue with a straight face, the other just annoyingly slow to pick up on what everyone in the audience knows. T3 does have some good things going for it, and ultimately I enjoyed it, but it just can't be compared to the films Cameron directed. The originals together are the best action movie ever made.