Joker is Smarter Than Me....Plus My Review of Seabiscuit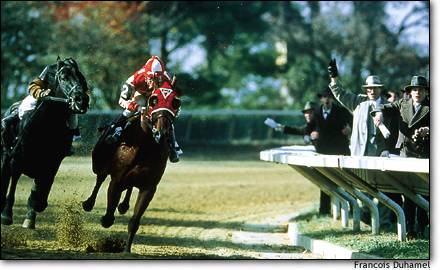 Well, I saw several other films this weekend, but the only one that has not been reviewed so far is Gary Ross's
Seabiscuit
. Why would I go to a film that just screams White Elephant Art? Well, simply put, I went because
Seabiscuit
stars three of my most favorite American screen actors: Tobey Maguire, Jeff Bridges, and Chris Cooper (I rarely go to films based solely on the actors, but I did so twice on Saturday; I also went to
Pirates of the Caribbean
solely to watch Johnny Depp's performance). It's not that I didn't go in without some trepidation. I usually place White Elephant Art at the apex of my hierarchy of cinematic scorn, slightly above the Bay-Bruckheimer abominations, er, I mean collaborations. But sometimes, against my better judgment, I do, in fact, enjoy White Elephant Art (usually I'm either bored, i.e.
Road to Perdition
, or just plain angry at the film for wasting my time, i.e.
The Hours
).
Seabiscuit
definitely has it's share of problems, the least of which is that it's a big, soppy sentimental film, aided immeasurably in this regard by Randy Newman's manipulative score (cue swelling strings, cue mournful horns).
However, the biggest problem with the film is that Gary Ross equates the story of Seabiscuit with that of America itself during the Great Depression, attempting to generate some sort of populist, liberal myth making (a la Capra, hell, you could stick Eddie Jones, who plays Mr. Riddle, the owner of Triple Crown winner War Admiral, in a wheelchair and call him Mr. Potter). When David McCullough began his narration over some iconic B&W still pictures (and there are plenty of those throughout the movie; it takes about an hour of backstory, unfolding over the course of 20-30 years, with every major historical turning point gratuitously highlighted, before Seabiscuit shows up), I thought that Ken Burns had kicked Gary Ross out of the director's chair (this attempt at adding some historical gravitas is an exemplar of Ross's trend of dropping anvils on the heads of the audience, just in case we miss the tropes of a Hollywood prestige picture). To be fair, I actually like some of Ross's usage of these B&W stills: during the first race at Santa Anita, as the horses approach the finish line, Gary Ross suddenly fades to white, filling the soundtrack with disappointed groans, before fading back into a still picture of another horse beating Seabiscuit by a nose. The other usage of still pictures that I really like was during the first segment of the legendary race between Seabiscuit and War Admiral; Ross depicts this first segment solely through pictures of people huddled around their radios, as the crackle of a period radio broadcast describes the events on the soundtrack. I almost wish that Ross had continued to use the stills, instead he cuts back to the live action version of the race (which was not disappointing, I just wanted some more creative staging, for the most part, everything is safely staged, sometimes compelling so, but Ross takes few chances).
It's unfortunate that Ross puts so much stock in his myth making, because his film works best as a portrait of wounded men, and a horse, coming together, helping each other, and forming an unlikely family (even with a surrogate mother-figure in Elizabeth Bank's Marcela Howard, who does little but provide encouragement and look fetching in period garb). Gary Ross's talents as a speech and comedy writer are put to good use with Jeff Bridge's character, Charles Howard, the self-made millionaire car salesman who owns Seabiscuit. The perpetually optimistic Howard (save for the days following the death of his young son) has an uncanny knack for publicity, bullshitting, and populist rhetoric. In short, he's the consummate car salesman, or politician. It's through these speeches that Ross draws many of his parallels between the story of Seabiscuit and the Depression, with Howard's talk of the future mirroring New Deal Optimism (pride and second chances figure largely in Howard's speeches, often preceded or followed by a paean to the WPA, for instance, courtesy of David McCullough); at one point, Howard even delivers one of his speeches from the rear of a train, as if he was on some sort of political, whistle stop tour (in many ways it was).
Howard's gregariousness is well-matched by Chris Cooper's taciturn portrayal of Seabiscuit's trainer, Tom Smith, an ex-cowboy, who was cast adrift when the frontier closed. Bridges might have the showier part, but I think that Cooper's performance is much better, since he's one of our best actors when it comes to roles that do not require much talk (thinking about it, it's kind of ironic he won an Oscar for his role in
Adaptation
, since his character never really shuts up, it's sort of an anomaly; I'll be pulling for him again next year), the type of person who plays there cards close to their chest (he's gruff, but sensitive). Tobey Maguire gives an assured performance in his role as the jockey with a chip on his shoulder, Red Pollard, but he also has the weakest character in the film, being saddled with a character arc infused with simplistic psychology (actually, Charles Howard's grief over the death of his son is probably the most psychologically simplistic, since Red Pollard neatly slides into the role of the replacement son at a requisite point in the film), even if it based on fact; from what I've read in the many articles about the film and Laura Hillenbrand's book, Red Pollard was a much more complex character, but his rougher edges (such as his alcoholism) were smoothed out by the screenplay. I also have to note that William H. Macy provides a hammy turn as a radio-announcer with a somewhat hilarious schtick, kind of like a 30s era gonzo radio personality, complete with a full repertoire of corny 30s slang and gimmicky toys.
Besides the acting, the other main strengths of the film are the racing sequences, which are very exciting to watch, you get right in the action, with the Tiajuana races being particularly brutal (all
Buffy the Vampire Slayer
fans should note that Danny Strong, aka Jonathan, has a small role as a jockey during this sequence); the beautiful cinematography and production design (something you can usually count on in all White Elephant Art); and a real historical story that would be hard to mess up (though they apparently did in the 1949 version, starring Shirley Temple). It's just too bad that Ross can't resist the temptation of inflating a compelling story with too much self-importance. Oh well, it should clean up at both the box office and the Oscars.