Hump Day Short Film Reviews
Well, I haven't really seen much lately, which means that I've seen less than five films in a week, though, in the next couple of days I should be more active, beginning with tomorrow's screening of the three-hour Algerian film,
Chronicle of the Years of Embers
. So, here are some short reviews of the three films that I've seen this week:
The Fruit of Paradise
(d. Vera Chytilov?)
I finally made it to the Cinematheque's Chytilov? retrospective. Hmmm, perhaps not the most ideal way to be introduced to a director's work (in particular, the Cinematheque AC was broken), but quite frankly, I really hated this film. It's beautiful, in a non-exciting way, being one of those really abstract, modernist European art films, you know, the ones that give abstract, modernist European art films a bad name. Filmed in 1969, the film is a retelling, of sorts, of the Biblical story of Adam and Eve (the main events of the film are preceded by a prologue which is a cross between the Book of Genesis and a Brakhage film), set in a Czech spa (though it's more of a love triangle). The most interesting part of the film was the stylized, expressionistic acting, especially by Jitka Novakova, the ingenue Eva, who seems to embody innocence, and Jan Schmid, who plays the serpentine serial murderer Robert. I've already forgotten most of this historical curio.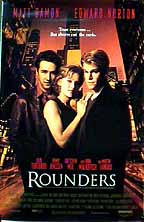 Rounders
(d. John Dahl)
Inspired by my recent infatuation with Texas Hold'em and the WPT on the Travel Channel, I rented this underrated film from 1998, which I had never seen before. It's a good solid film, which is made even more watchable if you have an interest in poker.
Rounders
features a very impressive cast: Matt Damon (one of the few major stars of today who consistently picks more interesting projects, unlike, say his cohort Ben Affleck), Edward Norton, John Malkovich, Martin Landau, John Turturro, Gretchen Mol (I remember that she was going to be the next big thing, until this film fizzled at the box office), and Famke Jansen. Well acted and solidly directed, Dahl takes a very, very shopworn premise and infuses it with atmosphere, suspense, and a keen sense of detail. Again, it's a pretty generic story, but it's consistently watchable.
Terminator 3: The Rise of the Machines
(d. Jonathan Mostow)
I got pissed at the traffic and the lack of parking in downtown Madison this evening, so I took off for the nearest multiplex to see whatever was playing by the time I got there, so I saw
T3
. I pretty much agree wholeheartedly with
Mcbain's earlier review
(and also Shannon's comments about the lack of humanity; my office mate, who saw the film last week, thought that the film was "hollow"),
T3
is a decent film, but pales in comparison with the first two films. I just wanted to point out a couple of additional things that I noticed watching
T3
:
*Hey, I like Mostow's other films (
Breakdown
and
U-571
), but
T3
was certainly lacking James Cameron's assured touch. McBain and Joker already point out the direction's technical and poetic shortcomings, but I have a complaint about the CGI, which I thought were overused, muddy, and ugly. Dammit, I miss the models and glass mattes of the first film, and I remember when morphing was the shit. Cameron might be a megalomaniacal control freak with an overinflated sense of his films' mythic grandeur, but he knows his SFX, and he would never have allowed that kind of obviousness intrude upon his film. Also, as Shannon notes in the comments,
T3
completely lacks the human element when it comes to it's grandiose special effects (there's a seeming lack of appropriate high stakes in the film). I do remember the nuclear fire that incinerates Sarah Connor and a playground full of women and children in
T2
. Now that's frightening. This Judgment Day, well, it won't be giving me any sleepless nights.
*I appreciate the humor in
T3
, but I'm not sure I agree with the direction the humor was taking. I think the drive towards self-parody and self-referentiality (did like the cameo reappearance of the psychiatrist who appeared in the first two films) is a rather big mistake, even if it is funny.
T2
was very funny, with a young punk kid teaching an emotionless robot how to be more human, creating many funny and moving moments, but it was all organic. Here, Arnold Schwarzenegger seems to be winking to the camera when he does his trademark, emotionless one-liners, it's just too knowing. The humor in
T3
doesn't make the T-101 more human, it makes him more cartoonish. That kind of took me out of the story, and severely diminished my emotional investment in the film (which was already lacking in the first place). I was moved when the T-101 was destroyed in
T2
, here, I really couldn't care less
*Kristanna Loken was pretty hot, and the TX is an interesting idea, but she was not very frightening.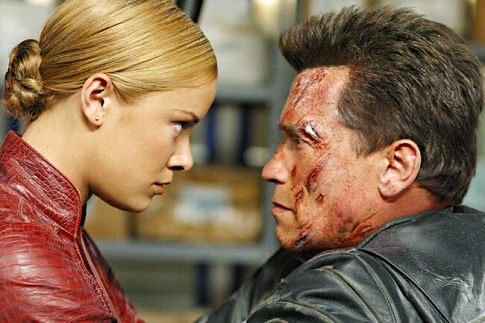 Everyone else has mentioned how much more effective Robert Patrick was as the T-1000, and that has a lot to do with his acting and appearance, but it also has to with the fact that the T-1000 was presented as a much more imposing, virtually indestructible killing machine. According to
T3
, the TX might be stronger, faster, smarter, and better armored than a T-101, and she might be able to control other machines, change her appearance, and turn her arm into a myriad of weapons, but for the most part, they neglected to actually make her stronger, faster, smarter, etc. than the T-1000 or even the T-101 (a hohum plasma gun, which violates the rules of the
Terminator
universe, seemed a hell of lot less frightening, not to mention painful, than a four-foot long metal skewer). And they way they killed her, what an obvious rip-off of the first film.
*I don't really want to get into the paradox of time travel created by the film(s), but it's kind of weird that
T3
more or less goes back to the first film's conception of time and causality, directly bypassing the second film's emphasis on free will (then again, Cameron himself changed his own ideas between the first and second film). Yeah, I liked how everything came together at the end, but I thought it kind of cheapened much of the events of the
T2
, like, say, Joe Morton's death and the T-101's self-immolation.
It may seem like I'm being really hard on the film, but like McBain, I was just disappointed that the film didn't even begin to approach the the level of greatness achieved by the first two films of the series. Maybe they'll coax James Cameron back for the inevitable fourth film (assuming Schwarzenegger doesn't become Governor of California). It could happen, reportedly, Cameron is interested in filming a fifth
Aliens
film.
Link of the Day
One of my favorite
Onion AV Club
features was reprised this week,
"Curse of the Commentary Tracks of the Damned!!!"
. Enjoy.