Battle Royale
Let me begin by first saying that this review is based upon my viewing of the two-disc, Regionless "Special Edition Director's Cut" DVD (which runs approximately 122 minutes, it's actually a Korean import); I guess there are several versions floating around, and phyrephox and I had some AIM discussions over which version I was actually watching. Basically, the movie was released in Japan rated R-15, which is the Japanese version of an R-rated movie; it was a big hit, so to make some more money, they reedited the film so they could release it with a lower rating; then I guess some member of the Japanese Diet denounced the film as an example of Japanese popular culture run amok; later, the director Kinji Fukasaku created another director's cut version, with footage that expanded the relationships between some the of the characters, I think this is the version, or closest to that particular version, that I watched last night (the version I watched had a R-15 rating preceding the movie).
Battle Royale
is a film whose reputation for being ultra-violent has definitely preceded it, though, truth be told, it's really not much more violent than a Verhoeven film, it's just that in a Verhoeven film, a bunch of 14 and 15 year olds aren't the ones killing each other. Kinji Fukasaku took a novel by Koshun Takami, and fashioned an artful movie in the guise of an exploitation thriller (my favorite). The admittedly absurd premise takes the form of a classic exploitation thriller: a class of 42 Japanese students are taken to an isolated, uninhabited island by the fascist government, where they are armed (with an assortment of weapons, from a pot lid to a MP5 submachine gun) and set loose, with only one purpose, to kill each other. After three days, there can only be one survivor of the Battle Royale; if there is more than one survivor at the end of the game, everyone dies, courtesy of the explosive, tamperproof necklaces that each player wears around their neck. And to make matters more interesting, certain zones of the island are deemed "danger zones;" anyone in the them, will suffer detonation, so the players are constantly on the move. While I'm not exactly sure what the Battle Royale is supposed to accomplish in the eyes of the government (other than scapegoating; the high school class is selected by random lottery, and the class doesn't seem to be full of juvenile delinquents; it's pretty much an adults vs. youth story), the premise is a launching pad for a film that is thrilling, horrifying, tragic, and ultimately hopeful.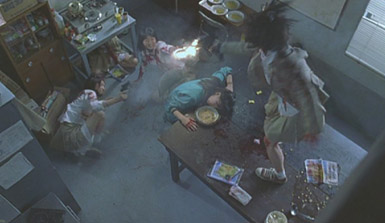 The film has a rather large cast. Though the filmmakers focus only on a handful of the 42 students, all are given equal opportunity to shine in the various death scenes, which are mostly featured in vignettes of various length, many of which feature flashbacks, voice-over narration, and intertitles which elucidate the relationships between the various students (the image of Japanese teenagers in school uniforms, especially the girls in their skirts, is both striking, funny, and horrifying). After each vignette, a title appears on-screen telling the audience the names and student ID numbers of each person killed (and the adults on the island give periodic updates over an island-wide PA, a ghoulish roll-call of the deceased). As I said before, the film focuses on several of the students, in particular, Shuya Nanahara, an orphan (his mother died of an illness, and his jobless father hung himself; Shuya found his father's body after his first day of 7th grade, and his suicide note, written over and over again on long lengths of toilet paper, "Go Shuya, You Can Make It, Shuya) who promised his friend Nobu (he dies rather early in a demonstration of the explosive collars, though he reappears in flashbacks and fever dreams) to take care of the girl that he has a crush upon, Noriko. Other important students include the two Battle Royale participants who were not part of Nanahara's class, the enigmatic, experienced Kawada (who has his own dual reasons for participating in the Battle Royale), and the psychopathic Kiriyama, a true badass who joined the Battle Royale for fun (and manages to gleefully dispatch the majority of the students, with his only expression, if you can call it that, being a contemptuous sneer and wry smile). While Kawada ultimately comes to the aid of Shuya and Noriko, Kiriyama mercilessly hunts down the other students. Rounding out the featured students are Sugimura, a genial boy who continually is searching the island for someone; Mimura, a computer hacker who organizes some of the other boys into plotting against the adults on the island (his uncle was a leftist guerilla and taught him how to make bombs); and, finally, Mitsuko, who I'm pretty sure was the class slut. She transforms into a particularly heartless killer, but of all the students, her backstory is particularly revelatory, especially during the first Requiem sequence (the version of the film has three Requiem sequences, a basketball match between Class A and B, a happier event which repeatedly punctuates the film in flashback; there is also two extended dream sequences, which partially appear earlier in the film, one of which expands on the relationship between Noriko and Teacher Kitano), where you see how lonely, friendless, and ostracized Mitsuko really is (her class wins the basketball game, and their lots of hugging and cheering, and though Mitsuko is clearly happy, she's alone in the back, friendless).
Of the adults, the only one of real consequence is the stoic and sadistic "teacher" Kitano, played by Japanese renaissance man Takeshi Kitano. Ironically, Kitano was once the student's actual teacher, until he got sick of being mocked by his students (and after having his leg slashed by Nobu after class); now he orchestrates the Battle Royale carnage, personally dispatching two students during the Battle Royale introduction (he throws a knife into the forehead of a girl who was whispering, and detonates Nobu's collar as demonstration for the others, it's pretty gruesome with the hissing spray of the ruptured jugular), a deliciously wicked sequence of horror and black comedy.
The students, completely terrified, huddle in a decrepit class room, surrounded by soldiers armed with assault rifles, and are forced to watch an official tape which explains the rules of the Battle Royale. What's funny about this sequence is the tape, which seems modeled after a Japanese commercial, with a punkisly attired young woman exclaiming the rules of the Battle Royale in a characteristically high-pitched, easily excitable voice.
Battle Royale
is filled with such moments of black humor, many of which are provided by the impassive face of Kitano himself (I'm thinking of the ending, in particular, after being shot repeatedly, his cellphone rings, and he gets off the floor, answers the phone, shouts at his estranged daughter, eats a cookie that Noriko baked, and then dies). Kitano, the character, is revealed to be much more than a mere sadist, or vengeful adult. He has a genuine affection for Noriko (yes, kind of off-kilter and weird, but still tender and sympathetic), and from the few snippets of phone calls he receives from home, you can tell that Kitano is a desperately unhappy person, taking out his misery and frustration on others (you get the impression that the government, is taking out it's own misery and frustration via the Battle Royale; and in many ways, is acting like a petulant child).
For a film that is very heavy on action (which varies in intensity from black comedy, to brutal realism, to extended, operatic action sequences), it's strength relies on the relationships, both negative and positive, between the young cast members. Just imagine the lengths that hormones, petty jealousies ("you stole my boyfriend"), cliquish mistrust, fear, stupidity, and adolescent slights, whether real or imagined, could drive a young teenager to, and then magnify that by a factor of ten, hell a hundred. Several of the young couples pull a Romeo and Juliet, committing suicide together rather than being forced to kill, while friendships are torn asunder (for example, as Kitano reads out the litany of the recently deceased, the camera pans across a scene of the bodies of two schoolgirls, who clearly killed each other; there is a quick flashback to the Battle Royale introduction, as the same girls pledge their continued friendship). Many of the students attempt to band together, but even under the best of circumstances, the alliances are fragile (the scene in the lighthouse where a seemingly amiable group of girls degenerates into a hail of gunfire and blood after an accidental poisoning). Young love runs rampant through the group, often with tragic results (I'm thinking of Sugimura's fate, as he is killed by the panicky girl he's been searching the island for; with his last few breaths, he tells her he loves her, and she falls to her knees crying, saying how he never even talked to her).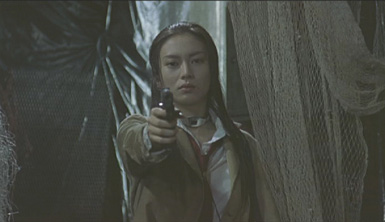 Despite a set-up that seems primed for an embrace of a winner take all, dog eat dog, nihilism,
Battle Royale
is ultimately a hopeful film, because, many of the characters directly repudiate that kind of ethos (many do so throughout the film, albeit temporarily, as they are either killed or forced to kill), banding together for a common good. Mimura is a representative of a political style of resistance; he wants to fight the adults and their fascist regime, even if he's to die in the process. He won't give up, and though he personally fails, his sacrifice lays the groundwork for the others to escape. On the other hand, there is the trio of Nanahara, Noriko, and Kawada, who band together out of personal and emotional reasons. It's the lone wolves, like Kiriyama, Mitsuko, and Kitano who die alone (though you kind of feel sorry for Mitsuko and Kitano as more of their personalities, and what drives them is revealed; Kiriyama is just a bad-ass sociopath, a tough evil motherfucker who goes against the other tough motherfucker, Kawada, though he has a heart of gold, in a vicious gun battle set in a hellish inferno). These bonds extend beyond the Battle Royale, as Nanahara continues to live up to his promise to protect Noriko, but now, instead of having to protect her from the other students, he has to protect her from the government, who hypocritically, have deemed the two of them murderers.