X2 = 2 X Better: Some Short Thoughts About the X-Men Sequel
For some strange reason, I'm really proud of my pseudo-clever, pseudo-
Variety
title. But it's the truth; I wasn't a big fan of the original, a serviceable, comic-inspired movie with too much exposition and only one really interesting narrative thread (that being Rogue's story, who is unfortunately a largely secondary character this time around). This time around, the filmmakers were hitting on all cylinders, and we get one of those rare sequels that's better than the original.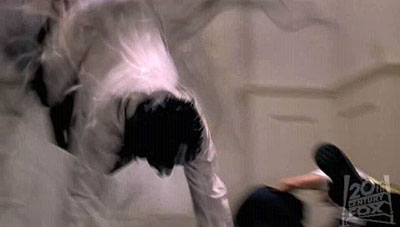 The film starts with a bang, or rather a "bampf!" as a teleporting mutant, later revealed to be the blue-skinned Nightcrawler (Alan Cumming in the film's best performance), attempts to assassinate the President of the United States, in a sequence with an excellent combination of SFX and acrobatic fight choreography. This is one of many exciting actions sequences: see Wolverine take out one commando after another, an enraged Pyro incinerate some local policeman, Magneto's escape from his plastic prison, Mystique infiltrating the secret military base, and the fight between Wolverine and Lady Deathstrike, an incredibly brutal piece of action for a PG-13 movie, as the two of them, nearly indestructible, super-fast healing mutants (though, I listened to a bunch of comic book nuts argue that in the comics Lady Deathstrike was a cyborg not a mutant) repeatedly skewer and slash each other with blades that jut out of their hands. I had a lot of fun, and there was a true human element to the story, which is the true measure of success for these types of movies.
However, what is most intersting is that the filmmakers continue to use the race metaphor from the comic books (there is also the metaphor of coming out, comparing the reactions of a mutant's parents to that of some parents whose children come out). With some government officials eagerly discussing the registration/internment of the hidden enemy within, the film is more socially relevant than ever, nicely mirroring the way the original comic books of the 1960s dealt with race and the civil rights movement, and I liked the scene where Nightcrawler asks Mystique, another blue-skinned mutant who can take the shape of any person, why she doesn't just assume a normal human form, and she replies "Because I shouldn't have to." Personally, I would have a tough time following Professor X's philosophy of accomodation, which is why I thought that Pyro's choice of joining Magneto. While I would never endorse the wholesale genocide of anybody, if I was being violently oppressed, and I had some sort of power to stop it, I would quash my oppressors like a bug. Even with the somewhat hopeful, open-ended denouement (which also laid the groundwork for the Phoenix stories), I'm still skeptical, basically because I know that the subsequent sequels will introduce the Sentinels. It's an odd duck, for sure, when a summer blockbuster movie is most interesting for it's political aspects.