The Wicker Man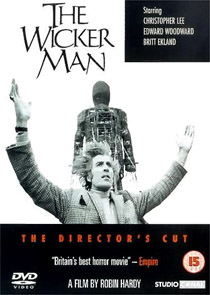 The Wicker Man
, 1973 (starring Edward Woodward, Christopher Lee and Britt Ekland, directed by Robin Hardy).
Cinefantastique called
The Wicker Man
"the
Citizen Kane
of horror films." I'm not sure The
Wicker Man
can really be said to be a true horror film, although if you had to put it on the shelf at your video store, and your video store didn't have a "cult" section, I guess horror would be the most logical place. Some horrific things happen in it, to be sure, but until the end it's not a particularly scary movie. Chilling, creepy and thrilling, but not "sleep with the lights on in the bathroom" scary.
Edward Woodward (later known to American audiences as "The Equalizer") plays Sgt. Howie, a pious, strait-laced policeman investigating the disappearance of a young girl on an anonymous tip. His search brings him to the remote Scottish island village of Summerisle. He's not very successful in finding the girl (not at first, anyway). What he does find is hedonism, pagan rituals, a dead rabbit, and public displays of affection that would make Hugh Hefner blush.
Summerisle is a harvest village. Its livelihood comes from the exportation of fresh fruits and vegetables, so the inhabitants' lives revolve around a successful harvest. They are almost entirely cut off from civilization, and most of the families living there have been there for generations. So it's not really surprising that they practice a pagan religion revolving around fertility and reproduction.
Sgt. Howie happens to come to town just in time for the May Day celebration. Fertility rites are in full swing. Everywhere he looks, Howie encounters perversion and nudity: bawdy songs about Willow the landlord's daughter (Britt Ekland), couples having sex in the yard, young girls dancing naked around a fire pit, not to mention Willow's erotic dance of the temptress in the room next to Howie's, while he's trying to say his prayers.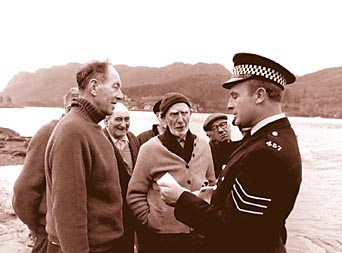 Howie is shocked, offended, and – let's face it – horny as all get-out. Of course, he doesn't act on his impulses, tempted though he may be. "No offense meant," he mutters to Willow the next morning. "I just don't believe in it... before marriage." Instead he channels his moral outrage and his bottled up sexual frustration into the hunt for the missing girl, Rowan Morrison.
His search eventually leads him to the manor of Lord Summerisle (Christopher Lee), the owner of the Summerisle farming community, and also their civic and spiritual leader. Christopher Lee brings wit and a cool sophistication to his portrayal of Lord Summerisle, and he's the perfect counterpart to Woodward's apoplectic Bible thumper. Their first scene together is one of the highlights of the film.
Sgt. Howie slowly begins uncovering some leads in his search for Rowan Morrison. He first believes her to be murdered and buried in an unmarked grave, until he exhumes the "body" and it turns out to be a dead rabbit (March hare, to be more accurate). But when he discovers that young Rowan was the queen of last year's unsuccessful harvest, it gradually dawns on him that the inhabitants of Summerisle are planning a sacrifice for this year's Rites of Spring – a human sacrifice.
Edward Woodward as Sgt. Howie manages to pull of a tricky acting feat – he's at once judgmental, blustering, self-righteous, and yet somehow pitiable. At the same time, you root for him, you want him to find Rowan Morrison, and you're as curious as he is to figure out what's happened to her. And always just below the surface is this rage of pent-up sexual energy trying to get out, which he struggles to keep under control.
Christopher Lee's portrayal of Lord Summerisle is the polar opposite: he's charming, cool, unflappable, and smiles easily and often. But under the smile there's still something innately creepy and a little frightening about him.
The difference in their characters reflects a difference in their religious upbringings, as well. Howie was raised as a pious Christian, always taught to deny his baser instincts and the temptations of sin; where Summerisle and his fellow pagans were taught to embrace sexuality. The portrayals of different spiritual beliefs here are even-handed, even if Howie is a little on the zealous side.
Anthony Shaffer's well-researched script is filled with rich dialogue and wit (not unlike another favorite Shaffer script of mine,
Sleuth
), and Robin Hardy's direction is well paced. The score and songs are haunting, and one song in particular stayed with me for days after I saw it. The music is like an additional character in this film, from Britt Ekland's tempting "Willow's Song" (dubbed, as I understand it, but not sure by whom), to "The Tree Song" as sung around the Maypole, to Howie's plaintive version of "The Lord's Prayer."
There are evidently several versions of
The Wicker Man
floating around – I received the DVD as a gift from a friend who is a huge fan, and he tells me that there is a 79-minute version, an 84-minute version, and a 99-minute version out there. The DVD that I saw is 89 minutes.