Whale Rider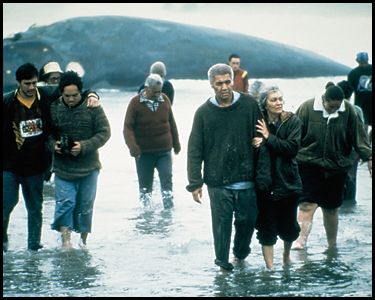 You'd never hear about this flick if I didn't post about it, so even though I don't have anything of great insight to say, I'll just write a few words on a little indie sleeper that's gonna rock some boats, so to speak. It's a New Zealand film shot entirely with a cast of Maori characters (including the New Zealand-born
Three Kings
and
Bringing Out the Dead
veteran Cliff Curtis, who plays the lead character's father) and set in a gorgeous seaside village down under. It's a family fable about an adolescent girl who's the most recent descendant of an ancient tribal leader. She thinks she's supposed to lead the new generation, but her crusty old grandpa thinks tribal chiefs can only be men. So you've got a little feminist tale infused with some cliches about tradition vs. family, emotion vs. duty, etc. blah blah blah. Sounds pretty lame, right?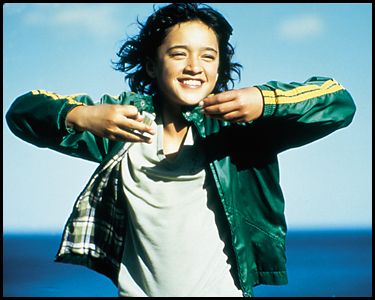 Actually, it rocks. Director Niki Caro knows where to put the camera in every scene to get not only perfect coverage on the actors but evocative shots of the landscape as it relates to the natives inhabiting it. Lisa Gerrard's score is beautifully pitched to mesh with the slo-mo photography and milky, watery images. It's a hell of a movie to look at. But what makes it effective -- and what yielded an ending without a dry eye in the house -- is how earnest and confident the storytelling is. Thanks to fine performances all around, especially from Keisha Castle-Hughes (some sort of prodigy kid who's both adorable and fiercely talented), the fable is authentic and the emotion is pure. I won't say too much about what happens, but suffice to say this film actually manages to make fresh and tear-jerking the hackneyed scene of the parent figure that fails to show up for the little girl's school play. Pretty amazing that there's still life in that old bit.
Whale Rider
is only playing in, I think, 4 theaters in America now, but if it makes it near you, don't miss it on the big screen. It's Cinemascope pretty and substantially satisfying.