Unknown Pleasures & Ringu
With the exception of the Cinematheque, the WUD Screenings, and the Wisconsin Film Festival, Madison is not exactly a place where obscure art films are commercially screened (we get all the high profile ones, eventually), so I was excited to learn yesterday that one of the local art-houses had put together a very exciting program of independent and retrospective films which otherwise would never have screened here in Madison (next week, they begin a screening of Guy Maddin's
Dracula: Pages From a Virgin's Diary
; I know what I'll be doing on July 4th). This weekend, they brought in the documentary
Lost in La Mancha
(which I commented upon under Rodney's more comprehensive review, and which, I later learned, is going to be released on DVD on Tuesday), and the latest film by the Sixth Generation director Jia Zhangke,
Unknown Pleasures
. Thanks to
J. Hoberman's review in The Village Voice
, the meaning of the title, which was actually discussed by two of the central characters in the film, was clarified for me:
"Unknown Pleasures takes its Chinese title
[Ren xiao yao]
(which translates as "Free of All Constraints") from a poem by the fourth century B.C. Taoist philosopher Zhuangzi that became a pop hit in 2001. It's sung twice in the film..."
China, 2001 (actually the provincial city of Datong, in Shanxi Province, which is where Jia Zhangke is from). One of the film's greatest strengths is how historically specific is truly is; it's steeped in the locality of the historical moment, much like the films of Taiwanese filmmaker Hou Hsaio-hsien, and makes little or no allowances for the Western viewer. The references to the poem/pop hit "Ren xiao yao," is but one instance of this phenomenon, and luckily, I was able to pick up on some of the more obvious historical and cultural references (though I'm sure I missed plenty): the government crackdown on the Falun Gong sect, the spy plane debacle between the US and China (at one point, when an explosion rocks the neighborhood, one of the characters says "Shit, are the American's bombing?"), the negotiations for the entry of China into the WTO, and the awarding of the 2008 Summer Olympics to Beijing. Actually, one of the funniest references, is when a local thug chastises one of the main characters, Bin Bin, who is selling DVDs to generate some quick cash, for not being able to move art house films like
Xiao Wu
,
Platform
, and
Love Will Tear Us Apart
. The knowing joke is that the first two films were also directed by Jia Zhangke, while the last one was directed by the film's DP, Lu Lik-wai. Whoo-hoo, reading film magazines finally pays off.
Not only does Jia Zhangke plunge into the historical moment, but also the local environment. Datong seems to be a city in the state of perpetual decay, a postindustrial wasteland, dominated by both the cooling towers of the local power plant and the oppressively rectangular, concrete blockhouses which house the workers, though no one seems to actually have a job in Datong, except for the police, the hustlers, and the mostly unseen construction crews who are building the Datong-Beijing Highway (everyone being out of work doesn't stop Bin Bin from saying he lives at the "Textile Mill"). Cramped, crumbling homes; muddy, dirty streets; and the dark, dank youth centers, video parlors, restaurants, and discos (all centers of youthful "escape" and "enjoyment") are all captured by Lu Lik-wai's DV camera, adding another, muddier, sheen to the proceedings. And despite the sun-bleached landscape that surrounds Datong, the sky is blotted out by a sheet of low-hanging, gray clouds throughout the film (though it rarely rains, Datong seems to suffer under constant humidity).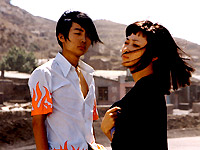 The film is ostensibly about two slacker-types, a pair of profoundly alienated, unemployed teenagers, named Bin Bin and Xiao Ji, who, despite there shared vacant stares and seeming inability to do anything else but sit around and smoke, are easy to tell apart from their hair and clothing styles: the more "realistic" Bin Bin has relatively short hair and always wears a white, button-up shirt, while the more "romantic" Xiao Ji sports long hair, which often obscures his face (actually, the only time you see his face is when he is riding his motorbike; the wind pushes his hair back), and a more flashier wardrobe. The film concentrates on the laconic pair, and their relationship with their parents and their girlfriends. Both Bin Bin and Xiao Ji are only children raised by single parents; Bin Bin by a recently laid-off single mother, a practitioner of Falun Gong, and Xiao Ji by a jobless single father (who accidentally happens upon an American one dollar bill, which causes everyone around him to exclaim that he is rich). Bin Bin is dating a high school student, while Xiao Ji pursues a local performer/prostitute named Qiao Qiao (which creates a "love triangle" of sorts between Xiao Ji, Qiao Qiao, and her agent/pimp, who is also her former Gym Teacher). Western-style capitalism may have come to Datong, but it has largely passed by this pair; there is one scene that encapsulates this sentiment, when Xiao Ji escapes his customary poverty, and takes Qiao Qiao to a modern, Western-style hotel, and is unable to work the bathtub faucets (another scene is when a temporarily grateful Qiao Qiao takes Xiao Ji out for noodles, and he begins to describe the opening scene in
Pulp Fiction
, which leads to a bravura cut to a disco, where Qiao Qiao and Xiao Ji dance, in the style aping Uma Thurman and John Travolta, in that same film, to some rather boring techno music).
Both Bin Bin and Xiao Ji are essentially trapped in Datong, disaffected, wandering aimlessly through the streets, looking for something, anything to do; when they actually do attempt to look for jobs, they are turned away (Bin Bin even attempts to enlist in the army, but is rebuffed after being diagnosed with hepatitis). The film reminded me of the work of Antonioni (ennui and spiritual malaise travels well), minus the bourgeois element; shots are held for such a long duration that they approach boredom inducing lengths (there are also very few close-ups in the film, they generally only occur when the characters are in very cramped spaces, otherwise it's a series of long and medium shots). The defining formal, and narrative element, of
Unknown Pleasures
is repetition. The characters constantly find themselves in situations where they act like mindless automatons colliding with a wall; with a little effort, they could escape the repetition, but they decline to do so. I'm thinking of the scenes where Bin Bin and his girlfriend Yuan Yuan repeatedly watch an animated version of the Monkey King story in a decrepit video parlor (the rigid, chaste way they sit next to each other shows little evidence of affection; when his girlfriend breaks it off during exams, Bin Bin barely blinks an eye, though, comically, she thinks he's hurt and angry); when Qiao Qiao's pimp has Xiao Ji roughed up (also kind of ironic, as earlier, the pimp told the boisterous, drunken Xiao Ji that he doesn't fight over women), with his thugs repeatedly slapping him in the darkened hallway of the disco, asking "are we having fun yet?" like some sort of sadistic mantra; when Qiao Qiao tries to escape from her pimp, and he throws her back down onto the bus seat every time she tries to get to the door; or, for a final example, when Xiao Ji's motorbike gets stuck in a small, muddy embankment, instead of pushing it up the two foot incline, Xiao Ji repeatedly attempts to drive it over the lip of the ditch. In each of these cases, and in other instances, a little effort on the part of the characters would have liberated them, but they do nothing. That is, until the ending, where Xiao Ji proposes robbing a bank with a fake bomb; this criminal fantasy goes predictably awry, with Bin Bin being arrested by some nonplussed policeman, and Xiao Ji fleeing down the newly opened Datong-Beijing Highway. The film ends with Xiao Ji's motorbike sputtering to a halt, in another scene of repetition, Xiao Ji repeatedly tries to kick start his bike in the pouring rain, before giving up, and hitching a ride from a passing motorist. Bin Bin finds himself in a police station, where he is informed that bank robbery is punishable by death (and where he meekly argues that it was only "attempted bank robbery"). In the closing shot of the film, a Kafkaesque policeman demands that Bin Bin sing for him; he complies, haltingly singing a song that he saw on a karaoke video he watched with his girlfriend, "happier" times indeed.
Yesterday, I also made a resolution to catch up on some films that I have missed, but which have been released on DVD. So, in between
Lost in La Mancha
and
Unknown Pleasures
, I went to the video store and rented a pair of higher profile Japanese films, Kinji Fukasaku's
Battle Royale
(the director's cut, no less), and Hideo Nakata's 1998 international horror hit,
Ringu
(I was also going to rent
Ichi the Killer
, but that will have to wait, maybe I'll pair it up with another Miike film,
Audition
). I decided to watch
Ringu
last night, since it was the shorter of the two films, and I thought it would make a nice compliment to the other horror film I planned on seeing this weekend, Danny Boyle's
28 Days Later
. I skipped Gore Verbinski's
The Ring
, which held little interest for me when it was released last fall; I was actually kind of surprised that Dreamworks had released the film on DVD so soon, usually when American film companies buy the remake rights to foreign films, they either bury or suppress the original (*cough* Miramax *cough*)
Ringu
was a fairly tight movie, that created a nice sense of dread and tension throughout (aided by the helpful titles, telling you how much time the heroine had to live), and also generated some genuinely scary moments (stupid stinger music cues and expert framing); I generally appreciate horror movies that rely on suspense and craft, rather than gore, and
Ringu
was solidly a film of the former type. It's unfortunate that five years of press in various film magazines had already ruined the twist ending for me, though it still was creepy in it's own right, with Sadako slowly crawling out of the well, and then the television itself, to kill Ryuiji. I puttered around the Internet this morning to learn how the Japanese version differed from the American version (which was padded out with 20 additional minutes of footage); the backstory is definitely different, as well as Sadako's motivations for killing. The Japanese version is also horse free, and seems more morally ambiguous (Sadako may have been a child, but she was also a psychic, possibly inhuman, monster).
Side Note
In a recent AIM conversation, phyrephox asked me about "White Elephant Art," a disparagement that some of us use on a frequent basis. Well, the term was coined by critical paragon Manny Farber in his seminal essay
"White Elephant Art vs. Termite Art,"
, which ironically, appeared in the same issue of the magazine
Film Culture
, as another seminal essay, Andrew Sarris's "Notes on the Auteur Theory in 1962." Might as well post a link to the article, so that everyone can draw their own conclusions. Either that, or get your lazy asses to the bookstore or library, and rent Farber's collection of essays
Negative Space
(another favorite Farber essay is "The Underground Film," which has nothing to do with avant-garde film).