The Shield

Vic Mackey's head is big and bald and hard, and inside it is a brain that is even worse. As played by Emmy-winning Best Actor Michael Chiklis, the lead character on FX's exceptional cop series
The Shield
is a 5'8" phallic symbol of masculine rage. A true dickhead if there ever was one, Mackey is a dirty cop that spends 45 minutes in the pilot making sure you never forgive him, and then he spends the next 12 episodes getting you to root for him. A strike team detective in the LAPD, Mackey has the same goals as most other cops: he wants to take bad guys off the streets and keep innocent people safe. He just has a different way of going about it. He'll beat the living shit out of suspects, he'll steal drugs and sell them back to his dealer friends in order to quell gang violence in the neighborhood, he'll destroy evidence, falsify reports, lie to his superiors, manipulate witnesses, and even murder to cover his own tracks. This is all bad shit, but at the end of the day he's the most successful cop in L.A. on those rigid terms -- stopping crime. The question that
The Shield
asks is: how valuable is safety to the citizens? How much are we willing to overlook in order to stop crime?
It's not a big step from the question posed by Stanley Kubrick (from Anthony Burgess) in
A Clockwork Orange
, which centered around whether or not the government should censor the free will of criminals in order to keep its society free of violent crime. The problem with Vic Mackey is that he's every bit the criminal of those he arrests, yet his own moral code is so strict and sacred, he rarely comes off as the bad guy in any given episode. In fact, by the end of the first season, Mackey has set his sights on an even shadier cop and you are biting your fingernails hoping that Mackey keeps his badge and doesn't get caught doing things you knew he should get busted for just 11 episodes prior.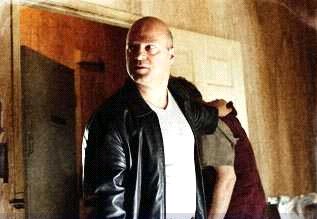 The genius of creator Shawn Ryan's show is that it never once tells you how to think. It presents what might be the most complex and conflicted protagonist in television history, and lets the viewer make up her own mind on how to evaluate that protagonist's actions. Ethics are so gray, so flexible, so relative, that there's no black and white in this police department: the Farmington district of L.A. has every single color in it and they all blend together. Vic Mackey is a funny center for that world created by Ryan -- he's a starkly white Anglo, a thick-accented Boston native with a bodybuilder's torso and a dildo's noggin, yet he's running around sunny Southern Cal protecting Hispanics, Koreans, blacks, Jews, Muslims, and Armenians. Out of place and living by a different set of rules, Mackey is the ultimate outsider creating his own identity by standing out as a cop -- he is so charismatic, so intense, so devoted to his goals, that it's hard to doubt his conviction to the job. He's both the worst good guy and the best bad guy you've ever seen on TV. An anti-hero to end all anti-heroes. And he struggles with an endless barrage of troubles -- some self-inflicted, others totally random. He has a wife (on whom he cheats), a daughter, and a son who has just been diagnosed with autism. He has a politically-motivated captain (Benito Martinez) trying to bring him down, a team of loose-cannon strike team partners (the most memorable of which is Shane, played brilliantly by Walton Goggins), and a dangerous partnership with the district's most lucrative drug dealer. How will he dig himself out of every hole in which he finds himself? And more importantly, does he deserve to?
Vic Mackey is just the beginning of what
The Shield
has to offer in terms of 21st century art on television. The directors (including
Homicide
's Clark Johnson and
The Salton Sea's
D.J. Caruso) bring a gritty, visceral ugliness to the look of the show that has the effect of de-stylizing it rather than stylizing it. It's so realistic that you forget there's a camera there. The photography, contrasty and colorful and unsteady and focused, is both perfect and invisible. Unlike the pathetic attempt at tripod-jerking on the lame
NYPD Blue
or the Hollywood psuedo-Bruckheimer beer commercial aesthetic from McG on
Fastlane
, the look of
The Shield
is authentic and perfectly pitched. It reeks of immediacy and run-and-gun speed.
Then there's the writing. The team of authors Ryan has assembled are fantastic at lending the show its sharp sense of humor, often dark and twisted, but always present in order to leaven the grim brutality of the stories. And there are some horrific acts of violence on screen here -- an old man has his foot nailed to a floor; a pregnant woman is shot in the stomach and dies; a truck driver is kicked in the face within an inch of his life; a cop is shot in the face and his eyes close an inch above the bullet wound as he dies; a 13 year-old girl is raped behind fiberglass in an underground sex show, another 8 year-old girl is trapped in a basement cage awaiting molestation at the hands of a pedophile (who, at the time, is getting his throat knocked in by Mackey). It goes on. But all throughout this ugly parade of horrors, there's an air of optimism that good things can still happen. This isn't Tom Fontana's
Oz
where there is no escape from death and despair. It's just a world where you can sidestep death but you can't ignore it.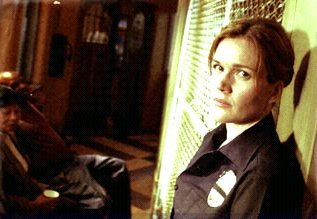 And what an ensemble of characters! In only 10 hours of screen time, the first season keenly develops its eight central characters with detail generally reserved for novels or a half dozen seasons of the best shows television's ever seen. There's Officer Julien Lowe (Michael Jace from
Boogie Nights
) struggling with an enormous number of minority handicaps: he's a rookie, he's black, he's gay, he's Christian. And you'll never believe where they take his character by the end. There's Dutch Wagenbach (a terrific Jay Karnes), the Tim Bayliss (from
Homicide
) character who tortures himself over a serial killer that might never be found, and also suffers a lack of respect from his colleagues. Yet even when he triumphs at his job, he collapses in his car and sobs like a baby from the truth of his own insecurities. Goggins, Martinez, and CCH Pounder also turn in great performances, as does Catherine Dent as the female beat cop with very complicated relationships to Mackey and Lowe that are stressed nearly beyond repair.
It's not just that these characters have their own shit going on -- the scripts constantly force these arcs to come into conflict during the most dramatically intense parts of the crime stories. You think you're just watching a few cops bust a dealer, but during the bust there are glances and lines that reveal deep seeds of betrayal and discord among the participants. Like all great drama,
The Shield
has layers of subtext under every seemingly insignificant plot detail. That's what makes the mounting tension from episode to episode so unbearable. By the end of the first season, only a riot could release it.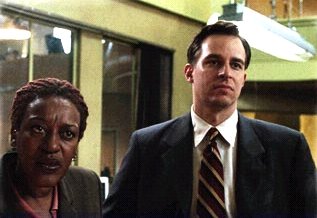 While each episode has its own stand-alone merits, the season as a whole stands as a sensational 10-hour journey through a few months in the life of a troubled police department. The viewer is constantly confronted with the reality of this Los Angeles -- it's not Beverly Hills or Malibu or Mann's Chinese theater. It's back alleys, studio apartments, and every ethnicity in the world crammed into a district that has no idea how to keep harmony. Yet everyone wants a piece of safety, and it's up to an entire spectrum of cops to maintain that. Who you think are good cops and bad cops will totally change over the course of the season, so that by the end the entire system is one giant grey zone of morality. Your expectations are always thwarted -- one episode begins with Mackey getting a lap dance in a strip club, and just as you're thinking to yourself that you'd believe this guy would do this, you realize he's undercover and pulling a bust on a robbery ring. In another scene, an emotionally volatile widow picks up Dutch's gun while he's in the shower, and just as you think she's going to use it, you realize she's just cleaning up the place -- and she hangs Dutch's jacket in the closet next to those of her late husband's.
There's nothing else to say other than the command that you must go rent (or buy or steal or trade for or copy or borrow) the 4 DVDs that make up the first season of
The Shield
. Even the songs used in touching montages are on the ball of good current music (The Magnetic Fields and Coldplay are just two bands used in the first season to brilliant effect, especially the former), and there's commentary for every episode plus featurettes and deleted scenes. If you couldn't tell by the previous words, the show owes a huge debt to Fontana's
Homicide
, which is still the single best one-hour drama ever broadcast in the United States. Since that show isn't on the air anymore, Shawn Ryan's successor is a worthy (if slightly less talented, moving, or philosophical) replacement -- not only is it the second best cop show I've ever seen, but it might be one of the five best dramas in television. Period. Then again, Vic Mackey would tell you that critical evaluations and armchair comparisons are meaningless. He would tell you to shut up, watch it, live it, and survive it. And you'd listen to him and obey, or else.