The Hulk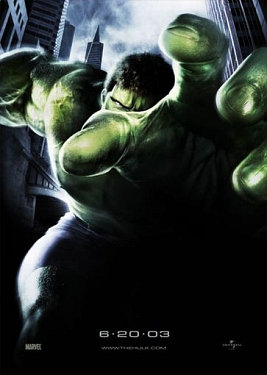 Well, that was disappointing. In the past, the team of Ang Lee and James Schamus has always been money, but with their newest film, the adaptation of the Marvel comic book
The Hulk
, they've misfired. Despite Lee's sometimes brilliant execution (of course, I particularly liked Lee's usage of split screens and CGI to replicate the feeling of comic book panels; however, there were also the innumerable scenes of impressionistic color and twinkling lights that seemed like some kind of bad 60s avant-garde film), he was let down, for the first time in my opinion, by Schamus's script (well, there were also two other screenwriters, but Schamus also wrote the story) which among other things was filled with rather boring exposition (the entire first act) which delayed the appearance of the Hulk for far too long, and concluded with an almost comically pretentious ending (I'm not talking about the sequel-inducing coda or the actually nice reconciliation between father and daughter Ross) which reminded me of the ending of the classic anime film
Akira
, as it was both turgid, murky, and incoherent (and was preceded by a bit of comically overwrought acting by Nick Nolte; for examples of good overacting in comic book films, please see Jack Nicholson in
Batman
and Willem Dafoe in
Spider-Man
).
Like
Spider-Man
,
The Hulk
was basically an origins story. How close it actually hews to the source material, well that I do not know (for some reason, with the introduction of "nanomeds" I doubt that it was really that close). My familiarity with the comics is passing at best, and I was never a devoted fan of the 70s television show (there was, however, a nice homage towards the beginning of the film, as both Stan Lee and Lou Ferrigno, had walk-on cameo roles as security guards who greeted Bruce Banner outside his lab). From my experience, unless you are going to create a television show around the origins of a particular super hero, a la
Smallville
, it's best to dispense with the actual pre-superhero stuff rather quickly, just set-up the basic situations and then get with the superpowers.
The Hulk
takes a different path: first we get a couple of scenes about the work of Bruce's father, David, your classic mad genius type, even with the stringy bad 70s haircut, and his experiments with regeneration on himself, which he proceeds to pass onto his son, Bruce (step one of a three, count'em, three step approach to becoming the Hulk), Bruce's childhood, David being busted by then Major Ross, then some horrible accident (ooh, repressed trauma), then some scenes with his adopted family, then a lot of scenes of Bruce, working with his former love Betsy Ross (Jennifer Connelly, and yes, she is the daughter of David Banner's former superior), some more plot set-up involving a gleefully smarmy military contractor, then some flashbacks about Bruce's relationship with Betsy, then a reunion of sorts between the two Banners, and then finally the lab accident that involves both "nanomeds" and gamma radiation (steps two and three of the rather complicated three step process).
Oh yeah, things aren't over yet, we still get more scenes of Bruce's recuperation, more meetings between father and son, and eventually, thank the lord, an explosion of anger within Bruce that causes the emergence of the hulk. As you can see by all my usage of the word "then," I was growing a little impatient with the film at this point, I wanted to see Hulk smash, I paid $5 to see Hulk smash; if I was wearing a watch, I would have been checking it long ago. You know, I remember that the TV show dispensed with all of this stuff in the opening credits. Now that's efficiency. And perhaps my impatience was amplified by something else; earlier yesterday,before I went to the theater, I was rewatching the S4
Buffy the Vampire Slayer
episode "Wild at Heart," which pretty much deals with many of the same themes featured in
The Hulk
; an emotionally levelheaded, stoic man has his inner beast unleashed, a pure id (in the case of
Buffy
, it was a werewolf), and how it effects his relationship with the woman who loves him and wants to help, but who really can't (yeah, yeah, "Wild at Heart" lacks the parent-child dynamic featured prominently in
The Hulk
). A bunch of television writers were able to convey almost the exact same emotional and subtextual story, in it's entirety, within 45 minutes (with a sense of humor, something pretty much lacking in
The Hulk
); it basically, took
The Hulk
that long to set up their basic premise. Shroomy angry...Shroomy smash....
Oh yeah, how was the smashing? Well, amazingly, nobody seemed to die, except for smarmy Pentagon contractor guy, even though the Hulk managed to chuck an M-1 Tank a good 1000 feet, or knock down several helicopters. The hulk did rip up a bunch of buildings real good, and there was a knockout, drag down fight between the Hulk and a pack of hulkified, mutant dogs (including one of the film's few truly funny conceits, a mutant French poodle) which seemed to pay homage to the treetop fight in
Crouching Tiger, Hidden Dragon
, but left me thinking about the fate of our poor national treasures, the redwood tree, which were felled during the battle. Basically, even with Lee's choice to replicate comic book panels, the action was not all that interesting, it lacked a dynamism, and I guess a bit of "finesse" (yes, we talking about the Hulk, so this request is kind of paradoxical). The Hulk is like the proverbial bull in the china shop, nothing is safe but a lot of mindless destruction gets kind of boring, especially when there is little to differentiate it from other scenes of, well smashing. Plus, a CGI effect fighting another CGI effect is usually less than thrilling. Which reminds me, since I mentioned it, I was actually pleasantly surprised with the CGI creation of The Hulk; I had serious doubts when I first saw the trailers during the Superbowl, but I guess the filmmakers were correct, the SFX were not ready at the time. The Hulk is no Gollum, but then again, he's no Jar Jar either; he looked less fake and more expressive than I thought he would, which is a definite plus. When David Banner reaches out and touches the cheek of his mutant son, it seemed like Nolte was actually touching something, very nice. The one thing I didn't like about the Hulk, was his jumping ability; it wasn't that I did not like the fact he could jump several miles at a time, it was the direction. It wasn't like I was expecting the grace of Spider-Man, but the jumping scenes were staged rather boringly, basically helicopter shots or extremely long shots with superimposed CGI. You really get no sense of movement from the Hulk's perspective. Another missed opportunity.
Actually, as conceived in the film, the Hulk character, purely in terms of characterization, was a bit disappointing. Unlike most super hero movies, the Hulk is not a hero, like Superman or Spider-Man, or a vengeful anti-hero/hero, like Batman or Daredevil, he's motivated purely by anger and the vestigial love for Betsy that he feels (he also seems to have some sort of residual social conscience, as he diverts an errant F-22 from striking the Golden Gate Bridge). In many ways, he's like King Kong, though in that classic film, I always got the impression that Willis O'Brien's stop motion creature wanted to boink Fay Wray; the Hulk and Betsy are a little more chaste. Since the "beast within" and love-story are kind of shortchanged by the screenplay, most of the conflict comes from the strained relationships between father and son, and father and daughter. Of those two sets of relationships, only the one between Ge. Ross and Betsy is emotionally involving, the other one, between David and Bruce is too fucked up and ludicrous for anyone to really care. Actually, the crux of that relationship is the remembering of a repressed memory (easily guessed by the viewing audience), the recovery of which leads to a less than tragic result. On the otherhand, the relationship between the emotionally distant Gen. Ross and his daughter, Betsy, is more effective, because you can tell that the General actually cares about his daughter, and at least acts on what he perceives to be her best interests, while, with a few exceptions, David Banner is a crazy loon with bad hair.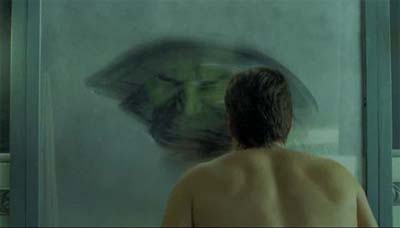 Sam Elliot, sporting a mustache you could scrub pots with, steals the movie as the steely, hard-edged, yet compassionate (though he hides it well) General Ross; you can look through his reserved facade and see how he tentatively reaches out to his alienated daughter, and even how he feels guilt about what happened to the young Bruce Banner (he also is very effective at barking out orders). As Roger Ebert noted (I believe), Jennifer Connelly, as Betsy, basically reprises her role from
A Beautiful Mind
, though, other than guide Bruce through some token psychoanalysis, is given pretty much nothing to do except gaze longingly, fear or in sorrow at Bruce, the Hulk, and/or her father (hey, I'm not saying that Kirsten Dunst had a lot to do with the role of Mary Jane in
Spider Man
, but at least she had some inner conflict to deal with). Eric Bana displays little of the charisma evident in
Chopper
, though I guess he does OK in the role of button-downed, repressed David Banner; it's more or less a failure of the screenplay, but the film doesn't convey the sense of both the difference and the similarity between the man and the monster (and a scene of Bruce gazing at a mirror and seeing the visage of the Hulk doesn't quite cut it). As I said earlier, Nick Nolte, as David Banner, hilariously over acts (well, at least until that becomes dull), by using his trademark, hoarse whisper or by full on ranting and raving; it doesn't help that David Banner's mental state and motivations are inconsistent, and at times even contradictory. I know, mad scientist, and what not, but the characterization just left him incoherent (using my earlier examples, Jack Nicholson as the Joker, and Willem Dafoe as Osbourne/The Green Goblin, were mad as a hatter too, but they were still pretty focused). And then we enter the quasi-
Akira
territory, which is neither profound or interesting.
Perhaps I'm a bit too harsh on the film, but I expect more out of Ang Lee and James Schamus; I like that the films based on Marvel Comics are at least trying to find name directors to work on their films (though looking at the IMDB.com listing for the next big Marvel film,
The Punisher
, the teaser trailer of which preceded
The Hulk
, leaves me less than enthused; and I mean, how can we so soon forget the 1989
Punisher
film starring Dolph Lundgren, Lou Gosset Jr., and Jerome Krabbe? Also, from this, it looks like the first tier comic book character get the good directors, while the second tier guys like The Punisher and Daredevil get newbies and second tier directors). However, I think these same top tier talents need to reign in their artiness. I'm not saying that they have to dumb down their work, but they need not weight it down with leaden pretension, nor do they have to attempt to make everything seem plausible. It's not necessary to create such an elaborate back story on how the Hulk was created, nobody needs it, nobody goes to a comic book film without suspending some disbelief (and nobody cares except for hardcore fanatics, who are likely to be pissed off any ways by the liberties that the film takes with the comic books). I think the best comic book films benefit from a more straight-ahead, linear approach, using (I hate to describe it this way) rather "simplified metaphors" (but not simplistic) to create mythic and emotional resonance in the audience. A perfect case in point,
Spider Man
.