Finding Nemo
With
Finding Nemo
Pixar
outdoes themselves once again. The gorgeous underwater animation is so vibrant, so creative (ranging from the eye poppingly colorful, hyper-real reefhome of the clownfish, to a ghostly World War 2 underwater minefield, complete with a decaying Reich u-boat), that I left the movie craving not to visit the South Pacific but to drive to Emeryville and snorkel around inside the Pixar computers-not the mention their staff's ingenious brains. However, the movie does confirm the itchy suspicion that the animation studio's talent at designing the quirkiest characters inside the film world (toys and bugs are great, but the squids and rays and seagulls in
Nemo
mark a new level of personification), finding the cutest gags, and somehow continually pushing their technology forward, are all increasing in proportion with Pixar's recent inability to spin a compelling narrative.
Finding Nemo
's plot marks an all time low in both originality and thematic potential, where a clownfish's (voiced by Albert Brooks) quest to find his kidnapped son is merely an excuse to pair him up with another fish, Dory (Ellen DeGeneres), and, in typical screwball comedy manner, push them along a continual parade of off-the-wall creatures and situations. Some of them work, like the contempt pelicans feel for the single-minded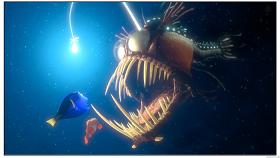 seagulls, and some do not, like making seaturtles into some sort of mid-90s surfer dude impression. Regardless of the placid story and life lessons, the movie is a riot, and DeGeneres' fish, which suffers from a comical form of
Memento
's short-term memory loss, is by far the funniest lead Pixar has come up with since
Toy Story
. The film also hints at the possible evolution of Pixar love stories-where usually their films push towards the value of friendship (
Toy Story
and
Bug's Life
), or parental love (
Monster's Inc.
and most of
Finding Nemo
), the platonic relationship that springs up between the charmingly dizzy Dory and the clichéd neurotic clownfish hints that perhaps Pixar will take their film's somewhere more mature next time around, where their preference for roadtrip screwballery lends particularly well for mismatched love stories.