Charlie's Angels: Full Throttle
For some reason critics don't want to tackle this beast on its own terms -- instead they want to judge it with criteria reserved for conventional summer action blockbusters. That's not really what
Full Throttle
is.
Early on, it's clear that Barrymore & Juvonen (clever producers on anything from big-budget popcorn like this to indie gems like
Donnie Darko
) are making a pop culture time capsule with goals both post-modern and modern. The modern portion includes stylistic action sequences, sparkling photography from
Titanic
's Russell Carpenter, insanely detailed and fashionable costume design (each Angel wears about 40 different outfits in 90 minutes), driving big-beat techno on the background track (Chemical Brothers, Prodigy), and wicked editing that's often clumsy, but benefits from having a ridiculous amount of coverage to choose from; McG must have shot miles of film for this flick.
It's not so interesting these days for a Hollywood product to indulge in post-modern winking, but the way
Full Throttle
does it smacks of a certain kind of confident, thrillingly optimistic intelligence. The filmmakers are all but begging you not to take anything seriously, nor are they at all pretending to have a story. This is the least narrative-driven action film of this magnitude I've ever seen. It's virtually nothing but a disjointed series of tongue-in-cheek in-jokes, most of which are pretty damn funny. It's not just the
Scary Movie
-style parodies of
Cape Fear
and
Raiders of the Lost Ark
, but more the sly acknowledgement of masculine attitudes towards action heroes, women in reversed gender roles, and the gap between '70s cinema and '00s cinema. Where one might narrow-mindedly assume Diaz, Barrymore, and Liu are whoring themselves by selling their sex appeal for tickets,
Full Throttle
gets there first by having the elder generation (represented here by a well-pitched but restrained John Cleese as Liu's father -- race goes wonderfully unmentioned, as it does in the assertion that Bill Murray and Bernie Mac are brothers) mistakenly think the Angels are actually prostitutes. On top of that there's the nods to the source-material TV show, the progression of weaponry away from guns, and finally -- in the funniest and most bitterly observant joke in the film -- a frightening admission that for every Cameron Diaz on the big screen, there's an Olson twin waiting in the wings.
Men continue to get the shaft in McG's energetic feminist candy show: boyfriends Matt LeBlanc and Luke Wilson are denegrated into the romance-inclined "please quit work and love me" role usually occupied by women in macho action films. Demi Moore, who plays a villain far more dangerous than any of the male threats (including Seamus O'Grady, the Irish gangster who can walk through fire several times), gets to nudge her ex-husband by having Mr. Willis get a bullet in the brain 5 minutes into the picture. And Mac, while no Murray, is serviceable as the hapless, whiny Bosley. But McG doesn't stop by just reducing the size of male roles -- he celebrates femininity by letting the girls play off of stereotypical gender tropes (watch how Diaz plays her opening scene by coyly acting the hair-twirling bimbo while actually intending to cause a massive diversion) in order to subvert the expectations of the unwilling stooges on-screen. The audience gets to rejoice in the fantasy that sexy, physically stunning women who also happen to be brilliant and talented, aren't phased by the violent barriers to action that befall so many a James Bond hero in the "real" world -- if a good guy gets punched in the head he doesn't get up; but if Barrymore gets kicked 30 feet across a room into a stone wall, she dusts herself off and gets into kung fu pose.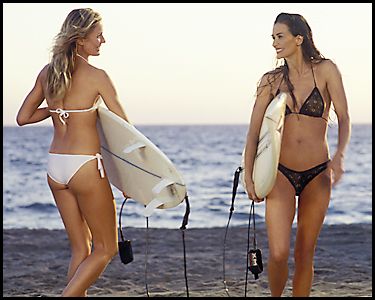 They know they're not fooling anyone, but the idea is to exploit suspension of disbelief. Why play it as straight as a movie like
The Matrix Reloaded
or
Hulk
? If you're having cartoons doing impossible things, it makes sense to go all the way with it and show outlandishly stupid coincidences and maneuvers that are more about their own choreography than their adherence to natural laws of gravity (the motocross chase and fight is a particularly impressive piece of ballet-like filmmaking). And when an Angel is looking at forensic evidence at a crime scene, why not pretend that a shoeprint can tell her that the suspect had surgery on an achilles tendon within the year? We've seen too many episodes of
CSI
to take this stuff seriously anyway, so the glee with which the film embraces illogical storytelling is endearing.
All of this high praise said, the movie still comes up short in areas. Besides having no plot ideas at all (just because it's a non-narrative doesn't mean the skeletal story that exists has to be so numbingly cliched or ripped-off), we also suffer through Moore's still-poor grasp on the process of acting, Crispin Glover's amusing but underdeveloped subplot, and a sense that the movie is less of a contained work than a disposable, interchangable episode in a greedy franchise that doesn't care to develop its characters beyond their punchlines. But it's an improvement on the first film, it certainly understands its roots in campy television, and McG's vision -- as over-the-top, garishly flashy, and stubbornly anti-intellectual as it is -- brims with a bold sense of fun that has no choice but to get through to the audience as well.