28 Days Later
That's what I'm talkin' about! Danny Boyle, fresh from whatever non-distributed straight-to-BBC hell he's been in for the past few years (has anyone seen
Strumpet
or
Vacuuming Completely Nude In Paradise
? Didn't think so), clear of the problematic pressure of The Beach and done with the snobby misanthropy of the cruddy
A Life Less Ordinary
, is back in business with a tough, mean, ugly, nasty, and ultimately moving investigation of the human will to survive and that will's inexorable assocation with blood-lust.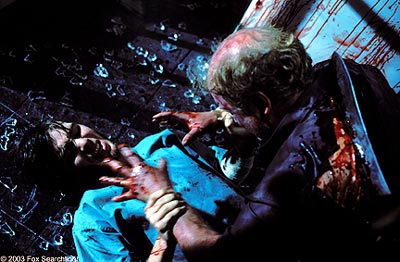 More a Sartrian horror film than a pure zombie gore-fest, the film nevertheless has moments of shocking violence and surprising twists. Unfortunately the sound editors distrusted Boyle's directorial skill, and added in speaker-shattering booms, growls, and shrieks with each scare -- and that only serves to lessen the already blood-curdling effect. No matter, though; so much of the film is truly bone-chilling in the best kind of way. You're immediately thrust into the protagonist's grim state of affairs, you sympathize with him and his few human friends, and every death feels all the more depressing because human life seems so valuable after the end of the world.
Alex Garland's script is sharp in that it places its dissection of the essence of human nature into a context that is easily recognizable to horror film geeks. Everything is referenced: from George Romero films to Kubrick to Frank Marshall's
Alive
to Sam Raimi and John Carpenter. Within this genre, however, Garland has placed a story that makes us ask what's valuable about the human race, what's worth saving, and how different the condition of infected zombies eating the flesh of survivors is to 2003's current world order. He doesn't have pretensions to dictate some sort of existentialist thesis, but he has certain signifiers in dialogue ("Plans are worthless; staying alive's the best we can do"), even if he rejects those attitudes later in the film.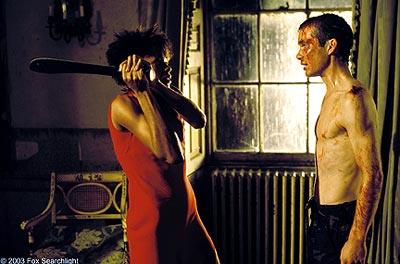 Because of the gravity of the subtext (which, it should be noted, is still not quite as satirical and brutally counter-cultural as Romero's in
Night of the Living Dead
), the surface plot is gripping and the pace fast. Each setting sun brings new terrors to the spine, and each new dawn promises a false sense of security. A tingly score and well-placed pop songs by artists like Grandaddy and Brian Eno (it has never been said that Boyle has bad taste in music) intensify the mood, and the grisly, animalistic force of the speedy zombies makes for dynamic cinema.
Speaking of the visuals, the worst thing about the film is its use of digital video for 97% of the running time. Sure, it was the practical choice when shutting down London to get the film's key early scenes, but it still looks like ass. For each beautiful, gliding camera move or striking composition from Boyle's assertive eye, there's the grimy focus, pixely clutter, and colorless mess of ones and zeros. It could be argued that because the film is about the ugliest, most immediate visceral pain of humanity, the DV makes sense -- but I think that's bullshit. Get some damn money together, dude, and do it on 35.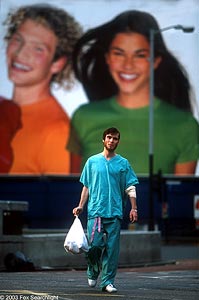 Otherwise, everything rocks like a well-oiled entertainment piece. Cillian Murphy is an impressive new movie star -- with the looks of Jonathan Rhys-Meyers and thankfully 80 times the talent, Murphy is appealing, vulnerable, and intelligent. Brendan Gleeson's entrance is marvelous, as is every subsequent moment he has on screen. Coffee shop arguments can be hashed out for months regarding topics the film introduces, including PETA-like guerilla operations gone wrong, military governments, sexual politics, and man's inherent propensity for violence. But if you don't think heady philosophizing has any place in a 108-minute old-school horror flick, don't worry -- there's plenty of blood-splattering mayhem to tide you over. Not quite the timeless, classic masterpiece it could have been,
28 Days Later
is still one of the best films of 2003 and a solid entry into the pantheon of terrific scary movies to watch late some Halloween night for decades to come.