Trouble in Paradise
Trouble in Paradise
, 1932. Ernst Lubitsch's pre-Code masterpiece about a playboy jewel thief torn between his wealthy, widowed mark and his pickpocket lover.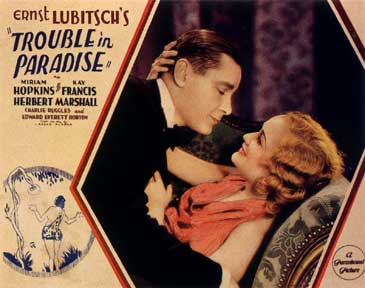 The film begins with a sequence that intercuts between two rooms at the same luxury hotel in Venice, Italy. In one room, the Royal Suite, M. Filiba has been assaulted by an unknown attacker, and is telling his story to the hotel detective and the police. In the other room, a Baron is having a romantic dinner with a Countess, who is nervous about her reputation, dining alone with a man in his room.
Over their private dinner, the Countess (Miriam Hopkins) casually announces that she knows that the Baron is the man who assaulted M. Filiba – then politely asks him to pass the salt. The Baron (Herbert Marshall) returns just as casually that the Countess is a thief, and he knows that she swiped Filiba's wallet from him: "In fact, you tickled me." In the scene that follows, the two trade back the items that they have stolen from each other in the previous few minutes – a watch here, a jewel there – until the climax, when the Baron produces her garter from his pocket, kisses it, and then puts it back in his pocket, to keep as a souvenir. The Countess is delighted, and throws herself into his arms.
It's clear from this moment that these two are made for each other. The Baron is actually Gaston Monescu, world-renowned jewel thief. The "Countess" is Lily Vautier, a common pickpocket among a rather uncommon crowd. Together they embark on a high-class crime spree across Europe. Sort of an early Bonnie & Clyde, except they don't kill anyone. That would be distasteful.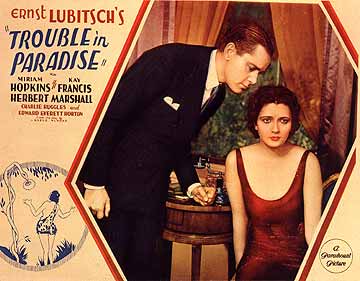 One year later, Monescu and Lily are still very much in love, but in need of a bankroll. They find their mark in Mme. Mariet Colet (Kay Francis), the wealthy widow of a perfume tycoon. Mme. Colet has inherited the perfume company but has no head for business, and her casual appearances at board meetings only serve to frustrate the executives. She would much rather be out shopping. She is also being pursued by two gentlemen: The Major (Charlie Ruggles) and good ol' M. Filiba (Edward Everett Horton), but she's not really interested in either of them.
Monescu and Lily at first only intend to steal Mme. Colet's highly-overpriced handbag, but when they discover who she is, Monescu (as M. LeValle) insinuates himself as her personal and business secretary (with benefits) – with a plan for the big score -- $80,000 francs.
Complications arise when Monescu finds himself becoming romantically involved with Mme. Colet, which not only incurs Lily's wrath but also interferes with his plot to steal the money. Not to mention the fact that M. Filiba finally remembers where he met M. LeValle in the first place.
Much has been written by film critics and historians about Ernst Lubitsch and "The Lubitsch Touch." His influence can be seen very clearly in the works of Billy Wilder and Preston Sturges and several directors even up to today.
It's difficult to put your finger on exactly what sets Lubitsch apart, and above, other directors of his time. He was very devoted to the writing – not just the dialogue, not just the plot, but the structure and the shape in which the story unfolds (Lubitsch co-wrote most of his scripts, but rarely took credit). But he was not rooted in the script, either; Lubitsch understood that film is a visual medium (having gotten his start in silent films), and knew how to let the camera tell his story as well, rather than put it all in the mouths of his characters.
Lubitsch's comedic style was to take a joke or a humorous situation, play it for all it's worth, then, just when you think it's played out, toss in a capper. Take for example the dinner scene between Monescu and Lily, where they return their stolen items to each other: Most directors would stop with the jewel and the watch, but Lubitsch goes one step further with the garter – and turning the joke on its ear, Monescu doesn't return it; he kisses it and puts it back in his pocket. This too is characteristic of Lubitsch – his handling of sexuality with frankness and humor.
Visually, Lubitsch was a master at transitionary montages, in which exposition and the passage of time could be whittled down to a few seconds. In
Trouble in Paradise
, the introduction of Mme. Colet takes only a few moments, through a montage of various people (maids, butlers, shopkeepers, chauffeurs, gardeners) saying either, "Yes, Madame" or "No, Madame." We know everything we need to know about her from this: she's rich, she likes to shop, and she's used to getting her way. Later, when Monescu moves in and takes over her business, the scene is repeated: "Yes, Monsieur," and "No, Monsieur."
Lubitsch also had a knack of getting uncharacteristically good performances out of his actors. Herbert Marshall, a staid and rather bland English actor with no sex appeal whatsoever in any other film of his I've seen, positively crackles with sly sexual energy in Trouble in Paradise. Miriam Hopkins and Kay Francis, extremely talented and attractive actresses to begin with, both have a sparkle in this film unmatched in the rest of their repertoire. Toss in Charlie Ruggles and Edward Everett Horton, two of my favorite character actors from the '30s, and you've got a winner.
Beautifully restored on DVD from Criterion – pricey at forty bucks but well worth it.