Sunday Wrap-Up
So many movies (at least this weekend), and so little time, especially with two, count'em two, hours of
Alias
tonight (and I have been consistently distracted by cable airings of
Unforgiven
and
Four Weddings and a Funeral
). Saw four films this weekend, and since I've already talked (at length) about
Grin Without a Cat
, I'm going to concentrate on some short reviews of the other three movies,
All the Real Girls
,
Spider
, and
Lady Windermere's Fan
; that, and I might as well write a bit about a film that I saw last weekend,
Eloge de l'amour/In Praise of Love
.
All the Real Girls
(d. David Gordon Green)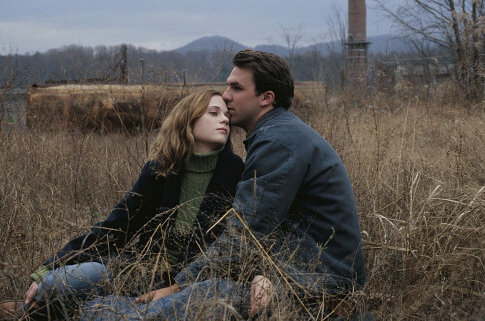 I missed
George Washington
when it came to the theaters, and I still haven't got around to watching it on DVD, so this is my first experience with a David Gordon Green film. The Terrence Malick comparisons are apt, and
All the Real Girls
had a
Days of Heaven
sort of vibe (though the films really have little in common).
All the Real Girls
is a paradox of a movie: naturalistic, yet dreamlike; a decaying autumnal/wintery post-industrial Appalachian landscape rendered incredibly beautiful by the camerawork of DP Tim Orr; and characters who are both inarticulate and real, yet speak in such a precious, poetic, singular way that is not cloying, but is strangely, and emotionally, appropriate. The story is deceptively simple, a small town lothario falls for his best friend's younger sister; in a karmic twist, her drunken indiscretion leads him to feel both real pain and real love for the first time. Simply put, I loved this movie. It had it's own particular rhythm and tone, the love story, which in a somewhat unusual choice, begins in media res (so no meet cute, or build-up), was sweet, while the subsequent break-up and attempts at reconciliation were both painful and frustrating. One of the more unique looks at young love I've seen in quite a while.
Zooey Deschanel, with her big eyes, and slow, low-pitched drawl of a delivery, vaulted to the top of my list of young, indie actresses/goddesses, alongside Maggie Gyllenhaal.
Spider
(d. David Cronenberg)
Not much more that I can contribute to at this moment; I liked the film, liked it a lot, by I'm going to shy away from the more effusive praise heaped on the film by such critics as Amy Taubin. I don't think that
Spider
is quite to the level of Cronenberg's last two films, the auto-erotic masterpiece
Crash
, or the hilarious and gross mindfuck,
eXistenZ
. For one thing, the film lacked the the humor of his last two films. Otherwise, the film has pretty much what I expect from a Cronenberg film, with the exquisitely controlled color palette and mise-en-scene (I especially liked the opening credit sequence, with its repeated views of demon-like Rorschach Blots). In many ways the anti-
A Beautiful Mind
, the film blurs the lines between objective reality and the subjective, actually delusional, memory in which the Oedipal drama of Spider's life is played out, without becoming overblown melodrama or some kind of Hollywoodization of schizophrenic delusion, reality and delusion are as equally controlled, which is the way it should, since Spider experiences one as the other (though the line is clear to the audience, not only with Miranda Richardson playing two, and later three, roles, a direct embodiment of the Madonna-Whore complex, but with the adult Spider witnessing events that he was not present at). The whole thing is quite chilling.
I was impressed with Ralph Fiennes incredibly internalized performance (as possible the best looking schizophrenic since Patrick Dempsey's role as Uncle Aaron in
Once and Again
), which consists of mainly mumbling to himself and looking haunted. Miranda Richardson did double, no triple, duty convincingly playing two intentionally stereotyped roles, the upright matron and the grotesque tart. Of course, both roles shade into each other.
Lady Windermere's Fan
(d. Ernst Lubitsch)
The final Cinematheque screening of the semester did not go on without a hitch, first there was a vigorous discussion on how fast it should be projected (for anyone interested, it's 23fps, meaning that if you rent this on video or see it at the theater, if the film is less or more than approx. 85 minutes, you're getting screwed), and second, there was a projector breakdown, forcing the projectionist to stop the film several times. I felt sorry for the pianist who accompanied the film. Even with these difficulties, I was glad to see the film, Ernst Lubitsch is absolutely one of my favorite directors, ever, so I jumped at the chance to see this 1925 film, despite some negative things I have read about it over the years, mostly from people who are unable to comprehend how a silent film could duplicate Oscar Wilde's verbal wit. Well, Ernst Lubitsch is that man, and his translation of the play to the screen gives further credence to what I call my "
Throne of Blood/Ran
Theory of Adaptation," which basically states when adapting a play for a film, throw out just about everything. Lubitsch shows his mastery throughout the film, a comedy of manners/farce set in contemporary, aristocratic London, which ostensibly stars a young Ronald Coleman as the rakish Lord Darlington (though his is a secondary, supporting role). Lubitsch conveys all through his careful usage of mise-en-scene and cutting, never has so much been said through a slightly arched eyebrow or pouting lip and an eyeline match (yes, I'm treading into hyperbole), or by Lubitsch usage of montage and space (one funny gag has a suspicious Lady Windermere trying to break into the locked drawer of her husband's desk, unable to do so, she calmly exits stage right, only to suddenly leap back into the frame from the left). Lubitsch continues his usage of props and behavior to suggestion overt sexuality, the two parallel visits of Lord Augustus to Lady Erlynne are excellent examples. A highly recommended film, not only to Lubitsch fans but any fan of Lubitsch in general.
I'm pausing, the reading of WH Auden's poem in
Four Weddings and a Funeral
is just beginning....
Eloge de l'amour/In the Praise of Love
(d. Jean-Luc Godard)
Godard's controversial latest, though the controversy is mostly misplaced. While Godard is critical of America (I can't decide if it is fair or unfair criticism in regards to Americans and history, Americans perhaps more than anyone else, live so much in the now, we do appropriate other's histories for our own purposes, and we are often retards when it comes to the subject), unless your last name is Spielberg, there's no reason to get angry (bad timing, given the context of it's initial release post 9/11).
Eloge de l'amour
is an essay film, and I guess it can be described as difficult, it certainly doesn't have much in the way of a narrative; it's divided into two parts, an initial sequence shot in lustrous black and white, and consisting on various musings on love, art, history, and memory, as the characters attempt to cast what appears to be a film. The second part, shot in color on digital video (with a result that Godard, at several points, digitally manipulates the color for expressive effect) details a man, who appears in the first part of the film, as he attempts to write a cantata about the experiences of a couple who served in the Resistance, while a bunch of crass American film executives try to buy the writes to their story for Spielberg. The film is dense and elusive, and all but demands repeat viewings.
Something that I would like to point out, however, is Godard's continued brilliance when it comes to the usage of sound, I only wish more filmmakers would utilize the soundtrack in such expressive ways. In
Eloge de l'amour
, Godard's usage of disjunctive sound (characters speak from outside the frame, with their backs turned to the camera, over scenes where they are not physically present, or over black frames) caused me to pay much more attention to the soundtrack, and it's relation to the visual image, just proving how interdependent our sensory modalities really are, and how our viewing experiences change when the sound and visual tracks are not anchored together in a strict way.
My New Favorite Commercial
Well, I have to say, I've only seen it once, but it has superseded all others as my favorite commercial. What am I talking about? Why, the new American Express commercial featuring Martin Scorsese at the photo mat. Oh my god, it's hilarious, his best cameo/appearance since his walk-on in
The Muse
.