Owning Mahowny
My favorite
Peanuts
strip is a conversation between Linus and Charlie Brown at the brick wall. After Charlie has just single-handedly lost his team's baseball game by leading off from a base too far and getting tagged out, Linus tries to console him by saying, "Well, you win some and you lose some." Charlie replies, "Gee, that would be nice."
This pitch-perfect distillation of a born loser's attitude is given gorgeous dimension by one of America's finest actors, Philip Seymour Hoffman, in a performance that's all pudgy and graceless -- a vision of Charlie Brown at age 35. Hoffman plays Dan Mahowny, a legendary Canadian true crime figure, whose notorious indictment on bank fraud charges in the early 1980s uncovered a gambling addiction that's beyond compare. As a loan officer for a Toronto bank, Mahowny would embezzle millions of dollars from accounts both fraudulent and real, then take cash to Atlantic City and throw it away on the blackjack and craps tables.
Director Richard Kwietniowski, who has made a worthy follow-up to his lovely 1998 debut
Love and Death On Long Island
, has filmed Mahowny's story with a tasteful eye towards detail, emotion, and a depth of character that eschews psychoanalysis and armchair therapy in favor of action and visual metaphor -- encapsulated most notably in sequences like the stalled car (I can't remember a car stalling ever being so touching and portentous) and the crashing water of Niagara Falls.
Owning Mahowny
uses gambling as its skin, but addiction as its bone. As in all addiction stories, the central consequence is loss, and since gambling involves loss anyway, the film gets a lot of mileage out of Mahowny's luck or lack thereof. It's not that he never wins, it's that he never wants to win -- if he ever does get lucky (at one point he's up nine million dollars), his compulsion is to keep playing until he loses. Dan Mahowny is thrilled to just be in the game, so his final goal is never to just make enough cash to get out -- if he did, that would defeat the purpose of playing. "I don't have a gambling problem," he keeps insisting, "I have a financial problem."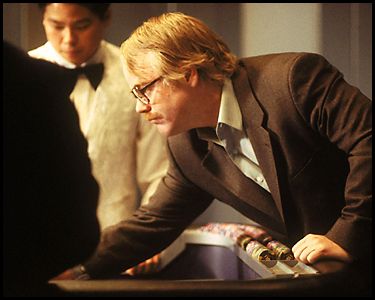 Hoffman has only had one prior leading role, the risible
Love Liza
from last year. With
Mahowny
he has finally found a film worthy of his star billing, and it forcefully washes away the bad taste of
Liza
. Down to the subtle Canadian accent, the mannerisms, the efficiency of movement, and the intensity in his eyes when he's at the craps table, Hoffman has mastered his character by playing him just sympathetic enough to be likable. Every angle of his face (and the casino security cams give us plenty of those) is charged with dramatic potential, and thus it's never been more of a pleasure to watch him work. A far cry from his casual bad-boy gambler in PTA's Vegas film
Hard Eight
, Hoffman's Mahowny is passionate, caring, remarkably composed, and hopelessly diseased. Hoffman is so fantastic that the supporting cast almost suffers -- Minnie Driver fails to give her love interest character a similar complexity (the otherwise well-written script by Maurice Chauvet does her no favors either), and John Hurt's casino manager and Chris Collins' bellboy are at the mercy of Mahowny's every move -- but Kwietniowski's composed, understated direction harnesses Hoffman's performance into a slowly boiling cauldron of tension, and the result is a powerful study of addiction that finds an extraordinary desperation in an ordinary man.