The Matrix Redundant
The first hour is a train wreck of epic proportions. More bad dialogue than a Spanish soap, and the acting to match. All of a sudden what was once five people in a ship has become an underground religious cult where tubby Larry Fishburne holds his arms out wide and says a bunch of bullshit, while about a thousand fashionably tattered, good-looking 26 year-old Maori tribesfolk take E and dance around to bad porn music.
After what seems like an eternity of laughable exposition ("Who is that?" "She used to be with Morpheus, and now she is with Lock." "Oh, I see. Well, let's walk into another room and talk about some more characters.") we get some numbing, dull, low-grade martial arts choreography, but the Wachowskis have accidentally filmed the rehearsals instead of the takes, so no one is hitting very hard or exerting much energy. At least the wires are still on.
Then Neo talks for another 45 minutes about choice, then faces off against hundreds of Agent Smith clones. If he can fly away to avoid the fight, why doesn't he do it at the very beginning? Why even bother to fight them?
Eventually we get to the predictable conclusion that rips off
Spider-Man
(remember when the cable car was suspended on the bridge by the Goblin and Tobey had to choose between saving Kirstin or saving the people in the cable car? Yeah, I remember being invested in those characters and there being genuine suspense. Those were the days.) and once again, there's no chemistry, no pulse, no sense of being engaged at all with the movie. It's smug, serious, dark, and full of so much hot air that a tornado actually touched down in the sixth row of the theater.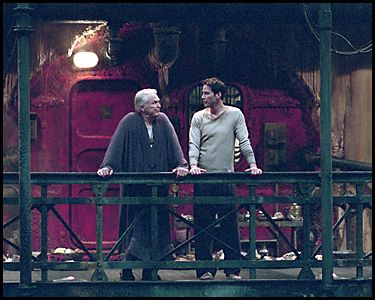 I liked the freeway chase, but only because it was creative and technically well done -- it still had no tension, heart or suspense. The Wachowski brothers can not write. They just can't. Their structure is sloppy and lazy, their dialogue is mercilessly terrible, and they still haven't learned that the camera can show what people are talking about instead of having everyone say everything out loud. It's amazing how broad their visual imagination is, yet how shitty they are at writing a context for it. The myths are vague enough that drooling geeks will be able to decipher the
Matrix
movies with their own giddy pleasure, but there's nothing here of interest, intellectually. At least Charlie's Angels (the trailer for which was the best thing in the theater that night) knows it's stupid eye candy and delivers without pretension. The Wachowskis wouldn't know how stupid they are if The Oracle told them.
Oh yeah, the French guy was pretty good.