The Man Without a Past
A gangly, worn-out looking man falls asleep on a park bench, resting against his sole suitcase after a long night of traveling on by train. As soon as this anonymous stranger nods off a group of young punks jump him, and by the time they finish their beating the man has just as clear an idea of who he is as the audience does. Resurrected
by an unseen power in a hospital after flatlining, the man stumbles down to the docks of Helsinki, passes out and is nursed back to health by a poor family. Given an unusual second chance to make something of himself, the man embraces his anonymity and allows himself to be absorbed into the lower class life of the people living near the docks. Even his name a mystery, living in near poverty with only the clothes on his back (donated by the Salvation Army), and amongst total strangers this man, with remarkable dignity, quickly builds a respectable existence by moving into a large metal crate, managing a rock and roll band, wooing an Army worker and distributing funds for a bankrobber.
Regardless of its bleak opening minutes, Aki Kaurismäki's
The Man Without a Past
carries itself with a levity and effortlessness embodied in the mystery man's enviable and bafflingly positive outlook to his life of anonymity in industrial, lower-class Helsinki. Part of the film's charm is that even in its simplicity (man loses memory, builds new life) the mystery man's unique situation allows Kaurismäki to delicately combine such a strange variety of genres one would think the film would appear over packed. Part romance, part comedy, and part Finnish kitchen-sink social drama of the lower class, Kaurismäki's plot even echoes strongly of American noir conventions, complete with an amnesiac hero, a cold blonde and the impoverished Helsinki equivalent of a slinky nightclub complete with a smoky female singer.
Labeled as "M" by the end credits, the film's mystery man is played by Markku Peltola, who is as lanky, broad shouldered and physically extended as Liam Neeson and as barrel-chested as Robert Mitchum, but has a quiet, carefully articulated talent for physical comedy in slight gestures, as well as possessing one of those well weathered faces that perfectly compliments deadpan comedy (somewhat along the lines of Takeshi Kitano, but far kinder). Besides for Peltola the most intriguing face in the film is that of Kati Outinen,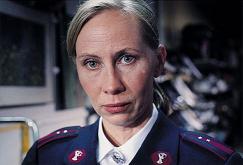 who plays Irma, the Salvation Army worker who M gradually and tenderly courts. Despite her relatively small amount of screen time Outinen won Best Actress at Cannes, and it is easy to see why when a simple, single head movement from the actress can speak wonders about how she truly feels about M's advances. Peltola's introduction in the film, wordless until he recovers from his injuries, is representative for almost all characters in
The Man Without a Past
in that it illustrates Kaurismäki's admirable talent for casting actors who's faces usually speak more for their characters than their dialog does; this talent allows Kaurismäki to focus on far more interesting details in the film world, from Peltola's ridiculously stiff walking strut to the delicate colors hidden around the industrial detritus of the docks. That's not to say Kaurismäki's script is lacking, in fact it builds an undercurrent of slight comedy so covertly that one watches the movie from the vicious beating at its beginning to the first laugh out loud moment twenty minutes in and not realize there was a tone change.
Lovingly scattered inside
The Man Without a Past
, along with the quiet romance between M and Irma at its center, are a number of thematically strange but atmospherically perfect minor digressions, centering on the group
of people who live in various poor shelters down by the docks (these ranging from the small metal storage container M lives in to garbage dumpsters). Kaurismäki uplifts the dreary setting of the film with a mise-en-scene lightly coated in pastels and other kinder colors that help bridge the gap between the pleasant attitudes of the cast and the relatively poor local they in (at a poverty level where dinner at the Salvation Army is considered a Friday night out). Coupled with the delicate colors is a pleasant breeze of absurdity throughout the film, one which also tends to reflect the split between the very friendly and content attitude of the Helsinki characters and their rather poor material existence. Such quietly absurd deviations are exemplified when M uses his free time to turn the Salvation Army's religious choir into a Finnish rock and roll band that understandably stirs more elation from the people than God ever did.
In what must be a first for the amnesia film genre, M seems to have no real desire to find out his identity, though he is often frustrated by his memory loss-without a name he cannot file for a legitimate job or real housing. With no plot to push
The Man Without a Past
firmly along, other than Irma and M's slow relationship, the narrative gently sways forward and back and enjoys lingering on the tragicomic of M's situation and his friends. Such a creative mildness in the film's tone helps make up for relatively little conflict in
The Man Without a Past
; with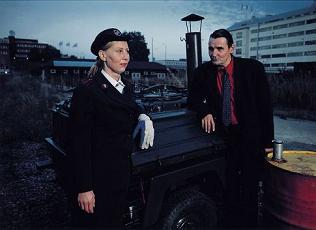 a lack of any past events to base future decisions on, M seems to effortlessly overcome all obstacles placed in his path, easily acquiring employment, easily finding a home (he decorates his metal crate with a jukebox and leather lounge chairs), easily finding a soul mate and eventually stumbling into his identity. The lack of a serious threat to the heroic lead, with the obvious exception of his brutal assault that opens the film, provides the film with a lovely nostalgic, old fashioned atmosphere, what with M's slow and traditional wooing of Irma, carefully placed cars and music from the 60s, and the touchingly carefree attitudes of the destitute people who live around M. It seems fitting that because M is missing his memory
The Man Without a Past
exists in a strange timeless bubble of near inaction, where the film's inhabitants seems to take pleasure in just being, where there is no clear time or space other than the isolated plebeian dock community, and the slight absurdity of everyone's positive attitudes are the base of much of the film's marvelous deadpan comedy. Such a small, ingenious, quietly affecting film could probably be easily labeled as evidence of second coming in Scandinavian cinema if Kaurismäki was not already known for making movies such films for the last decade or so. But, probably due to its winning the Grand Jury price at Cannes, this is his first film to get significant distribution in the States, so hopefully the film will open the doors for a cinema that has generally been closed to American audiences since Bergman stopped working.