Hero
Zhang Yimou's
Hero
, scripted well
before
Crouching Tiger, Hidden Dragon
but indulging in the Western success of that film (
Hero
was given an astronomically high budget of $31 million, and was picked up for distribution and heavily edited by Miramax), is, in the director's own words, a commercial film. To be more precise,
Hero
is a commercial action film, but Zhang does not forget his 5th generation roots of placing art-house allegory behind commercial narratives. Having accumulated what is probably the finest Chinese cast and crew seen in recent memory,
Hero
enlists the art-house talents of cinema's most blissfully yearning on-screen couple, Maggie Cheung and Tony Leung Chiu Wai, as well as the talent of the finest working cinematographer today, Christopher Doyle. On the commercial side of things, besides for Miramax's all too common foray into hacking their overseas acquisitions to pieces (this cut of
Hero
is roughly 30 minutes shorter than the original), are the martial arts legends Jet Li and Donnie Yen, along with fight choreographer Siu-Tang Ching who helped make numerous Tsui Hark film's the classics they are today. The result of this unique bridge between Zhang's world of formal art-house entries and the commercial viability of Jet Li wuxia is a distinctly philosophical, highly structured, and formally poetic action picture.
Nameless (Jet Li),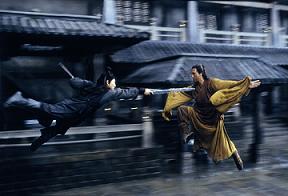 a warrior considered the finest swordfighter in the land, is summoned to the palace of the King of Qin (Daoming Chen). Qin's tyrannical king is known for being the first ruler to unite the splintered kingdoms of China in the 3rd century B.C., and thus became the first emperor of China. A brutal Legalist who had a particularly bloody reign, the King's policy of death and destruction to achieve peace and unification of All Under Heaven is at the thematic forefront of Zhang's film (Hero's tagline is "How Far Would You Go To Become a Hero?"). As Hero opens the King has yet to conquer all the kingdoms, but his tyranny is well known, as are his objectives for creating a vast empire. Nameless comes to the King to tell how he challenged, fought, and killed the three most deadly assassins in China, who were united in a mission to kill the King (a story sharing similarities to Chen Kaige's
The Emperor and the Assassin
).
Nameless' story is told three times, in three different ways through flashbacks, drawing from the
Rashomon
tradition. In the first, Nameless challenges and kills Sky (Donnie Yen) by fighting him mentally. He then proceeds to a famous calligraphy school where he tricks Broken Sword (Tony Leung) into sleeping with his assistant Moon (Zhang Ziyi), therefore cheating on Flying Snow (Maggie Cheung). Flying Snow kills Broken Sword out of jealousy, Moon challenges her and loses, and Nameless proceeds to defeat the now emotionally unstable Flying Snow. A simple tale of romantic melodrama with a dash of swordplay. Or is it? The King of Qin questions Nameless' "petty" narrative and begins to look at Nameless' own interest in assassinating the King. The King suggests in alternate story that the swordsmen make a pact so that Nameless could kill them and therefore be granted a personal audience with the King, and thus have an opportunity for assassination.
Hero
functions as a surprisingly fitting combination of wuxia conventions and Zhang's color-coded semiotics. The film is really just a series of epic showdowns between swordsmen, and as each flashback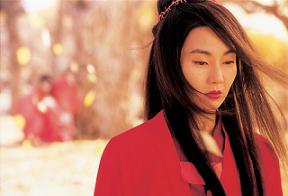 tells a different story each duel is retold in a different context. To hammer this home, Zhang drenches every story in a different color, from the production design, to the costumes, to the lighting and camera filters. The confrontation between the King of Qin and Nameless is clothed in black, Nameless' first story of melodrama and passion is blood red, the next retelling is of restrained sacrifice and is shot in cool blue, a flashback within the story to a time of youth is forest green, and the final retelling is of misunderstanding and love and is told in a nearly clinical shade of white. Behind these retellings are some subtle and not so subtle politics. There is a distinct possibility that a number of the five swordsmen in the film represent various extensions of the modern China state, namely Hong Kong, Taiwan, and Tibet, though a serious inspection into the allegory would require both several viewings of Hero as well as some brushing up on modern Chinese history. Along side this is the overarching theme of personal sacrifice for the state (or greater good), as the swordsmen decide to sacrifice their lives to kill the King, just as the king destroys kingdoms to unite the land.
Beyond its rather
simple but opaque narrative meaning,
Hero
is strictly formalized. The dense color coding, where the color of an actor's costume, the background set, and the lighting vary only by minute shades is complimented by highly symmetrical compositions and rigid interior framing as a backdrop. In front of these Zhang poses his actors, who do little in terms of performances, opting instead for an unusual formalization of wuxia conventions, almost freezing each their characters as they strike this pose, which conveys this feeling or idea. Instead of being living, breathing people, the swordsmen of the film are emblematic extensions of specific values and expressions of feelings and nationalism. Thus the martial showdowns are clashes of ideals and emotions as expressed through swordplay (the duels take up considerably more screentime than the narrative itself) and the context for each duel is provided by the color themes of the film.
It is difficult to describe the fights themselves without using the clichéd terms first born with
The Wild Bunch
, continued by John Woo in the 1980s, and plastered to anything Yuen Woo-Ping does in the 90s, but Hero truly is the cinematic perfection of martial arts as visual poetry. While the fights work as fights, and are not, say, abstracted to mere formalism as in Wong Kar-Wai's
Ashes of Time
, Zhang individualizes each showdown (exceedingly difficult considering the movie features the same fights repeated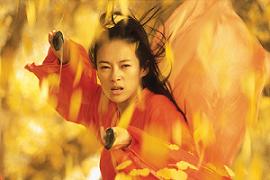 several times in different ways) and focuses on how each fighter expresses themselves to their opponent through their motion and use of their environment. (While all duels specifically showcase their environments as part of the expression of swordplay, two in particular should go down in cinema history: one taking place deep in an autumn forest, where Flying Snow whips up the golden leaves coating the forest floor into a swirling flurry to assail Moon; and a heartbreakingly elegant touch-and-go duel between Nameless and Broken Sword, set on the unbelievably stunning Cold Bamboo lake in Sichuan, where they softly touch the surface of the water, propel themselves gracefully towards each other, touch swords, and return to the water.) This is strongly evidenced in the way Doyle and Zhang shoot the fights. Though they often give the actors the leeway of long takes to indulge in pure technique (though many of the actors have little background in martial arts), Zhang likes to cut on smooth movement. Surprisingly, most of the duels are as edited as heavily as Western martial arts bastardizations, but Zhang does it to layer movement, highlighting and building on graceful extensions of motion. The analogy of swordfighting as calligraphy is a theme of the film, and though it is hammered into our heads constantly, it is apt when Siu-Tang Ching choreographs each fight around smooth, interacting strokes and Doyle photographs it in dense, powerful colors.
Interesting, the foray into genre lets Zhang do action like he does all his other subjects, picking a typical, even simple story and coating it in sublime, often vague language of semiotics and colors.
Hero
has much in it to discuss, though the artful, exciting, and intelligent exploration of wuxia is far more interesting than the film's somewhat stolid political allegory.
Hero
's principle theme of sacrifice for the greater good and all that entails on a personal and national level is, if not a bit heavy handed, a bit too broad and plain to be successful. Actually, Zhang's visual language is often broad and simple, but he masks it behind complicated and often impenetrable symbols and unusual associations, which lets the film flow visually with considerable grace, even if the narrative itself isn't exactly compelling.