Friday Night
As
Friday Night
opens the sun slowly sets on Paris, first touching, then burning,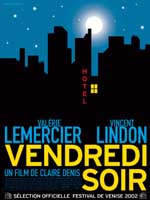 and finally extinguishing the enchantingly cluttered skyline. The opening minutes of the film, which are as cinematically leisurely as possibly, as well as supremely concise in its content, speaks well for the rest of Claire Denis' new film. Helping adapt the novel by Emmanuèle Bernheim (who also co-wrote Ozon's
Swimming Pool
and
Under The Sand
), Denis proposes to photograph with a loving patience the buildup and climax of what amounts to a one-night stand between two strangers. Practically devoid of context,
Friday Night
only admits that Laure (Valérie Lemercier) is in the process of moving out of her own apartment and into the apartment of another man, who she will meet Saturday morning. On the way to dinner Laure gets stuck in a traffic jam that is backing up all of Paris, and after endlessly inching forward and getting nowhere she offers a ride to a handsome man named Jean (Vincent Lindon). Laure, sleepy from the car's heater, dozes off and when she wakes she seems to have acquired an understated desire for the stranger she let into her automobile. After some unusual flirting (Laure puts her car in Jean's hands, and he proceeds to blindly speed through Paris, the traffic jam a distant memory), the two soon advance their relationship to a nearby hotel.
With only the juicy but ambiguous knowledge that Laure is (literally) in a state of relationship flux, Denis and her two handsomely middle-aged leads give little, if any, hint of motive to the affair. Denis' masterful DP Agnès Godard gives even the interminable traffic jam (which lasts a good deal of the film's lengthy 90 minutes) a spectacular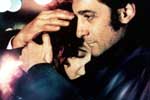 luster, finding beautiful gloss in the stationary automobiles; later in the evening she adds subtle dashes of neon to the palette and enough muted green and burgundy to make
Friday Night
speak in a predominantly visual vernacular, though it never feels like Godard r Denis are ever trying to romanticizing the images. (In fact much of the film recalls Wong Kar-Wai's
In The Mood For Love
sucked of dizzying quixotic context and robbed of a camera all too eager to give every movement its romantic benefit of doubt.) It is doubtful that Denis expects one to approach her film analytically, whether one is questioning vague morality or ambiguous motives, and the practically wordless film, with its fluid jump cuts and preference for lingering on every single minute of the evening, feels like one is watching a slow burning cigarette: gentle, simple, beautiful, but a little wearisome.
The languid portrayal of Laure's evening coupled with the sexual spontaneity of her affair with Jean gives
Friday Night
an unusual quality of smoldering predictability. There is little doubt that Denis has perfectly captured much of the essence of one-night stands-the pleasure in little moments, ambiguous shared sexual understandings, and the comfortable claustrophobia of confining environments (the principle action is closeted off in a car, a hotel, and a restaurant)-but what feels special between the leads isn't necessarily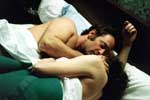 special for the audience. Laure and Jean's union looks beautiful enough, but it seems that Denis' priority is more to capture the gentle impulsiveness of a long evening than to subjectively allow the audience to access the world of the two lovers. Like Denis' masterpiece
Beau Travail
,
Friday Night
works more as a distant, elliptical cinematic poem than an involving narrative yarn. Brief moments of startling anxiety, as when Laure leaves her car in the middle of traffic to make a phone call and returns to find the car gone, help to make some of the film's rather monotonous (if lovingly crafted) cinematic stanzas differ. This sporadic tone change helps give the film a whiff of occasional genre intrigue, or at least conventionality. When coupled with the beauty of the film it is enough to give
Friday Night
some element of passion, something sorely, but purposely, lacking from much of the experience of the film. It is never quite interesting or exciting enough, for it always seems to lack a spark of passion, and yet strangely, and to Denis' credit,
Friday Night
remains utterly convincing.