Down With Love
Down With Love
easily ranks as one of the more enjoyable moviegoing experiences I have had in a relatively long time (by which I mean, since I saw
All the Real Girls
), a delightfully light and frothy, not to mention hilarious, romantic comedy/sex farce, whose obvious inspirations are the Rock Hudson/Doris Day comedies of the early 1960s (most reviews explicitly link
Down With Love
to
Pillow Talk
, which I haven't seen). How obvious? Well,
Down With Love
is to the Hudson-Day comedies, as
Far From Heaven
is to the melodramas of Douglas Sirk, an affectionate, if not out and out loving, homage to the works of a bygone era, down to the replication of period styles and manners (more on that later) but with a slightly contemporary twist (
Far From Heaven
dealing with homosexuality and miscegenation, the slightly more salacious jokes of
Down With Love
), done in a completely earnest way, which avoids the type of irony that leads to condescension, camp, and a mocking, knowing attitude among the audience (of course, it's impossible to escape from irony while watching these movies; it can be argued that
Down With Love
slightly ups the irony quotient over
Far From Heaven
, though this is quite explainable by looking at the treatment of the source material: in the intervening years, the works of Douglas Sirk have been treated to auteurist, Brechtian, and Marxist analysis giving them a serious, almost academic air, while the Rock Hudson-Doris Day comedies, at best, are usually viewed as enjoyable kitsch. One also has to presume, that the audiences for the more niche orientated
Far From Heaven
are at least familiar with the critical discourse surrounding the film, linking it to Sirk's films; it's less doubtful that the mass audience that
Down With Love
is programmed towards would be all that familiar with the work of Doris Day. Que sera, sera....)
In my view,
Down With Love
succeeds on almost every level. Director Peyton Reed (director of one of my recent faves,
Bring It On
) faithfully recreates the period style, and not just through the production design and costumes (which were pitch perfect). The film even begins with a 60s-era, 20th Century Fox logo before a title announces that the film is proudly presented in Cinemascope. We are literally plunged right into the world of the film, as the New York City skyline, circa 1962, comes into view through the clouds, and a bit of short narration sets up the arrival of the heroine. The narrator, of course, is reminiscent of one of those omniscient, yet benevolent, pleasantly bland male narrators who often set the stage for many comedies of that era. From there on out, Reed uses every trick in the book, from the early 60s that is: rear projection, as the characters ride in cars (not the really crappy obvious kind, used for instance, in
Election
as a cheap laugh, but the kind that would have been used regularly in the era proper); vertical and horizontal wipes for transitions; painted backdrops serving as skylines, the balcony view, from impossibly spacious, and obviously studio-bound sets; color, color, color, like it was a technicolor explosion; the quick and efficient usage of montage (an example would be Barbara and Catcher/Zip's courtship, conveyed through one of those montages where the characters walk in front of a screen projection, where the signs of the various places they visit are displayed behind them, my favorite had to be when they visited some Manhattan comedy clubs, who's on the marquees: Lenny Bruce, Woody Allen, and Bill Cosby), but also the good sense when to hold the camera on the actors, as well as when to cut to a reaction shots (the best example would be a long, tongue-twisting monologue that Renee Zellweger relates to Ewan MacGregor in a scene that goes on for a few minutes; Zellweger is caught in close-up for the full length of the shot, as she relates this impossibly convoluted, crazy story with a completely sincere, straight face; then cut to a MacGregor's reaction shot, his mouth gaping open in surprise, with just the right note of comic exaggeration); the usage of period music (one of the best was the usage of two different versions of "Fly Me To the Moon" used as the film cuts back and forth between Barbara Novak and Catcher Block as they prepare for the date where they will consummate their relationship; his is the hip swagger of the Sinatra version, hers is a sultry, breathy, slower tempo rendition by a woman singer) and TV footage (even the footage created for the movie looks like old kinescopes); and of course, the usage of split screen during phone conversations, which sets up one of the films most obvious, but also funniest sight gags, as the actions, and words, of both characters get a completely different spin when the two images are combined together ("...are you going to come?" "Yes, yes, yes!"). You have to see it, since the actors sell it so well
And they sell it so well because they play the material, for the most part, completely straight, even when the plot of the film launches into the stratosphere of ridiculousness. The script by Eve Ahlert and Dennis Drake is chock full of obvious sexual innuendo, which would be painfully unfunny if the actors conveyed that there characters were aware of speaking innuendo; and it's not just innuendo, it's also the several long, tongue-twisting bits that are somewhat akin to the "whose on first routine?" that would seem impossible to deliver naturally, but the actors somehow do it. This kind of "naturalism" of the ridiculous, extends to the hilarious bad accents several of the characters adopt, or to the exaggerated way that Renee Zellweger and Sarah Paulson (who plays Zellweger's characters best friend and editor, Vikki, and who gets several of the best one liners) sway there hips when they walk. The closest that the film gets to mugging is in David Hyde-Pierce's character (he's referred to as the Tony Randall character by critics, btw, Tony Randall has a couple of short, funny scenes in the film); he plays Catcher Block's boss and best friend, Peter MacManuss, a neurotic deeply in love with Vikki, but again Hyde-Pierce doesn't act like he is in on the joke (his transformation into a quasi-ladies man, after Vikki thought he was a homosexual in love with Catcher Block, with a single arched eyebrow, though not one directed at the audience like a wink, is hilarious).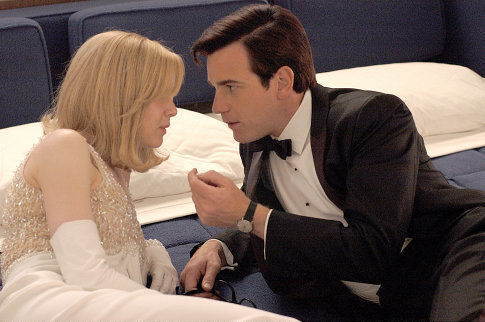 I don't know if there's a whole lot of point to explicating the plot of the film, as it gets ridiculously complicated (in a good way). Basically, Barbara Novak (Renee Zellweger) writes a book called
Down With Love
, which teaches women to not fall in love with men, concentrate on their careers, and to have sex like men, "a la carte." (also to channel sexual frustration by eating chocolate, a running gag throughout the film). Catcher Block (Ewan MacGregor) is the star reporter for
Know
magazine; a debonair bachelor described several times as "a ladies man, a man's man, a man about town." (he's introduced hanging from a NASA helicoptor in a white tuxedo, waving goodbye to three Copacabana chorus girls). After Block blows off an arranged interview with Novak (he's too busy banging an international cadre of stewardesses), the book becomes an international success (even in Maoist China), women find themselves liberated, and Block finds himself unable to get a date; in response, he vows to write an expose on Novak, revealing her to be a fraud, seeing as he believes he can get her to fall in love and marry her. To get close to her, Block poses as a naive, wholesome astronaut named Zip Martin (with a very, very bad southern accent), who refuses to have sex with Novak until they've gone on a lot of dates, of course, both of them fall in love with each other. But then Novak drops a bombshell, she knew that Zip was Block, and that everything, and I do mean everthing, to this point was just an elaborate scheme to get Block to notice and fall in love with her (see, Novak was at one point, Block's secretary and fell madly, perhaps a little too madly in love with him...this is where that really long monologue that Zellweger delivers comes in) and that she was never a "Down with love girl." However, as she's about to consent to marrying Block and entering a conservative, conventional relationship, she realizes what kind of effect she's had on women, and herself, and suddenly converts to a real "Down with love girl."
And so it begins, as the two of them plot back and forth, as he wants to marry her and settle down, while she wants to stay independent (even though she loves him too). After leading a revolt against the patriarchy (the film gets a lot of mileage out of inverting masculine and feminine gender roles, especially when the former playboy Block laments over not being able to get married) , the two eventually find a happy medium, finding both love and equality among the sexes instead of the constant power struggle that marked the relationships earlier in the film (so do Vikki and Peter, a desperate and cute couple). The film actually ends with a song and dance sequence over the credits, as the stars of
Moulin Rouge
and
Chicago
belt out a big band duet called "Here's To Love!" (a much better rendition than anything done in the two musicals proper, IMO, and yes, I stayed for the credits, and they both do indeed sing and dance) as they promote their co-authored book of the same name on TV. A fitting, funny, energetic way to end the film.
Now I actually want to go out and rent some Rock Hudson-Doris Day films. That's probably the best praise you can give to a homage.