Blue Car
and
The Shape Of Things
I love you, you love me
Going down the sugar tree.
We'll go down the sugar tree
and see lots of bees
playing
playing
But the bees won't sting
because you love me.
Such is the poetry that could have come from the pen of Meg Denning, the teenage protagonist in Karen Moncrieff's ineffectual cliché factory known as
Blue Car
-- the title coming from one of Meg's boring and pseudo-precious attempts at being the next Emily Dickinson. But the above passage is actually recited by the genius Reed Rothchild from
Boogie Nights
, in a hilarious scene where John C. Reilly's delivery of this ghastly poem makes the material all that much more laughable. Unfortunately, Moncrieff and her characters take this stuff seriously and we're subjected to over an hour of a film where the audience is ostensibly rooting for Meg to make it to Florida to participate in a national poetry competition. That Meg doesn't belong in the competition doesn't seem to bother anyone but the audience.
Along the way we get to deal with the stereotypical broken home -- an absent father, a neglectful, shrewish mother, an insane, troubled younger sister who thinks she's an angel (barf), and the starving protagonist who just wants to be loved for her passionate art. Agnes Bruckner acquits herself nicely with a measured and natural performance as Meg, and David Strathairn is almost as good as her lustful teacher (at times his readings lack subtlety and come off as actorish). In addition, the third act -- once the kid finally gets her angst-ridden ass to Florida -- is pretty good. But then after another poetry reading, where Meg once again proves her creative imagination only goes so far as what has just happened to her personally, we get a pat and predictable conclusion and the nauseatingly conventional crane-up shot at the end. Did no one have the guts to tell Moncrieff how bogus that camera move is as your final shot?
Aside from the crackling sex scene, Moncrieff's direction is lazy and dull, her photography cheap and unimpressive. There's nothing evocative about the visuals or the locations, nothing about this world to get us to care for its singular narrative and lively characters. And although it has the nerve to kill off a surprising character, the mother's reaction to said death isn't nearly as ecstatic as it should be. With the hospital's ridiculous negligence in "leaving the window open," a good lawyer could get her millions, thus curing everyone's troubles, including those in the audience of this hopelessly mediocre indie drama.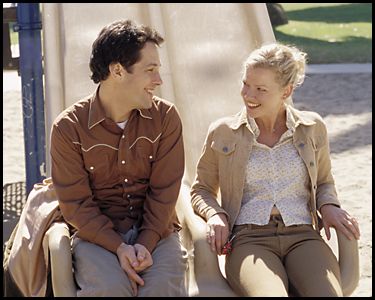 The Shape of Things
is more like it. After two embarrassing hiccups with the obnoxious, nearly unwatchable
Nurse Betty
and the lukewarm, forgettable
Possession
, Neil LaBute is back with his emotionally violent poison pen. Sparklier than
In the Company of Men
but not quite as controlled as
Your Friends & Neighbors
, this new exercise in misanthropic glee is a joy to behold. Never less than enthralling, LaBute's simple four-character play is elevated to greatness thanks to a pitch-perfect performance by the great Paul Rudd and a work of genius by Rachel Weisz, who initally appears to be underplaying her emotions to a fault, but whose performance turns out to be masterful once her motives become clear.
LaBute the writer has a sensational ear for conversation, writing dialogue that sounds both stilted and alive, mannered and artistic but also extremely honest. It's funny and it's uncomfortable. LaBute the director is always the minimalist and heavily composed, but here his stagy camera works because the material is about performance art and the theater, so why not shoot the film like performance art in a theater? Anything too cinematic would distract from the theme. And the priceless close-ups on Weisz, Rudd, and great supporters Gretchen Mol and Fred Weller accomplish an intimacy that the stage could never equal. In addition, LaBute always frames his characters in their surroundings almost like animals feeling out a habitat -- as if the human beings are growing out of the museum floors, library shelves, lawn grass, and restaurant stools. This jungle of vicious amorality among confused grad students is a provocative setting for a provocative film, and it's so nice to have LaBute back where he belongs -- sharpening his fangs.