Strangers on a Train
Strangers on a Train
, 1951, Warner Bros., starring Farley Granger, Robert Walker, Ruth Roman and Patricia Hitchcock, directed by Alfred Hitchcock.
American Cinematheque kicked off its 5th Annual Festival of Film Noir at Grauman's Egyptian Theatre in Hollywood on April 4th -- with another movie I have never really considered to be film noir:
Strangers on a Train
.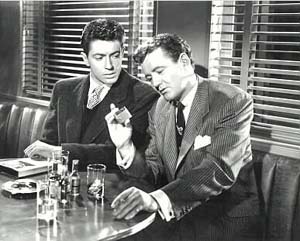 Plot outline: Guy Haines (Farley Granger), a well-to-do tennis player with an ambition for politics, has a chance meeting on a train with Bruno Anthony (Robert Walker), a rich layabout with an unstable mind, to put it mildly. In a seemingly casual conversation, Bruno lays out one of his many ideas of the perfect murder: two strangers, each having someone they want dead, have a chance meeting, and swap murders. "Criss cross!" exclaims Bruno triumphantly. He even suggests, hypothetically, that Bruno could murder Guy's troublesome wife, and Guy can murder Bruno's father. Guy laughs the whole idea off, forgetting about it almost before he leaves the train. But the laughs stop when his estranged wife Miriam is strangled to death, and Bruno begins hanging around bugging him to knock off his old man.
I was subjected to
Strangers on a Train
a number of times in film classes, especially during discussions of the MacGuffin (the elusive lighter, in this case). It was never one of my favorite movies, or even one of my favorite Hitchcock movies. I'd seen it maybe two or three times prior to this most recent viewing, and on a scale of 1 to 10 (where 1 is
Jamaica Inn
and 10 is
Notorious
,
Rear Window
or
North By Northwest
),
Strangers on a Train
has always been about a 6 for me, somewhere below
Rebecca
but above
Spellbound
and
Secret Agent
.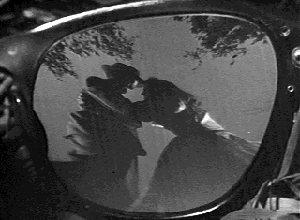 Friday evening, aided by a full house of fellow movie fanatics and the sheer delight of seeing it on the big screen, my opinion of
Strangers
skyrocketed. Whatever quibbles I've had in the past with plot holes (I've never understood why Guy just doesn't go to the police and turn Bruno in) were pushed aside in favor of stunning visuals, gripping suspense leading up to a typically Hitchcockian thrilling climax, and the captivating performance of Robert Walker.
All of the Hitchcock hallmarks are here. The "mother complex" so richly mined in
Psycho
and (to a lesser extent)
North By Northwest
is present, in the form of Bruno's mother (played by Marion Lorne, who later went on to play the dizzy Aunt Clara in Bewitched). Mrs. Anthony is a doting and indulgent mother, and though most of their scenes together are delightfully humorous, there's some eerie Oedipal things going on under the surface. The "wrong man afoul of the law chasing the real criminal to clear his name" plot is again in full swing, as it was in
Saboteur
,
The Wrong Man
,
North by Northwest
,
The 39 Steps
, etc. There are famously memorable shots, particularly Bruno's strangulation of Guy's wife Miriam, as reflected in her fallen eyeglasses, and the at once funny and unsettling crowd shot at the tennis match. As all the heads in the crowd move back and forth, following the volley on the court, Bruno, right square in the middle, sits absolutely still, his eyes only on Guy. And then there's the thrilling Hitchcockian climax -- this time on an out-of-control merry-go-round.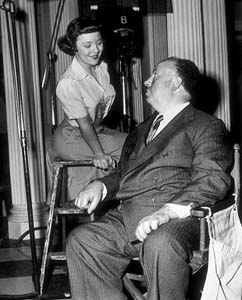 One thing
Strangers on a Train
has that many other Hitchcock movies don't is the inclusion of a smart, sharp and funny female character -- the kid sister of Guy's girlfriend, played by Patricia Hitchcock. Most of Hitchcock's women tend to be either glamorous (and sometimes treacherous) blondes, or shrewish mothers. Patricia Hitchcock as Babs Morton cracks wise, flirts with the cop, mixes cocktails with surprising efficiency, and at times appears to be the only person in the movie with her head on straight. I somehow had always missed Pat Hitchcock's name in the credits until this viewing and had no idea she was Alfred Hitchcock's daughter. She really was marvelous in the role. It's a shame she didn't have more of a career because if this film is any evidence, she was a natural. A quick scan of her credits on the IMDB reveals that she didn't do too much that didn't involve her father.
The American Cinematheque audience responded enthusiastically and appreciatively, often with applause. Afterwards there was a short Q&A session with Farley Granger, who flew in from New York for the occasion, and Kasey Rogers who played the role of Guy's wife Miriam (then working under the name Laura Elliot). Also in attendance was Robert Walker, Jr., but he was just there to see the movie and didn't participate in the Q&A. Pat Hitchcock had been slated to appear, but unfortunately she had to cancel at the last minute for health reasons. Granger and Rogers had fond memories of working with Hitchcock and both spoke warmly of their castmate Robert Walker, who died shortly after the film's release in 1951.
Strangers on a Train
is available on DVD, which contains both the American release and the British release of the film (the British release has a different ending, and reportedly the scenes between Guy and Bruno play up the homoeroticism quite a bit more). It's not yet part of Criterion's Hitchcock collection, but the existing DVD is supposed to be excellent.