Phone Booth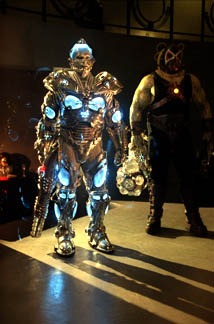 How dare Joel Schumacher keep making good movies! This is the guy who made
Batman Forever
and
Batman & Robin
! Remember? Haven't enough newspapers and critics reminded us that no matter what he does, he's the guy that did those Batman movies 8 years ago? Stop patronizing his films! Boycott him! Punish him and all the people who work for him based on the low points of his career! What's wrong with you people? Forget that he makes good films now. Forget that he knows where to put the camera. Forget that he gets good performances out of a good cast. This guy has made bad movies before! He's evil!
Don't try to argue
Tigerland
to me. There's no way Schumacher is responsible for that really good flick: it was all Colin Farrell and the photography of Matt Libatique. Oh, and that script, and all the great performances from unknowns like Clifton Collins, Jr. and Matthew Davis. It certainly wasn't the director. And don't give me
Flawless
, a film that, while poorly written (by Schumacher himself! The bastard!) gave us De Niro and Phil Hoffman together. How dare this hack pick New York's two best living actors and shoot them for 90 minutes?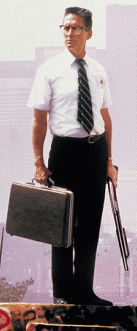 Now I'm gonna hear from you people who remember
Falling Down
, the entertaining Michael Douglas thriller that put the angry back in angry white man, right? Forget it -- that was BEFORE the Batman movies, so it doesn't count! We're talking about now, about 2003, about
Phone Booth
. We're talking about a movie that's so suspenseful for so long, it must be a miracle that this witless, talentless director made it, right? All praise must go to cult movie hero Larry Cohen's tight screenplay for that premise. After all, the fact that the movie isn't as funny as it should be, that the ending is cheap, and that the morality is reductive and clichéd, that's all the fault of the hideous, evil, no-good director Joel Schumacher.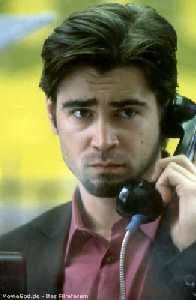 What? Colin Farrell was fantastic? Sure he was, he's an awesome actor and he was awesome in
Tigerland
. That Joel directed both of those is a coincidence. Photography is appropriately gritty? Credit Libatique again, for he must have shot it in secret while Schumacher's directorial eye forgot to look through the viewfinder or the playback monitor. Suspense was generated by the tension-filled dialogue between Farrell and Schumacher vet Kiefer Sutherland (
The Lost Boys, Flatliners
), despite the fact that the two actors never look each other in the eye? Sutherland must not have wanted to work for the hack a third time -- he must have been hired by Fox based on his
24
contract. Sure. People, listen up one more time. Here's a movie, shallow as it may be, that's 80 minutes of pure suspense with a protagonist that deftly toes the line between sympathetic and asshole, that's shot with formal skill, and that never feels too claustrophobic nor too chaotic and sloppy. But whatever you do, don't under any circumstances give credit to the man who directed the whole thing. It's Joel Schumacher, for Christ's sake. Isn't he a bad director? Didn't I hear that from a media source? I'll keep that in mind when I see this movie again.