A Mighty Wind
Just some brief comments on
A Mighty Wind
, since I don't think there's that much to say about it. Pretty much a letdown. Count me in as a major Guest fan -- having liked
Waiting For Guffman
quite a bit, and loving
Best In Show
. And of course, if you toss
Spinal Tap
in there, what's not to like?
Unfortunately, the laughs-to-dead-spots ratio in this one is pathetically low. It crawls along at a snail's pace, intermittently amusing (in the case of Fred Willard's awesome two scenes, Parker Posey's one or two lines, and Bob Balaban's micro-managing) but otherwise dreadfully obvious and cheap.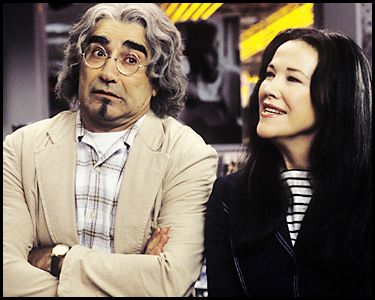 Where there was once smart, spontaneous humor in Guest's comedy troupe, now there's an over-reliance on shameless, way over the top mugging (Eugene Levy's aging hippie) and wacky voices (Eugene Levy's aging hippie), religious cults, transvestites, and any other obvious sex-or-toilet-humor gag you can think of. The film ignores the basic rules of comedy (such as don't try too hard to prove you're funny, just be funny; and play it straight to let the reality of the situation become funny rather than go off the deep end), and Guest's direction this time around must have consisted of just one command: "Make your character really stupid. OK...action!"
I laughed out loud two or three times, but considering the joy I got from the previous mockumentaries, this was a failure.