The Good Thief
In Jean-Pierre Melville's 1955 film
Bob le Flambeur
the title character, an addicted gambler and aging thief, keeps a slot machine neatly hidden
in his closet, an extension of the masked seriousness of the film's noir setting; the Bob of Neil Jordan's surprisingly fresh revision of Melville's scenario keeps a roulette wheel in the center of his living room and in
The Good Thief
it is a embodiment not only of the far more visible harsh reality of Bob's addictions but also of a change in tone from the original film.
Le Flambeur
's funky closet casino suggests all of the light, humorous noir posing of Melville's classic, the realities of gambling kept quietly behind closed doors, just as Bob's roulette wheel pushes his character's dark whims from a devil-may-care atmosphere to the more authentically noir street callousness of Jordon's world: Bob's a drinker, a gambler, an old man, a heroin addict and dead broke.
Played to perfection by a disturbingly honest Nick Nolte, the Bob of
The Good Thief
looks the way Tom Waits sounds and in his worst moments even sounds the way Waits sounds, with the second half of each sentence trailing off into a growling, raspy oblivion. To keep
The Good Thief
just as satisfying as its predecessor Jordan wisely sets Nolte's visible grittiness of in a lustrous and shadowed Monte Carlo all full of smoke and neon-if someone gave Christopher Doyle Monte Carlo instead of Hong Kong, Nick Nolte instead of Tony Leung and a steadicam instead of a handheld, you would end up with the dark and dirty gloss of Bob's sleepless nights.
The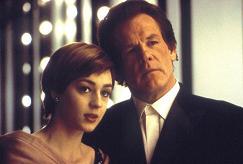 plot is classic heist noir, and deliciously generic. As an old thief, convention necessitates Bob to attempt one last score to go out with a bang, and he finds room during his busy days of kicking the habit, shielding a gorgeous young woman from the streets, and dodging the cops and snitches to come up with a heist scam with the elegance and sense of fun embodied in the whole film. Like the some of the best of Raymond Chandler's work, the plot of the hard-boiler isn't quite as important as the characters who lurk the streets and spit wit hidden behind urban slang, and while the film never achieves noir perfection (a feat I doubt
The Good Thief
was even aiming at, it is quite aware this is all just for fun), Jordan liberally peppers the film with enough stinging one-liners and enough interesting characters played by an international cast to let one forget they are watching slick fluff.
The most prominent among Bob's crowd is Police Lt. Roger, who amusingly wants to stop the heist before it starts because it would break his heart to jail his old friend Bob; Roger owes Bob a life debt and the inimitable Tchéky Karyo brings to the generic French inspector role a suppressed humor and talent for verbal banter that makes his relationship with Nolte almost tender.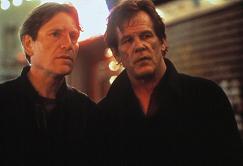 Suddenly reappearing in an English film after his spectacular turn as the Iraqi interrogator in
Three Kings
, Saïd Taghmaoui pops up in
The Good Thief
in one of the best roles from the original film: the young wannabe gangster who idolizes Bob to such an extent that he gladly picks up Bob's sexual leftovers. The small little creature in question in this tale is the slinkiest, sexiest, most surprising member of Bob's crew, Anne (played by Nutsa Kukhianidze in her film debut). Sleepy voiced and halfway to a life on the streets Bob nobly rescues her from a pimp and forever gains the smoky allure of one of the best femmes within recent memory to be shot with a canted angle and chiaroscuro lighting. Like Soderbergh in the
Ocean's 11
remake, Neil Jordan has the sense to keep violence and unnecessary sex as far away as possible in his film, though both are bound to pop up eventually, albeit gracefully. In a cinema replete with numerous mediocre and exploitive crime thrillers, an exotic local populated by a talent cache of unique foreign faces and spearheaded by the familiar, expert slumming of Nick Nolte,
The Good Thief
freshly updates a fun classic by tainting it with a lovingly stylized dark tone, making it the best piece of pseudo-noir fluff in a long time.